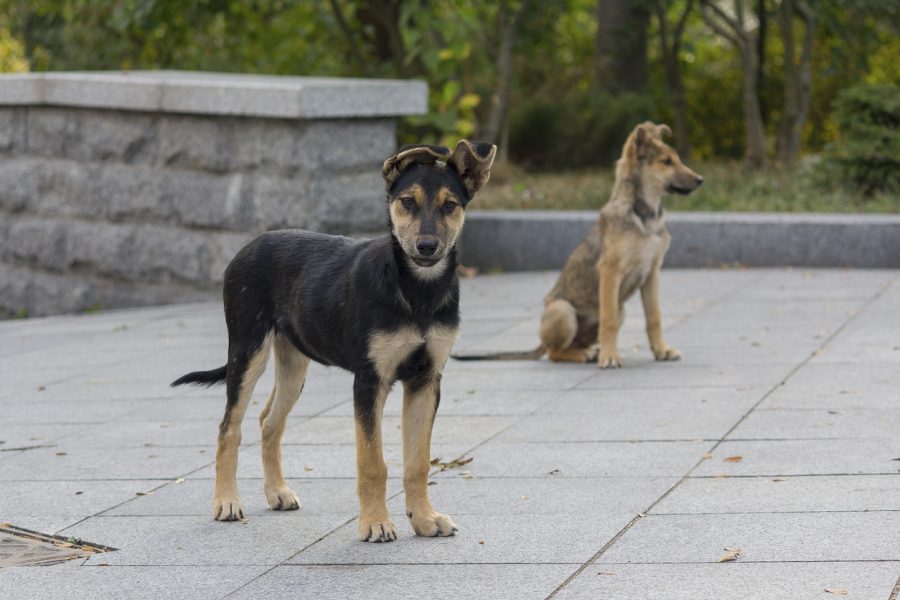 Joshimath crisis envelops domestic animals
As land continues to sink in Joshimath, a new and unexpected crisis has cropped up in the once enchanting town in Uttarakhand.
While buildings are razed and hundreds of families move out of their homes, a section of cattle and domestic animals have been left untended as their perplexed owners navigate the life-changing crisis.
Also read: Not just Joshimath, these towns in Uttarakhand are also on the brink
Some animals are left behind in houses, desolate and deserted. Some smaller pets have been crammed into shelter homes along with families forced into one room.
The snow and the dipping temperatures have added to everyone's woes, PTI reported.
Helping out
The displacement is at many levels, says animal rights activists who have rushed to the once bustling Joshimath town in support of the deserving animals and birds.
"A disaster like this is as much a crisis for animals as it is for humans," said Rubina Iyer from the People for Animals (PFA) group in Uttarakhand.
"We want to ensure the safety and welfare of the animals. People are taking care of humans and we are here for the animals," Iyer, who travelled from Dehradun with her colleagues, told PTI.
Also read: Joshimath sank 5.4 cm in just 12 days, ISRO satellite images show
Joshimath town, the gateway to trekking trails and pilgrimage destinations, has been on the edge since January 2 when the first major land subsidence took place.
Hairline fissures in several places deepened into gaping breaks in walls and streets with a frightening rumble.
Neglect of animals
As families began moving to safer areas, many pets and cattle were neglected.
Neha Saklani, whose house in Sunil area was heavily damaged, has four pets.
"One of them is with us in the hotel while the three others are at our house. But we check on them in the day and feed them," she said.
Iyer said surveys were being carried out for a count of pets or stray animals. If and where needed, they will be moved to shelter homes.
"If there are any pets and people don't have space for them, we can keep them safe," she said.
Also read: After Joshimath, Karnaprayag houses develop cracks
"So far, 200 dogs, 300 cattle and 20 equines have been identified in the affected areas," said Shreya Paropkari from the Humane Society International/India (HSI).
"All are doing well except for two injured mules," Paropkari told PTI.
Moving to safety
HSI also plans to sterilise dogs so there are no puppies born during this calamity.
The Chief Veterinary Officer at Chamoli, D. Pralayankar Nath, said the Animal Husbandry Department was making necessary arrangements to shelter stray animals and pets.
"For cattle, we are making two shelters in Sunil ward and in Ravigram area. We are distributing compact feed and green fodder. Pets are being provided feed and necessary help," said Nath, who has been in Joshimath since January 2.
"We are taking help from the NGOs to identify any affected or abandoned pets so that we can shift them to shelters and take care of them," he said.
Also read: Geophysical scientists to do subsurface physical mapping of sinking Joshimath
Feeding animals
In her three-day tour of Joshimath, Kaveri Rana Bhardwaj from the Sophie Memorial Animal Relief Trust (SMART) has fed many street animals in Joshimath, Auli road and the upper reaches.
A Helpline number has been set up in case someone needs a home for their dogs, Bharadwaj said.
The group found a small local breed dog with a twisted leg that needed to be X-rayed.
"We found equines and a lot of stray animals because sometimes if they are ill or become unproductive or get injured, people do sometimes abandon them in the streets," said Iyer.