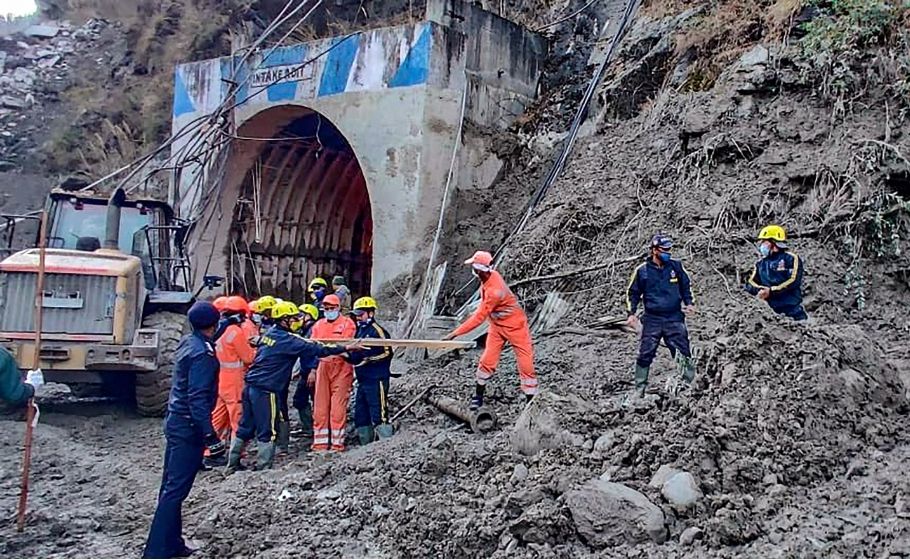 The avalanche and massive floods in Chamoli district of Uttarakhand, which claimed 18 lives with 203 still missing, could have been caused by a hanging glacier breaking away from the main glacier and coming down the narrow valley, said a team of specialists from the Defence Research and Development Organisation (DRDO).
The team conducted an aerial survey on Monday (February 8) morning to assess the damage caused by the glacial calving. The DRDO team has so far made a primary assessment and it will analyse the data collected to know the exact cause.
"Prima facie it looks like a hanging glacier broke away from the main glacier and came down in the narrow valley," Dr LK Sinha, Director, Defence Geo-Informatics Research Establishment of the DRDO told news agency ANI.
"In the valley it formed a lake which burst later and caused the damage. The data is being analysed by our scientists in detail and if required, they would again go to get more details," Dr Sinha further said.
Rescue operation in tunnel
About 30 people, mostly migratory workers from Uttar Pradesh, are feared trapped inside a tunnel at Tapovan in Chamoli. The tunnel is about 1.5 km long, 12-foot high and 15-foot in width. The flash flood blocked it with slush and debris.
Locals have teamed up with personnel from the Indo-Tibetan Border Police (ITBP) and the National Disaster Response Force (NDRF) to unclog the tunnel and help the trapped workers, who are difficult to locate inside, said an official from the state disaster response team.
"The rescuers have so far cleared 100 metres inside the tunnel, but more 100 metres of debris needs to be removed. This will take a few more hours," ITBP spokesperson Vivek Kumar Pandey was quoted as saying by news agency PTI.
A total of 12 workers were successfully rescued from another tunnel nearby on Sunday evening.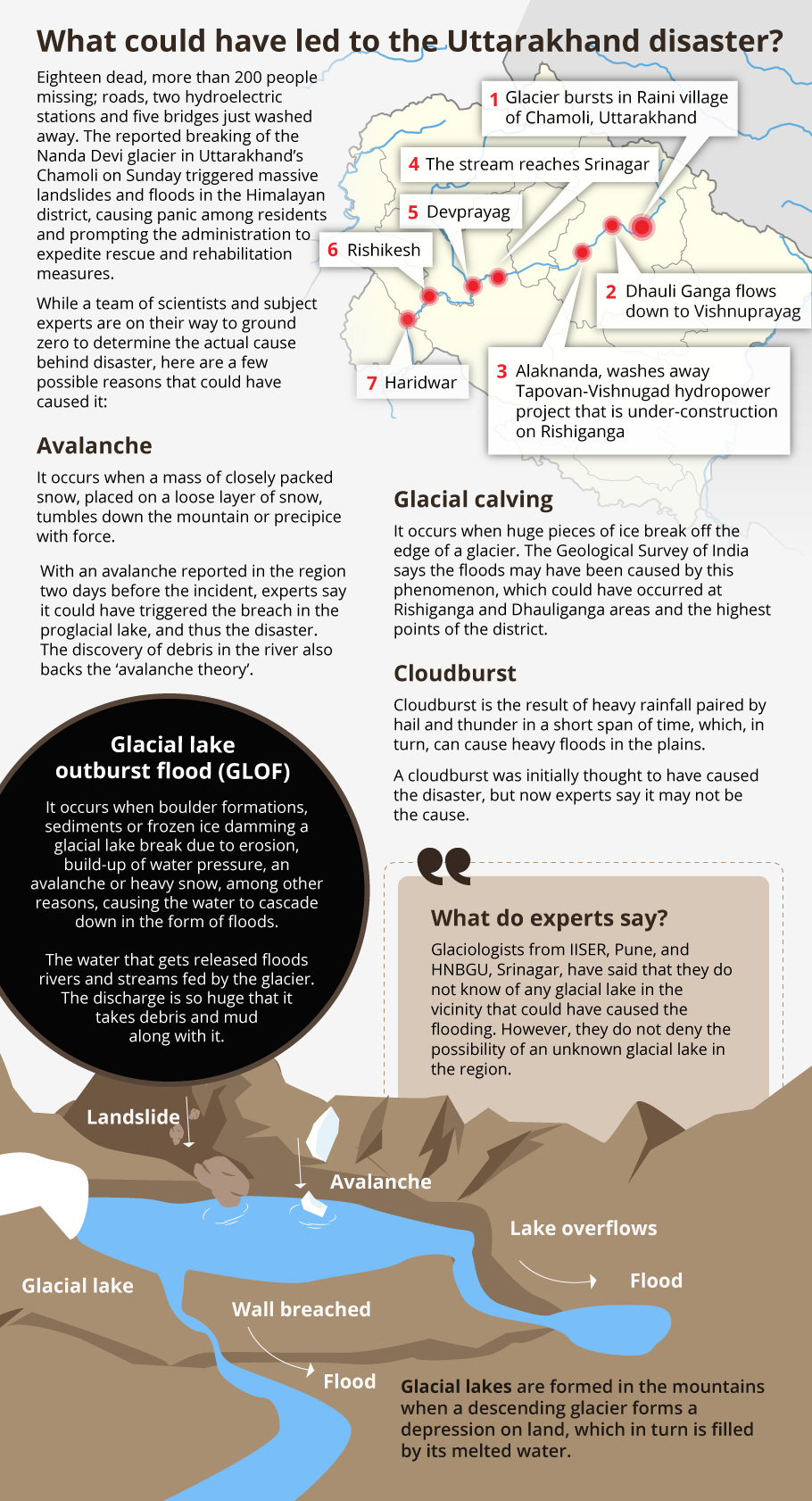 Damage assessment
Large-scale evacuations were done from villages on the banks of Alaknanada and Dhauliganga rivers on Sunday. While Army has sent six columns (about 600 personnel), Navy has deployed seven diving teams. The IAF teams left for the avalanche-hit areas of Chamoli district early on Monday.
Uttarakhand Chief Minister Trivendra Singh Rawat said on Monday a total of 203 people are still missing. He said that the Rishiganga project at Raini was completely washed away and five kms from there was the under-construction Tapovan project. "There was a subsidiary company at Tapovan with 24-25 people, no information on them till yesterday," he said.
Watch: Major glacier breaks in Uttarakhand's Chamoli, many feared dead
Among those missing, reports suggest, 148 are employees at the NTPC plant while 22 are Rishiganga project staff. Relief operations went on through the night to rescue more than 30 others trapped in a 2.5 km tunnel, braving low temperature, mud, and debris.
Union Minister RK Singh reached Joshimath on Monday to take stock of the situation. He said around 34 people are trapped inside the tunnel and "we've been able to access up to about 70m inside the tunnel, we've to further move for about 180m." "Communication has not been established yet," he said.
The ITBP personnel earlier rescued 12 others trapped in an under-construction tunnel.
Uttarakhand DGP Ashok Kumar said the efforts are focused at the moment on rescuing 30-35 people trapped in a 250-metre long tunnel at Tapovan, he said. Two hydel projects bore the brunt of the "one time" mishap in which the Rishiganga hydel project at Raini was totally destroyed and the one at Tapovan suffered partial damage, he said.
DGP Kumar further said that the workers who are missing are most probably from eastern Uttar Pradesh and Bihar. "I've been contacted that 30 of these people (missing) are from Lakhimpur Kheri (UP)," he said.
Related news | Himalayan glaciers melting twice as fast, says study
The sudden flood in the Dhauliganga, Rishiganga and Alaknanda rivers, all intricately linked tributaries of the Ganga, triggered widespread panic and large-scale devastation in the high mountain areas. Homes along the way were swept away as the waters rushed down the mountain sides in a raging torrent.
A compensation of ₹4 lakh has been announced by Uttarakhand Chief Minister Trivendra Singh Rawat for each of the deceased's families besides an extra ₹2 lakh from the PMNRF. Those with serious injuries will receive ₹50,000. Union Home Minister Amit Shah was also briefed about the situation on Sunday.