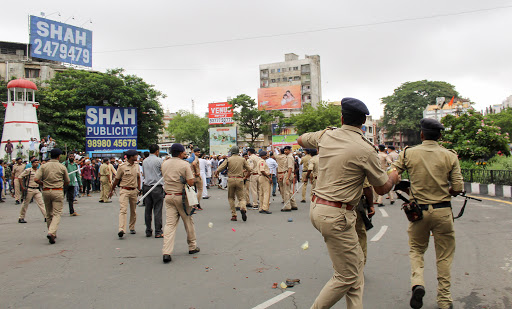 A spate of suicides by Uttar Pradesh police personnel over the last month has left a blot on the country's largest police force in most populous state.
As many as seven police personnel of different ranks have committed suicides in the last one month across Uttar Pradesh, raising questions on the style of working of the UP force.
The latest case was reported from Lucknow on Monday when sub-inspector M Dharmendra Kumar allegedly committed suicide by shooting himself with his service revolver at the residence of a relative. He was posted in Bhadohi district.
On August 31, head constable Devi Shankar shot himself with his service revolver at the security headquarters of Uttar Pradesh Police in Lucknow. He was rushed to a hospital where he died later. His brother alleged that he was being 'mentally exploited' by his colleagues.
Earlier, constable Arjun Rana, attached with Bijnore Police Lines, allegedly shot himself with his service rifle on August 16 on Collectorate premises. Another constable Madhup Singh, posted at Balni police station in Baghpat committed suicide at his residence in Ghaziabad on the same day. Similar incidents have been reported from other parts of the state too.
Also read: ED, CBI and fear is new definition of democracy under BJP: Akhilesh
Expressing concern over the rising number of suicides, state Director General of Police OP Singh has decided to ensure a review of the mental condition of policemen.
Singh said there would be psychologists to monitor the mental stress levels of cops. These psychologists would examine policemen to identify whether they are undergoing stress or depression following which, they will design therapy for them.
Policemen will be examined once or twice a month and their reports would be sent to the SSP of the district. Special counselling sessions will be conducted for officials of all ranks, with a special focus on constables and sub-inspectors, as most suicides reported are from this bracket.
Also, the top brass of the UP police is looking for ways to introduce a shift system with scheduled weekly offs, to ease the workload of the force. So far, there has been no provision of weekly offs for cops. Policemen work for months together without a break. Long duty hours also add to the pressure on cops. At present, a 12-18 hour shift is the normal duty time for a policeman in the state.
Also read: Eyeing $1 trillion economy, Adityanath to elevate UP chief secretary
The police-population ratio in Uttar Pradesh is also quite alarming, despite it being one of the largest police forces in the country with 5 lakh personnel. There are just 71 policemen for a population of one lakh in the state, which comes as a poor second after the state of Bihar. The situation is even worse when it comes to police-area ratio. In Uttar Pradesh, there are 59 policemen per 100 square kilometres of land.
Despite the massive strength, the force is under tremendous pressure, as it is functioning at almost half of its strength as sanctioned posts are lying vacant.
Taking note of this shortage, the Yogi Adityanath government recruited 75,000 police personnel recently. The Chief Minister has also announced recruitment of another 51,000 constables soon and the process for this has been started.
(Vivek Avasthi is Senior Editor – Politics with Business Television India – BTVI)