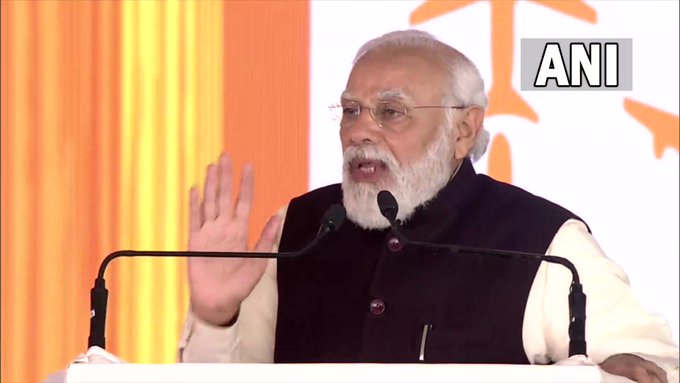 New airport will put Noida on the global map, says PM Modi
Prime Minister Narendra Modi laid the foundation stone for the Noida International Airport at Jewar in Uttar Pradesh's Gautam Buddha Nagar district on Thursday (November 25).
"Congratulations to the people of Uttar Pradesh for the Noida International Airport. It will put Noida and western UP on the global map. The Noida airport will be the logistics gateway of northern India," Modi said, launching the mammoth project.
Once operational, this will be UP's fifth international airport, the most any state in India would have.The airport, which will have five runways and two terminals, is spread over more than 1300 hectares of land.
"There was a time… till not so long ago… when people wondered if UP can progress. But today, UP is seeing unparalleled progress. From expressways to airports and rail projects, all is happening here in UP now. It is not just making an impact in India, but is leaving an impression globally," Modi said.
Modi also slammed the opposition ahead of next year's UP election and the 2024 Lok Sabha election, saying: "So many projects in UP shelved by previous governments. This too was suggested to be shelved… but then came the BJP's double-engine government (the BJP in the state and Centre) and development picked up. For us, developing India is politics."
"We used to see many projects where land was taken from farmers, and neither were they compensated properly nor did the projects kick-off. We take all our decisions keeping in mind India's progress, farmers' betterment, project and regional betterment," he said taunting rival parties.
Civil Aviation Minister Jyotiraditya Scindia on Thursday said it was Prime Minister Narendra Modi's direction that Asia's biggest airport has to be built in Uttar Pradesh, as he joined the foundation-laying ceremony for the Noida International Airport.
Scindia said the airport would bring investments worth ₹34,000 crore and the first phase of the Greenfield project is expected to be completed in 2024 with a capacity of 1.2 crore passengers annually.
"By the last phase of development, the Noida International Airport will even surpass Delhi's Indira Gandhi International (IGI) Airport and become India's leading airport," Scindia said.
He said earlier, there were only four airports in Uttar Pradesh but now, there are nine airports and this (Jewar) will be the 10th airport in the state, as he hit out at the previous non-BJP governments.
Speaking at a programme in Noida. #नए_यूपी_की_उड़ान https://t.co/KBDRaJnu0e

— Narendra Modi (@narendramodi) November 25, 2021
"It was Prime Minister Narendra Modi's direction that Asia's biggest airport has to be built in Uttar Pradesh," Scindia said. "Where there is a will, there is a way… It was an ambitious resolution of the prime minister, which has come true today," he added.
The airport is being developed by Yamuna International Airport Private Limited (YIAPL), a 100 per cent subsidiary of the project's Swiss concessionaire Zurich International Airport AG. The airport is being developed under the Public-Private Partnership (PPP) model.
The first phase of the airport is being developed at the cost of ₹10,050 crore, and is expected to be completed by 2024.
Once the airport becomes operational, it will be the largest airport in Asia and the fourth-largest in the world.
UP CM Yogi Adityanath, who was monitoring the preparations ahead of the PM's visit, said that the project would benefit the entire UP, particularly Gautam Buddha Nagar, Bulandshahr, Aligarh, Hapur and other adjoining areas.
He also said that the airport would create "huge employment opportunities" and "change the business dynamics" of the region.
Ahead of Modi's visit, the proposed airport drew a controversy as farmers whose lands had been acquired for the airport protested, saying they were not adequately compensated or given alternate accommodation. According to an NDTV report, a BJP MLA admitted that land had been acquired in a hurry.