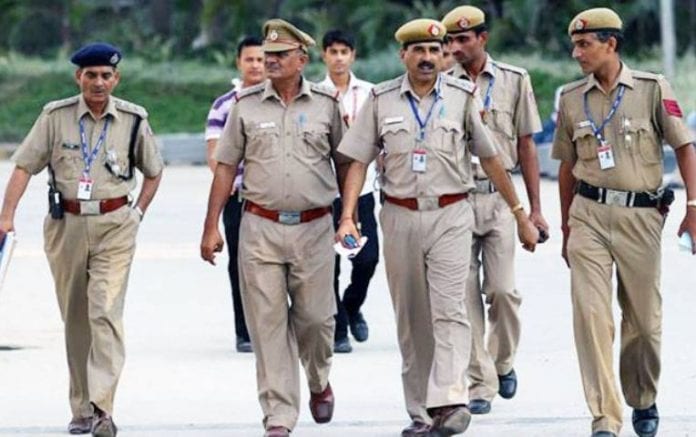 The Uttar Pradesh Police has once again come in the eye of a storm, over corruption allegations made by a senior police officer against his colleagues in the department. It also has come as a huge embarrassment to the Yogi Adityanath government that has been waxing eloquent about its zero-tolerance towards graft.
It all stemmed from the discovery of WhatsApp chat and audio recordings that Senior Superintendent of Police of Gautam Budh Nagar (Noida), Vaibhav Krishna, zeroed in on from mobile phones he had seized while effecting a few arrests. According to Vaibhav, Inspector Manoj Pant, who was caught red-handed while receiving a bribe from a businessman was held along with three journalists (stringers), in August 2019. These journalists were the ones who allegedly facilitated the meeting between the businessman and the Inspector.
The WhatsApp chats and audio recordings, found in their mobiles, showed Pant interacting with five other Senior Superintendents of Police (SSP), over transfer orders for a fee ranging from ₹50 lakh-₹80 lakh, clearly pointed to corruption prevailing in the administration.
Advertisement
The SSPs in question are Ajay Pal Sharma (Rampur), Himanshu (Sultanpur), Sudhir Singh (Ghaziabad), Rajeev Narain Mishra (Kushi Nagar) and SP Banda Ganesh Saha. Two other Inspectors too were allegedly involved in transfer deals-one of which is Manoj Pant.
Armed with the evidence, Vaibhav wrote to Chief Minister Yogi Adityanath seeking a 15-day time period to probe the case against the five officers.
Even as he was investigating the case, after securing the nod of the Chief Minister, three videos of him chatting with a woman, using objectionable language, surfaced.
Vaibhav dismissed the videos as morphed and alleged his colleagues, named in the complaint, who were being probed against, leaked the morphed video to discredit him. He also released a copy of the four-page letter written to the Chief Minister alleging corruption by five of his colleagues, named in the complaint.
Taking serious note of his conduct, the state Director General of Police (DGP) OP Singh convened a press conference and said that a notice has been sent to Vaibhav seeking an explanation for having violates the service rule by releasing a letter written to the Chief Minister. He added that the Inspector General of Meerut zone has been directed to investigate the episodes of the leaked videos and letters.
Undoubtedly, these incidents have done great harm to the image of the state police, which in any case doesn't enjoy a great reputation. This also has led to questions being asked as to how the officers, named in the complaint, are holding plum postings if the charges against them are true. If the allegations are false, how is it no action has been taken against Vaibhav?
Either way, the state administration has clearly been caught on the wrong foot. This infighting in the higher echelons of the police department has brought to the fore the machinations, intrigue and shadow boxing that characterises the security apparatus of the state.