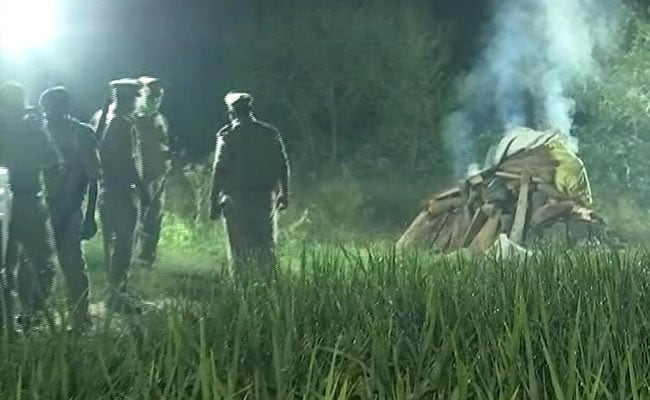 The father of the 19-year-old woman from Hathras who died after being allegedly gang-raped is unwell but has refused to go to the hospital, even as a CBI team arrived at the district to start its investigation in the case.
The parents of the victim had gone to the Lucknow bench of the Allahabad High Court on Monday as part of the hearing on the case. They have neen feeling unwell ever since they returned home in Bulgadhi village. The mother visited a hospital with relatives for treatment. The father, however, has not sought any medical attention.  
Related News: UP's shame: Hathras victim's family wants case shifted out of Uttar Pradesh
Advertisement
Hathras chief medical officer Brijesh Rathore visited him on Tuesday. "We had sent a medical team that informed us that he has ailments, including high blood pressure. However, he is not willing to go to hospital. I'm going there and will listen to his concerns," Rathode had said before heading to the village, reported Hindustan Times.
The 19-year-old woman was allegedly assaulted and gang-raped on September 14 by four upper caste men. She was admitted to Safdarjung Hospital in Delhi but died two weeks later. Her cremation by the police in the middle of the night after locking up family members had resulted in nationwide outrage, following which the state government had transferred the case to the CBI.
The CBI visited the crime scene on Tuesday after reaching Hathras. It took the victim's mother and brother to the millet field where the victim was allegedly assaulted. The team asked the mother to join it when she was returning in an ambulance after seeking medical attention in a hospital.
Deputy Superintendent of Police Seema Pahuja is leading the CBI team, which also includes forensic expert.
Related News: Hathras shame: A crime aggravated by bizarre theories and a cover-up
The Allahabad high court is looking into the conduct of the state police in investigating the case and trying to ascertain if their move to cremate the body at night was right.
The court had on Monday summoned district magistrate Praveen Kumar, who said he had allowed the post-midnight cremation. "The court asked the district magistrate – 'What if it was a girl from a rich family? Would you have cremated her the same way?" Seema Kushwaha, who is representing the woman's family, told NDTV.