A gang war that broke out in Baghpat Jail in Uttar Pradesh, on Saturday (May 2) left one inmate dead and three of his accomplices hurt, once again raising a serious question regarding the safety of prisoners in jails.
Lodged in barrack number 21 of Baghpat Jail, Rishipal, his father, Sat Singh and an accomplice named Amit, were arrested on April 16 on charges of firing at former Pradhan of their village, Om Pal, his son, and two nephews after some petty argument.
On Saturday morning, Rishipal had an argument with Bablu, another inmate. Before things could go bad, jail officials intervened and separated the duo locking them up in their respective barracks.
Bablu is serving a life sentence for a murder committed in Ghaziabad in 2004 and is lodged in barrack number 22.
Advertisement
It was around 3.20 pm when the barracks were opened that Bablu and his accomplices attacked Rishipal and Amit with sharp objects and iron rods. Both were rushed to the district hospital where Rishipal was declared dead and Amit was referred to a hospital in Delhi.
According to sources, kattan – a sharp knife-like object made after vigorously rubbing the edge of a spoon on rocks or hard surfaces, mostly used by prisoners during fights – was used to attack Rishipal and Amit.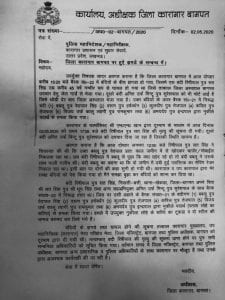 Director-General of prisons, Anand Kumar said, DIG Luv Kumar has been sent to Baghpat Jail to conduct an inquiry into the incident.
Munna Bajrangi was also murdered in Baghpat Jail
Baghpat Jail shot into the limelight for all wrong reasons when notorious sharpshooter of Mukhtar Ansari gang, Munna Bajrangi alias Prem Prakash Singh was shot dead there in July 2018.
Bajrangi was arrested from Mumbai in October 2009 on charges of murder of BJP MLA Krishnanand Rai in 2005.
He was also accused in 40 other cases of murder and extortion and was allegedly gunned down by another inmate, Sunil Rathi.
He was shot ten times and later, a pistol, two magazines, and 22 live cartridges were recovered from the prison. The pictures of a dead Bajrangi went viral.
The case of the murder is still going on and to date, it could not be established who got the arms and phone into the jail.
In February this year, the Allahabad High Court directed the Central Bureau of Investigation (CBI) to probe into the matter.
The CBI is yet to submit its final report.