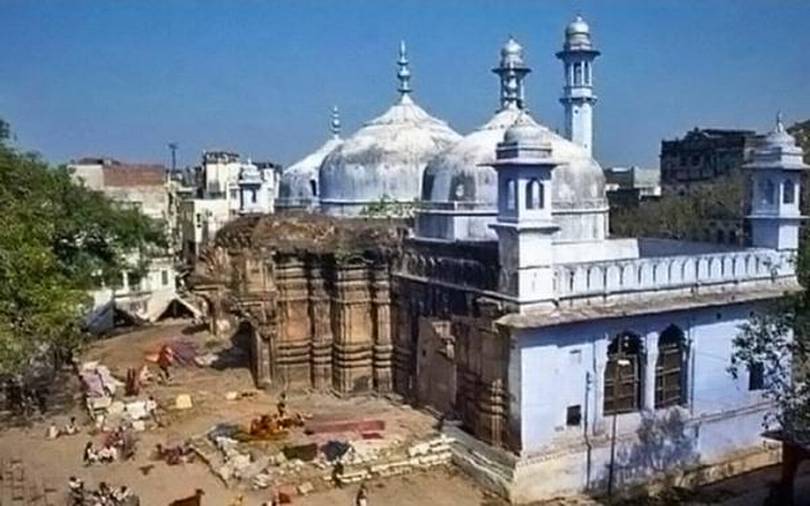 Amid protests, survey begins at Gyanvapi mosque next to Kashi temple
Amid tight security and protests, a videographic survey and inspection were carried out at the Gyanvapi mosque, which is situated next to the Kashi Vishwanath temple in Varanasi, Uttar Pradesh.
The survey of a section of the Kashi Vishwanath temple-Gyanvapi Masjid complex was ordered by a local court. The court-appointed commissioner and a team of lawyers began the two-day survey on Friday (May 6) after namaz. The team will resume the survey on Saturday at 2:30 pm.
Watch: Explainer: Gyanvapi Mosque-Kashi Vishwanath Temple dispute
According to a Hindustan Times report, before the survey began, a large number of people offered namaz at the Gyanvapi mosque and when the survey team entered the complex, around 50 people started shouting slogans against the survey. In response, Hindu groups mobilised and chanted religious slogans, raising tensions in the area. Police finally removed the protesters.
The joint secretary of the Anjuman Intejamiya Masjid (Gyanvapi mosque) managing committee S M Yasin on last Saturday said, "We will not allow anyone to enter the mosque for videography and survey. The managing committee of the Gyanvapi mosque will oppose this decision of the court. This decision will be opposed constitutionally."
Yasin was unhappy with the survey on Friday and said they will move court on Saturday. "Our opposition has been to videography in the mosque area as it is prohibited," he said.
Also read: Kashi Vishwanath temple-Gyanvapi mosque case petitioner receives life threat, gets security
In 2021, five women had filed a petition seeking daily prayers and access throughout the year to the Maa Shringar Gauri Sthal, which is located behind the Gyanvapi mosque's western wall. Now, the site is open only once a year for prayers.
In this case, the court of Civil Judge (Senior Division) of Varanasi, Ravi Kumar Diwakar, had on April 26 ordered videography by the advocate commissioner of the Shringar Gauri temple in the Kashi Vishwanath-Gyanvapi mosque complex and other places after Eid and before May 10.
The court had said that besides the advocate commissioner and parties, one associate can remain present during the proceedings.
According to the court's directions, videography and survey will be conducted inside the mosque premises on May 6 and 7.
However, the mosque's management had opposed the videographic survey which drew criticism from the Vishwa Hindu Parishad (VHP).
VHP national spokesperson Vinod Bansal told PTI earlier this week, "It is contempt of court. How can they refuse to follow the court's order and (refuse to) allow the court-appointed commissioner to conduct videography and survey inside the Gyanvapi mosque's premises… Have you kept weapons inside the mosque?"
(With inputs from Agencies)