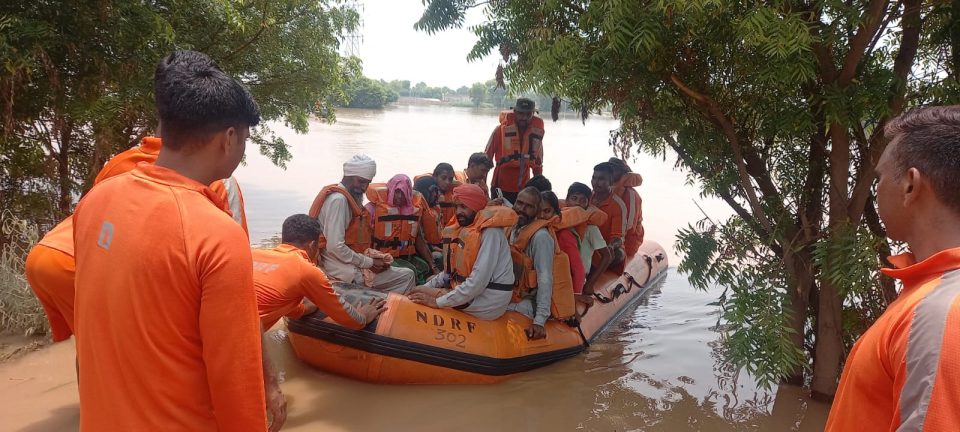 Punjab floods: 41 dead; 1,600 in relief camps; power firm suffers Rs 16-cr damage
Floods in Punjab have claimed 41 lives, while 1,616 are still living in 173 relief camps, officials said on Tuesday.
Nineteen districts — Tarn Taran, Ferozepur, Fatehgarh Sahib, Faridkot, Hoshiarpur, Rupnagar, Kapurthala, Patiala, Moga, Ludhiana, SAS Nagar, Jalandhar, Sangrur, SBS Nagar, Fazilka, Gurdaspur, Mansa, Bathinda, and Pathankot — were affected by the floods.
The government and rescue agencies evacuated 27,286 people to safety from waterlogged areas, the officials said. According to a revenue department report, 41 people died in the floods.
Also read: Karnataka stares at floods as heavy rain pounds nine districts
Several districts of Punjab and Haryana were battered by the recent heavy downpour that paralysed daily life and flooded vast tracts of residential and agricultural land.
Power woes
Punjab Power Minister Harbhajan Singh said electricity supply has been restored to all 595 places affected by the floods.
Rupnagar, SAS Nagar, Patiala, and Sangrur were the worst affected districts, he said, adding that the floods caused significant damage to the Punjab State Power Corporation Limited (PSPCL) infrastructure.
"The loss of infrastructure has had a significant impact on the power supply in the affected areas, affecting essential services. The PSPCL workforce worked round the clock to restore power supply to the affected areas," the minister said.
PSPCL officers had outlined their priorities for restoring power with the highest priority being given to the critical infrastructure, such as hospitals, medical facilities, telecom, and water supply, he said.
Also read: 4 dead as floods hit 300 UP villages; Ganga, Yamuna in spate
The minister said the PSPCL lost an estimated Rs 16 crore in the form of infrastructure damage.
The damage includes uprooted poles, damaged transformers, and flooded substations, which damaged the equipment and power lines, Singh added.
Twenty 66-KV substations across the state were inundated, severely damaging infrastructure.
(With agency inputs)