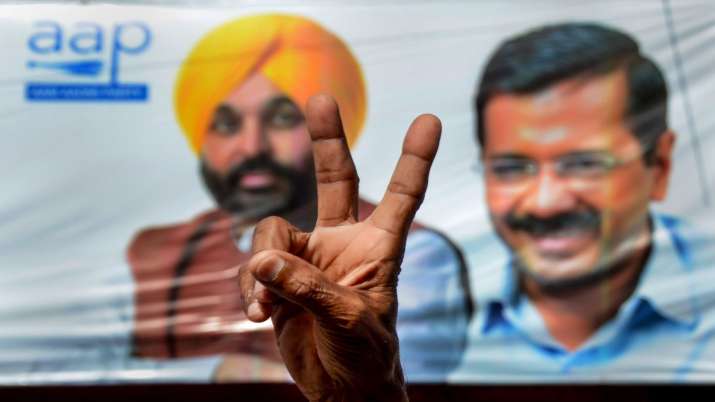 Opposition accuses Kejriwal of ruling Punjab by 'remote control'
A big controversy broke out in Punjab following reports that Aam Aadmi Party (AAP) chief Arvind Kejriwal held a meeting with state officers in the absence of Punjab Chief Minister Bhagwant Mann. The opposition parties, including the Congress, the Akali Dal and the BJP, have seized on the issue to criticise Kejriwal for running the Punjab government by "remote control", according to a NDTV report.
This is first big issue that the opposition parties have been presented with against the Bhagwant Mann government after AAP's massive victory in the Punjab Assembly elections last month.
Delhi Chief Minister Arvind Kejriwal reportedly met with top officials of the Punjab State Power Corporation Limited (PSPCL) in the meeting held in Delhi, where the state's Chief Secretary and Secretary, Power, were also present, a NDTV report said adding, Mann was reportedly not present at the meet.
Mann is 'rubber stamp'
Former Chief Minister Amarinder Singh tweeted: "Worst was feared, worst happened. Arvind Kejriwal has taken over Punjab much before it was expected to happen. That Bhagwant Mann is a rubber stamp was a foregone conclusion already, now Kejriwal has proved it right by chairing Punjab officers' meeting in Delhi."
Former Punjab Congress chief Navjot Singh Sidhu too took to Twitter saying, "…This exposes the de-facto CM and Delhi remote control. Clear breach of federalism, insult to Punjabi pride. Both must clarify."
While Kejriwal or top AAP leaders have yet to respond to the criticism, a state party spokesperson justified the meeting and said the opposition "should support" constructive steps for Punjab, NDTV reported. "Mr Kejriwal is our national convener. We always take his guidance. If for some constructive step and betterment of Punjab, an informal meeting was held, then opposition should not criticise it, but rather support it," AAP spokesperson Malwinder Singh Kang told reporters.
Free electricity promise
Kejriwal and Mann are scheduled to meet in Delhi on Tuesday to finalise the modalities to fulfil their poll promise of providing free electricity for up to 300 units in Punjab. Officials in Kejriwal's office said the scheme will be announced soon, the Hindustan Times reported.
Punjab has a free electricity scheme for the poor, which was introduced by the previous Congress government in 2016. Currently, households of Scheduled Castes (SC), Backward Classes (BC), and those Below the Poverty Line (BPL) avail of 200-unit free electricity. AAP has promised free electricity to all households that consume up to 300 units, irrespective of their economic condition.