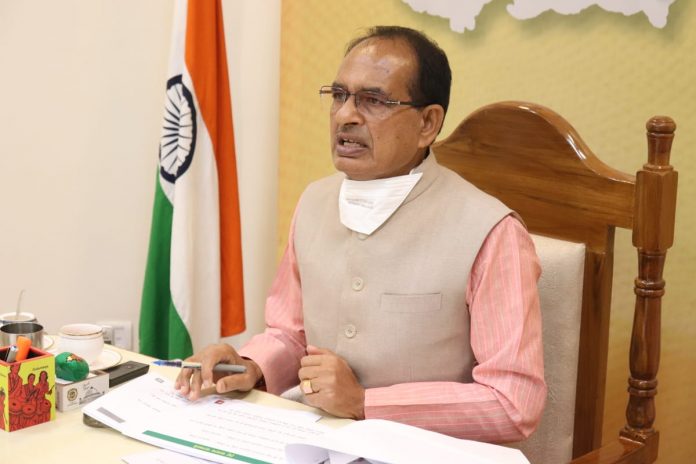 Madhya Pradesh Chief Minister Shivraj Singh Chouhan on Sunday (November 22) chaired the first meeting of the newly constituted "gau cabinet" (cow cabinet), and various decisions were taken for cow conservation and protection.
"Along with reverence and conservation of cow offspring, we are also doing work to save environment, increase production of crops, and eliminate malnutrition," Chouhan tweeted.
गौ-वंश के संरक्षण और संवर्धन का काम हम श्रद्धा के साथ-साथ पर्यावरण बचाने, फसलों का उत्पादन बढ़ाने, तथा कुपोषण दूर करने के लिए भी कर रहे हैं।

निवास पर #गोपाष्टमी पर्व के अवसर पर वी.सी. के माध्यम से मध्यप्रदेश की प्रथम गौ-कैबिनेट की बैठक ली।https://t.co/2n8GlL29HY https://t.co/CuV5tYOjKy

— Shivraj Singh Chouhan (@ChouhanShivraj) November 22, 2020
Advertisement
In a video posted on his Twitter handle, he said, "The cow cabinet of Madhya Pradesh is made to consider cow breeding and conservation. Today, there are many experts in Salaria (in Agar town) with whom we will discuss in detail and I will announce the decisions at a later date."
Related News: MP's BJP government forms cow cabinet
He added that ministers of departments related to animals and principal secretary will together form a council of ministers or 'mantri parishad samiti' to work on cow protection and promotion.
According to India Today, the cow cabinet took a decision to set up a research centre for cows at the cow sanctuary in Madhya Pradesh's Agar. Also, cow shelters will be made self-sufficient and a large number of cow shelters will be constructed across the state.
मध्यप्रदेश की गौ-कैबिनेट गौसंवर्धन और संरक्षण पर विचार करने के लिए बनी है।

आज सालरिया में अनेक गौविशेषज्ञ पधारे हैं जिनके साथ हम विस्तृत चर्चा करेंगे और जो निष्कर्ष निकलेगा, उसे मैं कार्यक्रम में घोषित करूंगा। pic.twitter.com/ZEdJSOwj88

— Shivraj Singh Chouhan (@ChouhanShivraj) November 22, 2020
The meeting also decided to take suggestions from experts on how to effectively use cow dung and cow urine and also the help of urban organisations will be taken to provide shelter to destitute cows in urban cities.
The government is also contemplating introducing a "cow tax", according to reports.
Chief Minister Chouhan on Wednesday announced setting up of a separate 'cabinet'. Ministers of Animal Husbandry, Forest, Panchayat and Rural Development, Revenue, Home and Farmers' Welfare departments will be part of this 'cabinet', said to be the first such in the country, he had said.
सर्वकामदुधे देवि सर्वतीर्थीभिषेचिनि।
पावने सुरभि श्रेष्ठे देवि तुभ्यं नमोस्तुते॥

आज गोपाष्टमी के पावन अवसर पर गौमाताओं की पूजा-अर्चना की और उन्हें आहार ग्रहण करवाया।

आज हम एक पुनीत कार्य का शुभारंभ कर रहे हैं, ईश्वर हमें सफलता प्रदान करें, यही प्रार्थना है। pic.twitter.com/3f5xdLkojp

— Shivraj Singh Chouhan (@ChouhanShivraj) November 22, 2020
(With inputs from PTI)