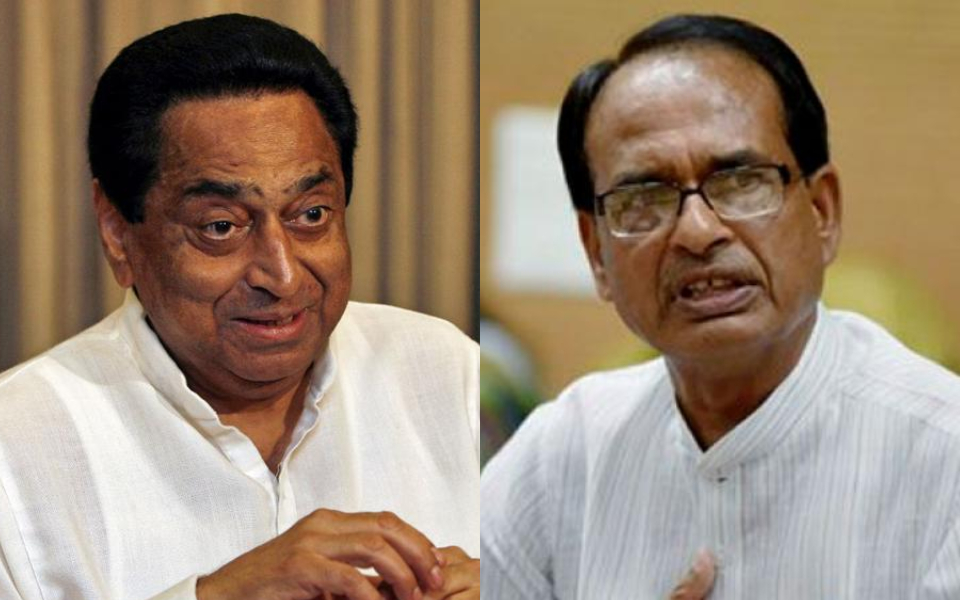 Congress confidence in Madhya Pradesh stems from war for supremacy within BJP
On May 29, following a meeting with his party colleagues from Madhya Pradesh, former Congress president Rahul Gandhi made a bold and somewhat uncharacteristic prediction. The Congress, he said, was set to win 150 of Madhya Pradesh's 230 assembly seats in the elections due in November this year.
Unlike the BJP's Amit Shah, who has a penchant for declaring before each election the number of seats his party is set to win, Rahul largely refrains from such precise declarations and limits himself to merely announcing that he is confident of a Congress victory.
In the run up to the Karnataka assembly polls, when most Congress leaders, including state party chief DK Shivakumar, were routinely predicting their party's seat tally, Rahul stuck to his "confident of an overwhelming victory" refrain even though he had, during his over 20-day Karnataka leg of the Bharat Jodo Yatra (BJY), tasked his colleagues to win 175 seats of the state's 224 seats.
Also read: After Karnataka, Congress will win Madhya Pradesh with 150 seats: Rahul
Late last year too, when Himachal Pradesh went to polls amid frenzied speculations of an imminent Congress win, Rahul, who did not campaign in the hill state due to the ongoing BJY, simply told prodding reporters that he was sure of his party's victory but made no grand forecast about the seat tally.
Rahul's claim
It is in this backdrop that the Nehru-Gandhi scion's "150 seat win" prediction about the Madhya Pradesh battle evokes interest. It is also pertinent to note that Rahul has made no seat prediction, so far, about Chhattisgarh, which will go to polls alongside Madhya Pradesh and where the ruling Congress appears set for a second consecutive win under chief minister Bhupesh Baghel.
Similarly, no such announcements have come about the party's chances in Rajasthan, where the Congress is struggling to ensure that the truce between chief minister Ashok Gehlot and Tonk MLA Sachin Pilot holds till the polls.
Madhya Pradesh chief minister Shivraj Singh Chouhan and state BJP chief VD Sharma have, predictably, scoffed at Rahul's statement, terming it "wishful thinking". Chouhan did one better by declaring that the BJP would "win 200 seats". On the other hand, Madhya Pradesh Congress chief and former chief minister Kamal Nath told The Federal that the prediction "was an expression of the confidence that Rahul and the party leadership have about our prospects".
Congress's in-charge for Madhya Pradesh, JP Aggarwal, echoed Nath's view. He told The Federal that the party's "internal surveys, conducted periodically over the past several months, have consistently shown that we will win at least 150 seats".
MP's importance
Of the four states scheduled to go to the polls in November, Madhya Pradesh – the other three being Rajasthan, Chhattisgarh and Telangana – has a special significance for the Congress. In 2018, after a prolonged drought of electoral victories, the Congress wrested power from the BJP in Rajasthan, Chhattisgarh and Madhya Pradesh – the latter two after a period of 15 years.
However, within 15 months, the Nath-led government was toppled when Jyotiraditya Scindia, a bitter rival of Nath and party veteran Digvijaya Singh, switched to the BJP and delivered to the saffron party's kitty 21 Congress MLAs loyal to him.
The Congress, which had won 114 of the state's 230 seats in December 2018 against the BJP's 109 seats, had run an unstable government under Nath since day one. The Gwalior royal's defection with his band of loyalists soon saw other Congress MLAs follow that path of ideologically promiscuous and opportunistic politics.
Following the fall of the Nath government on March 20, 2020, over half a dozen other Congress MLAs defected to the BJP in quick succession. In the by-elections necessitated due to these defections, the Congress managed to wrest only a handful of seats; its tally in the Vidhan Sabha eventually settled at 96 seats while the BJP's went up from 109 seats to a comfortable majority of 130 seats.
Also read: CM Chouhan taunts Digvijaya, Nath; says they inflicted more harm on MP than COVID
Scindia factor
Many believed then that the fall of its government and the high profile defection of Scindia, long projected as the Congress' most popular GenNext leader who could lead the party after veterans like Nath and Singh – both 76 years old – walked into the sunset, had sounded the death knell for the Grand Old Party in Madhya Pradesh, at least for the foreseeable future. More so, since the BJP had, over the past two decades, built a formidable presence in the state replete with strong local leaders across the different regions as opposed to a Congress ridden by factional feuds and swiftly eroding organisation at the grassroots.
It is, thus, interesting to analyse what changed so drastically over the past two years that has now made Rahul and his party so confident of a 150-seat assembly poll victory, come November.
Ironically, among the principal reasons that Congress sources cite to justify Rahul's prediction is Scindia's defection; arguing that his entry into the BJP along with his MLAs has triggered a crippling turf war against "original" saffron party leaders. Sources in the Madhya Pradesh BJP too concede that this indeed is the case.
"From the time Scindia joined the BJP with his loyalists, many senior BJP leaders had cautioned Shivraj Chouhan, VD Sharma and our central leadership that this won't bode well for us in the near future. But at that time all these concerns were brushed aside by people like Narottam Mishra (who played a key role in the so-called Operation Lotus that brought down the Nath government) and our top leaders who felt it was more important to bring down the Congress government," a senior minister in the Chouhan government told The Federal.
The minister added: "leaders who have been in the party for decades think they will be sidelined further as elections approach if Scindia ensures tickets for his loyalists again. This will either lead to defection of our leaders, as we have already seen with Deepak Joshi (former three-term MLA and son of former chief minister, late Kailash Joshi) joining the Congress recently, or internal sabotage. Our workers in the Gwalior division are also not happy because they are also regularly humiliated by Scindia's people who have been trying to promote the workers they brought to the BJP from the Congress."
War of words
Over the past week, a war of words has broken out between Scindia loyalists and Guna MP, KP Singh Yadav, the man who had defeated Scindia in the 2019 Lok Sabha polls. Scindia's repeated assertion at public rallies that the "people of Guna realise now that they made a mistake" in 2019 irked Yadav, who hit back saying the Union aviation minister "was suggesting that the people of Guna made a mistake in 2019 by voting for the BJP… arrogant people like him don't know what to say in public; I challenge him to contest the 2024 election against me from Guna". Former MLA Imarti Devi, one of the 21 Scindia loyalists who defected to the BJP but later lost the bypolls, shot back at Yadav claiming that "the BJP will not give him a ticket from Guna".
Nath has been claiming that a number of BJP leaders are in touch with him and ready to jump ship. The Federal had reported earlier this month that the state BJP leadership has been trying in vain to pacify these rebellious leaders, several of whom had lost the 2018 elections as BJP candidates to Scindia loyalists who had then contested on Congress ticket but have since joined the saffron party.
What has also made the Congress buoyant about its victory prospects is the palpable anti-incumbency against Chouhan's government, in general, and several BJP MLAs in particular. Though still considered to be the BJP's most bankable mass leader in the state, Chouhan, in his fourth term as chief minister, has lost much of his charm among the electorate.
Popularly hailed across the state as 'Mamaji' (maternal uncle) and the only BJP chief minister from the Atal-Advani era to have survived the apparent Modi-era purge of his contemporaries – former chief ministers Raman Singh, Vasundhara Raje, BS Yediyurappa, Prem Kumar Dhumal are prime examples – Chouhan has had to drastically change his public persona and politics to stay on the right side of the BJP's current central leadership.
Also read: BJP minister attacks Kamal Nath over his alleged role in 1984 anti-Sikh riots
A new Chouhan
Once seen as a moderate BJP face who had no qualms hosting Iftar parties or donning the skull cap while meeting Muslim leaders and commoners, Chouhan has tried hard to metamorphose into a rabid Hindutva mascot in the vein of his Uttar Pradesh counterpart, Yogi Adityanath, The transformation, despite his public display of faith in bulldozer justice and controversial legislations banning religious conversions and 'love jihad', has only made him look desperate to hold on to power.
The obvious casualty in his quest for an image makeover has been the trust he enjoyed of large sections of the state's electorate that did not necessarily vote for the BJP in Madhya Pradesh because of its Hindutva agenda but due to Chouhan's image of an affable politician who also delivered a stable and populist government.
"Scindia and Shivraj are the Congress' biggest assets in the forthcoming election. Scindia has caused a civil war between his loyalists and the BJP's asli netas (real leaders) while Shivraj has alienated large sections of the electorate due to poor governance, rampant corruption and rise of hardcore Hindutva politics in the state. The Shivraj we see today is unrecognisable from the one who was chief minister for three previous terms… he has shed everything that made him popular and adopted a forced persona that has made him extremely unpopular," Bhopal-based political commentator Rakesh Dixit told The Federal.
In contrast, Nath, who has adroitly positioned himself as the obvious chief minister face of the Congress, seems to enjoy both goodwill and sympathy across large parts of the state, including in constituencies that have traditionally voted for the BJP. "The manner in which his government was toppled has created some sympathy for him, particularly since in the 15 months that he was chief minister, he delivered a government that was perceived both as pro-people and pro-investment… his campaigns against adulteration of food, the decision on farm loan waiver and other such measures were very well received," says Dixit.
Nath's poll plank
What also appears to play to Nath's benefit is that despite representing a 'secular' Congress, he has moulded his personal image as that of a leader who doesn't shy away from flaunting his Hindu faith. "The Mahakal corridor (in Ujjain) was sanctioned by his government, he announced schemes for better gaushala management and got a massive Hanuman statue built in his constituency of Chhindwara; you will often see him visiting temples and even controversial godmen like Bageshwar Dham's Dhirendra Shastri with tilak and sandalwood paste smeared all over his forehead. He also maintains a tactical distance from issues that overtly involve Muslims… all of this makes Nath acceptable to those voters whose normal preference is for the BJP but who, after such a long period of BJP rule, have a BJP fatigue and want change, even if for just one term. It makes Nath a very strong adversary for us," a multiple-term BJP MLA from the state's Mahakaushal region and Nath's stronghold told The Federal.
The Congress plans to prominently raise the issue of "rampant corruption" by the Chouhan government in religious projects like the execution of the Mahakal Corridor, where last week a number of recently erected Saptrishi statues were damaged in a storm. "What happened at Mahakal proved that for money the Chouhan government will not even spare places of immense religious significance for Hindus… it will be a big issue in our campaign because it exposes how the BJP only sees Hinduism as a means for power while for us, it is a matter of faith… we have promised that when we come to power, extensive repair work with good quality material will be carried out at Mahakal-lok," Congress spokesperson Abhay Dubey said.
The Congress is also working on a list of "guarantees", like the ones it made to the Karnataka electorate, which will be projected as the foundation of its campaign. The party has already roped in poll strategist Sunil Kanugolu, who helped the Congress run its impressive Karnataka campaign, for the Madhya Pradesh election. Nath, along with Digvijaya Singh, Suresh Pachouri, Ajay Singh 'Rahul', Kantilal Bhuria, Arun Yadav, Kamleshwar Patel, Jitu Patwari and other prominent state leaders, will carry out extensive outreach programmes across the state in the run up to the polls.
Also read: Kejriwal's poll promise to Madhya Pradesh: Free power, education, healthcare
Congress plans
Congress sources say that party president Mallikarjun Kharge and Rahul are likely to address a massive rally in the state later this month to sound the poll bugle. Buoyed by the unexpectedly massive public response that Rahul's BJY received across MP, particularly in BJP-dominated areas like Indore, Khandwa and Ujjain, despite poor planning and infighting among local leaders, the state leadership has asked both Rahul and Priyanka Gandhi to campaign extensively in the state.
Rahul, who had received a large number of suggestions and memorandums from ordinary citizens during the Madhya Pradesh-leg of the BJY, is keen that the party factor these in while finalising its poll campaign. He is also likely to have several "impromptu" outings during his visits to the state for public rallies and roadshows – much like his visit to the Nandini Milk booths, interactions with gig workers and his scooter ride with a Blinkit delivery partner during the Karnataka poll campaign.
With barely four months to go before the Election Commission announces the poll schedule, the Congress appears atypically confident of avenging the premature demise of the Nath government. Whether Rahul's prediction of a 150-seat win stems from confidence or ultimately proves to be an overconfident boast will, of course, depend on a number of factors including candidate selection which the Congress has often botched up, which will all come into play as the state moves closer to the polls.