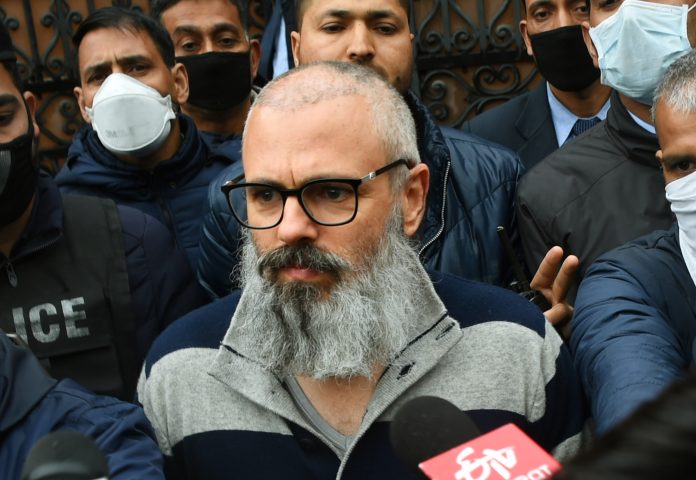 National Conference leader Omar Abdullah says in a new book that his 232-day detention period has made him "bitter", "resentful" and "angry" but it won't change his time-tested stand that Jammu and Kashmir "is an integral part of India".
"Jammu & Kashmir is an integral part of India. As much as I would like to say that my detention and the circumstances of the 5th of August have caused me to shift my thinking on that, it hasn't," he said in an interview to Pradeep Chhibber and Harsh Shah, the authors of the book "India Tomorrow: Conversations with the Next Generation of Political Leaders".
Omar said he will neither be "Indian enough for right-wing nationalist politicians" nor "Kashmiri enough for those who don't see Kashmir's future as part of India".
"It is therefore best to be true to oneself," Abdullah said.
Abdullah very candidly said that he will not ask the Union government to revoke Article 370 and Article 35 A or convert the newly formed Union Territory back into a state. "…why would I ask Mr Modi to reverse what Mr Modi has done? It's stupid. It's pointless. It's just tokenism. It's the worst form of politics because all I'd be doing is trying to appease the voters, knowing full well that nothing will come out of it. And I don't want to do that. I think the politics of appeasement is the worst thing I can do to people here," Omar Abdullah said.
Not supporting the scrapping of Article 370, the 50-year-old former chief minister said he believes Jammu and Kashmir has been treated "very, very badly" and "every single promise made has been broken".
Related news: There's more separatism in J&K after Article 370 abrogation: Abdullahs
The book "India Tomorrow: Conversations with the Next Generation of Political Leaders" gives a snapshot of contemporary Indian politics through interviews of 20 of the country's most prominent next-generation politicians.
Omar Abdullah and his father Farooq Abdullah were detained on August 5, 2019, when the Union government revoked Jammu and Kashmir's special status under Article 370 and bifurcated the state into the union territories of Jammu and Kashmir, and Ladakh.
The National Conference has challenged the Centre's decisions to scrap provisions of Article 370 that accorded special status to Jammu and Kashmir and divide it into two union territories, in the Supreme Court.