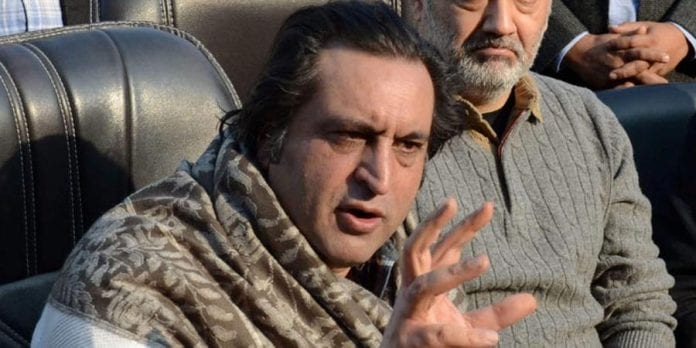 Sajad Lone pulled out of Jammu & Kashmir's Gupkar Alliance on Tuesday (January 19), dealing the first blow to the conglomeration of parties opposed to the abolition of Article 370 and bifurcation of the state into Union Territories.
Lone, who was the spokesperson for the People's Alliance for Gupkar Declaration (PAGD), said he submitted his resignation to chief of the alliance, Farooq Abdullah. Lone cited "breach of trust between partners, which is beyond remedy", as reason for his resignation.
Lone, the president of Jammu and Kashmir People's Conference, wrote in the letter: "This alliance needed sacrifice. Every party had to sacrifice on the ground in terms of giving space to fellow allies. No party is willing to cede space, no party is willing to sacrifice. We fought against each other in Kashmir province, not against the perpetrators of August 5. And those who perpetrated August 5 and their minions are now vocally gleeful." Lone said that he decided to leave the alliance amicably rather than wait for things to get "messier".
Advertisement
Also read: Three leaders quit PDP over Mehbooba's tri-colour comment
Lone, however, said that his party is "divorcing from the alliance, not its objectives." He said his party will "continue to adhere" to the objectives that were set out when this alliance was made. "The PAGD leadership should be assured that we will extend support on all issues which fall within the ambit of stated objectives," he said.
Also read: What does Gupkar Declaration mean for Kashmir's changed political landscape?
Sources said Lone was under pressure from his party members to resign since continuing with the PAGD was not "in the larger interest of the party".
In fact, Lone's colleagues Imran Reza Ansari and Abdul Ghani Vakil had also articulated their discontent against Lone bringing about an electoral alliance with allies for the DDC polls. The party reportedly held a meeting on Monday (January 18) in Srinagar to decide on pulling out of the alliance.
The Gupkar Alliance is made of People's Democratic Party, National Conference and CPM with the Congress extending its support from the outside.
The alliance contested the DDC polls held in J&K after the erstwhile state lost its special status due to the abrogation of Article 370. The Gupkar Alliance took shape in October 2020 to "restore" J&K's special status.
The Farooq Abdullah-led seven-party coalition won 110 seats, while BJP won 75 seats in the DDC elections.