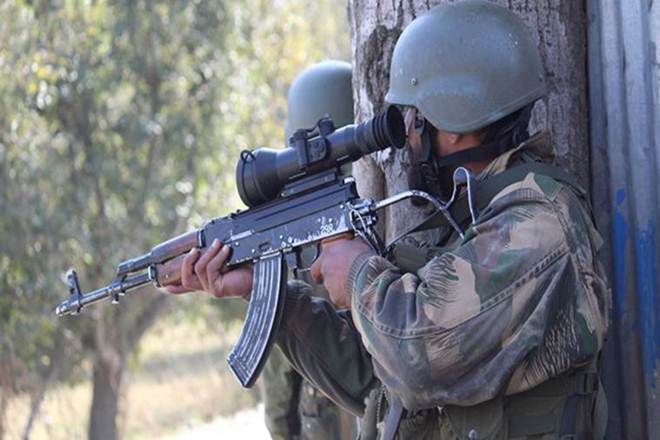 In a bid to nullify the attempts of militants to infiltrate the area near the Line of Control (LOC) in Jammu and Kashmir's high-altitude snow-bound Kupwara district, a five-member squad of Indian Army Special Forces killed five terrorists at point blank range.
According to a report in NDTV, the para-special forces were deployed in that area after "footprints were noticed near the Line of Control" on April 1, resulting in the death of all the five soldiers as well.
Sources from the Indian Army, told NDTV that the protective fence which divides India and Pakistan in that region was submerged in snow and the area where the hand-to-hand combat took place has a "razor sharp ridge line where all routes are cut off due to high snow levels."
Advertisement
The five militants tried to enter the area for two days under the hood of the heavily snowing weather, sources said, adding that a search operation was launched and the squad came in contact with the heavily-armed terrorists at 1 PM on April 1.
Related news: 3 soldiers martyred, 5 terrorists killed in J&K's Kupwara: Army
They said the soldiers recovered five bags but lost contact with the infiltrators after which additional forces were called in and the area was barred.
The troops again made contact with the terrorists at 4:30 PM on April 3 and 6:30 PM on April 4, said the sources.
Para Special Forces of the Indian Army were called in due to the snow-bound high-altitude terrain and the other hurdles in the operation.
"Based on visuals from an Unmanned Aerial Vehicle, special troops staged forward to the nearest Battalion Headquarters by air [helicopter] as the battalion remains cut-off because of heavy snow in the area. At first light on 5 April, one squad following the footsteps on the snow failed to realise that they were on a cornice", sources told NDTV.
The report stated that the cornice broke and the soldiers fell into a stream where they picked up the trail of the terrorists who were luckily sitting exactly where they were dropped, leading to a close yet brutal encounter at "virtually point blank range", sources added.
"All five terrorists were killed. However, the complete squad, five in all, were killed in action," sources said, adding that the bodies of the martyrs and the militants were found within two to three metres of each other.
Sub Sanjeev Kumar, Hav. Davendra Singh, Sepoy Bal Krishan, Sepoy Amit Kumar, and Sepoy Chhatrapal Singh were the soldiers who paid for the Op Randori Behak (Kupwara) battle with their lives.