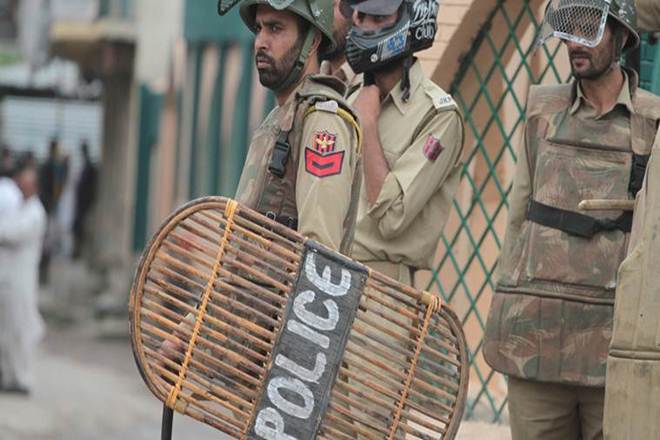 A day after two journalists were assaulted by Jammu and Kashmir police officers on Tuesday (December 17), journalists in Kashmir came out in protest against the alleged police brutality. The security establishment assured the protesting journalists a time-bound inquiry into the incident and promised a fair and speedy outcome and stern action against the accused.
Two Kashmir-based journalists, Azaan Javaid of The Print and Anees Zargar of News Click alleged that they were abused, assaulted and intimidated by two senior officers of the J&K Police when a group of journalists was covering a student protest outside the Islamia College of Science and Commerce in downtown Srinagar.
The Kashmir Press Club (KPC) in solidarity with the reporters voiced serious concern and condemned the assault saying that the media fraternity would not tolerate such behavior towards the working journalists.
"Two Journalists were targeted by Superintendent of Police (North City) Sajad Shah and his subordinate Rashid Khan even after the two scribes disclosed their identities as journalists. They did not stop at this and hurled the choicest abuse, according to Azaan Javaid and Anees Zargar. All of this is recorded in a video that also corroborates the version given by the duo. It appears that the two journalists were deliberately targeted," the KPC said in a statement soon after taking up the matter with senior police officials and department of Information.
Also Read: Trade body urges Centre to take steps to revive businesses in Kashmir
In a video that has since gone viral Rashid Khan, Station House Officer (SHO) Rainawari could be seen thrashing Javaid and also slapping and heckling Zargar.
Azaan Javaid, special correspondent for The Print, said that he along with a couple of fellow journalists drove to Srinagar's Islamia College of Science and Commerce to cover a students protest organized to express solidarity with the protesting students in Jamia Millia Islamia and elsewhere.
"To ascertain whether the protests were related to the anti-CAA agitations across the country by student community, it was pertinent to talk to some of the students protesting at the college, however, once we reached there we saw J&K police and CRPF personnel standing guard outside the locked gate of the college as stones flew from inside the college complex towards the main road where we were standing along the security forces," Javaid, said.
Sensing that they won't be able to interact with students, three journalists Javaid, Zargar and Hakeem Irfan of Economic Times decided to return.
On their way back Javaid and his group spotted Rashid Khan, SHO in Srinagar's Rainawari area grabbing a couple of youth walking on the main road, at some distance from the protest site.
The journalist group started to click pictures and videograph the detention.
Javaid who had earlier in his reports once mentioned Rashid Khan for harassing locals in Rainawari, said," I suspected that the detained youth were not part of the protests. And seeing me record the detention must have agitated Rashid Khan."
"I was slapped by SHO Rashid Khan. It was a personal vendetta as he nursed a grudge against me for filing a story in the past. When I protested Khan snatched the phone I was using to record the developments" Zargar told The Federal.
However, when The Federal asked Rashid Khan for his statement he said, "If they allege that I have abused or assaulted them, let them go to my seniors."
Also Read: No plan to extend Article 371 in Union territory, says J&K govt
Azaan Javaid and Anees Zargar also accused Sajad Shah, Superintendent of Police (SP) for joining the SHO and ordering his men to threaten and beat them up.
The Print in a statement condemned the assault by Jammu and Kashmir Police on its staff based in Srinagar, Azaan Javed.
"Javaid was on the ground reporting in Srinagar when his phone-which he was using to record visuals of police detaining some youths-was snatched… The Print demands Javaid's phone be returned immediately and an urgent inquiry conducted into the incident and the erring policemen punished," the statement said.
In a similar incident, a fortnight ago, at least two journalists and a writer were called for questioning by J&K police in Srinagar for covering the ground reality.