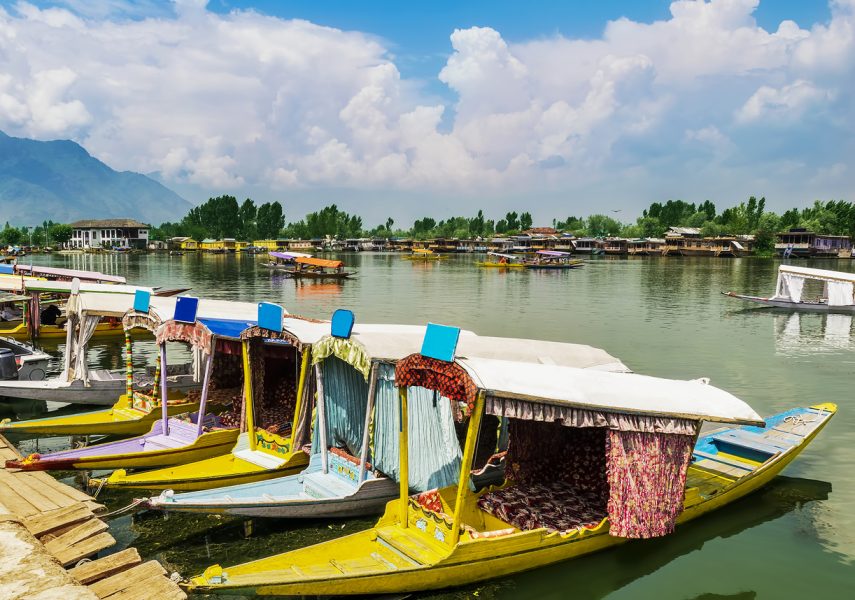 Jammu and Kashmir has recorded its highest unemployment rate ever, deflating the government's tall claims that "an era of development has begun", after the restive region lost its semi-autonomy and statehood in August 2019.
According to a recent survey published by the Centre for Monitoring Indian Economy (CMIE), Jammu and Kashmir has an unemployment rate of 21.6 per cent, the worst among all the states and Union territories in India.
Economic experts say the Union territory is "going through an economic winter, which is fast metamorphosing into an economic black hole."
Ejaz Ayoub, a Srinagar-based economic analyst argues that "Unemployment data published by CMIE shows how all economic sectors (in Jammu and Kashmir) have been devastated post-August, 2019, and how it has resulted in loss of jobs to millions of bread earners in the economy. The unemployment numbers of September and October 2021 show that over nine lakh people among Jammu and Kashmir's total labour force of 44 lakh have lost their jobs. This is pushing households towards abject poverty."
Also read: Just a tenth of Central scheme funds has trickled down to J&K this year
After the BJP-led central government invalidated the provisions of Article 370 and 35A on August 5, 2019, all channels of communication, including the internet and cellular services, were shut for several months in Jammu and Kashmir.
In December 2019, Access Now, an international advocacy group that tracks Internet suspensions, said that the internet shutdown in Jammu and Kashmir was "the longest ever imposed in a democracy." The internet suspension had lasted for 134 days at that time.
The Jammu and Kashmir Coalition of Civil Society (JKCCS), a prominent human rights group based in Kashmir, in one of its reports, had described the prolonged internet suspension as "digital apartheid", which continued for 555 days in Jammu and Kashmir.
In July 2020, the Srinagar-based traders' body Kashmir Chamber of Commerce and Industries (KCCI) in its preliminary loss assessment report, estimated the losses due to the successive lockdowns (August 5, 2019 move and the COVID-19 pandemic) at a whopping ₹40,000 crore. In November 2019, the KCCI had given a detailed analysis of sector-wise loss estimates.
"Jammu and Kashmir has been virtually under permanent lockdown since August 2019 when the special status of the region was diluted. Then, normal life came to a standstill due to the pandemic. As a direct consequence of such events, our economy has suffered beyond repair," Sheikh Ashiq, president of the KCCI, told The Federal.
On its part, the Jammu and Kashmir administration in its daily press releases issued through the Department of Information and Public Relations (DIPR) claims that tourism activity has picked up in the region and that various developmental projects have been sanctioned.
Also read: No discrimination, only development: Amit Shah tells Jammu
On his recent visit to Jammu and Kashmir, Union Home Minister Amit Shah took a dig at the Congress (INC), the National Conference (NC) and the People's Democratic Party (PDP), saying, "The three families asked me what will you give to the people here, but what did the rule of your three families give in 70 years, the people of Jammu and Kashmir are asking for the account of what they did for the people."
"Narendra Modi had given a package of ₹55,000 crore as soon as he became the prime minister, out of which ₹35,000 crore has been spent and 21 schemes have been completed, and you are asking for an account of what we have done?" Shah said. "This is Narendra Modi's rule, injustice will not be done to anyone and no one will be appeased. We want to create a situation in which not a single person's life is lost in Jammu and Kashmir and separatism ends completely," he said.
Farooq Abdullah, former chief minister of Jammu and Kashmir, while addressing a public rally in north Kashmir's Bandipora district on November 2 said that "There is uncertainty on all fronts—political, economic and educational. Our youths continue to be at the receiving end. Repeated assurances and promises by the government to create new jobs have not fructified. Much touted new dawn (post-August 5, 2019) turned out to be a dreadful night for the people of Jammu and Kashmir."
The region's economic experts are also least impressed with Amit Shah's rhetoric and say that, on the ground, the picture is bleak.
"The downward and widening vortex has slowly, but surely engulfed jobs, incomes and businesses in Kashmir. Far from charming headlines and discourse management events, the situation on ground has never been so bad in the last three decades," analyst Ejaz Ayoub asserted, adding, "poverty and inflation are rising rapidly, economy and employment on the other hand is contracting. Household savings and government finances have gone for a toss and businesses are foreclosing and declaring bankruptcy at a galloping pace."
According to economic experts, Jammu and Kashmir is a consumption driven economy and, therefore, soaks a lot of labour in the trading sector.
In October this year, as many as 50 persons were killed in the Union territory. The dead include 10 members of the Indian Army, 13 non-combatants and 17 armed militants, while five government forces personnel lost their lives due to fratricidal incidents. The targeted killing of a couple of street vendors from outside Kashmir caused deep anxieties among the migrant skilled labourers, coercing many to depart from the Kashmir Valley in panic.
Economic analysts say the high frequency economic data points sketch a grim economic scenario in Jammu and Kashmir. "Indirect tax (GST) collection indicates that the volume of commerce and consumption in an economy has witnessed a serious contraction," Ayoub told The Federal, adding that "with communication blackout, a complete halt on businesses, trade and commerce, the tax mopped by the government of Jammu and Kashmir dwindled by a sizeable margin, when compared to pre-August 2019 levels."
Ayoub said the impact kept lingering on in the financial year 2020-2021, as could be seen from the wide discrepancy in the GST budgeted targets by the Jammu and Kashmir government at ₹9,242 crore, and an actual collection of ₹4,890.35 crore in the end.
Ayoub also said that another grim scenario is the pattern of income tax collections.
"Although a limited percentage of the earning population in the region is eligible for paying direct taxes, the patterns of the drop indicate a significant contraction. From ₹541.40 crore in FY 2018-19, to only ₹267.28 crore in FY 2020-21, there is a massive drop of around 50 per cent in direct tax collection in Jammu and Kashmir," Ayoub said, adding that there is also a significant drop in people's savings in the region.
Also read: Return of bloodshed: It's a sense of déjà vu & betrayal in Jammu
As per the Union Ministry of Statistics and Programme Implementation, Jammu and Kashmir registered an inflation of 7.39 for September 2021 compared to all-India average of 4.35. "The inflation rate for Jammu and Kashmir has consistently stayed at above seven," Ayoub said.
"There are a dozen data points in terms of contraction in investment, exports, sale of consumer durables like mobile phones, automobiles etc. which show that the Jammu and Kashmir economy has gone from bad to worse in the last three years or so," Ayoub said.
Apart from sectors like horticulture, tourism and IT-industry, the hospitality sector in the Union territory has also taken a hit.