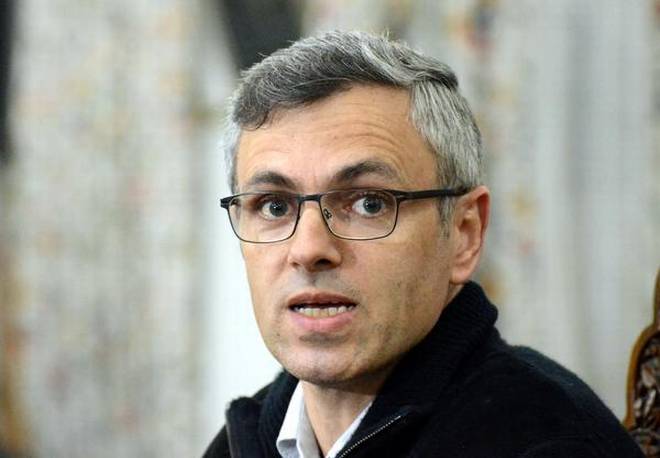 In the wake of a stupendous performance of the People's Alliance for Gupkar Declaration (PAGD) in the District Development Council (DDC) polls, former Jammu and Kashmir Chief Minister and NC leader Omar Abdullah has said while the election was the only "democratic" option left for regional parties to show their strength, the results prove that the Centre's claim of normalcy in the valley is not true.
In an interview with Indian Express, Abdullah, who believes the DDC polls to have opened up a democratic process in Jammu and Kashmir, however, doesn't see an Assembly election happening anytime soon.
"The political process was in deep freeze post August 5, 2019. They have also, to an extent, put to rest claims that mainstream politics in Jammu and Kashmir is dead, or that there is no place for traditional political parties of Jammu and Kashmir. If you look at the National Conference, in terms of our strike rate and our ability to win seats both in Kashmir and Jammu, I think it would be pretty surprising if somebody were to turn around and say this political party is dead," he said.
Advertisement
He says, it is important to note that the DDC elections have created a new level of governance closer to the grassroots.
Related news: PDP leader Parra paid ₹10 lakh to Hizbul via Dy SP Davinder, says NIA
The NC leader, however, believes that the Centre would not allow an Assembly election to be held in the Union territory now, given its alleged treatment of UTs like Delhi and Puducherry.
"I am not particularly enthused about Assembly elections in a Union territory…You only have to look at the examples of Delhi and Pondicherry to see how their elected chief ministers are humiliated and reduced to non-entities by highly active lieutenant governors…My father (Farooq Abdullah) is convinced that you will see am Assembly election sometime in 2021. I am at complete odds with him. I don't believe it will happen before the next Parliament election," he said.
"J&K has been singled out for delimitation…The process will take a considerable time. And once that is done, new constituencies are identified, you will be pretty much at the end of this Parliament. And I wouldn't be surprised if the government of India turns around and says well, hang on, we have a Parliament election in a few months, we might as well do both together," he added.
Abdullah agrees that the Gupkar Alliance, formed initially to demand a rollover of the Centre's decisions on August 5, 2019, and which later contested together for the DDC polls has garnered more support since the polls.
He says it would be untrue to say that the alliance has no standing in Jammu, as claimed by the BJP.
"Going simply by the numbers, without any horse-trading, without any interference, we are in a position to establish chairpersons of the People's Alliance in about 12 or 13 of the 20 districts," he said.
Asked if the participation of the Gupkar alliance in the DDC polls was an indirect legitimization of the situation in Kashmir, Abdullah it is not, as their participation has sent out a message that the people of J&K are not in favour of "what happened on August 5, 2019".
He says participating in the elections was the only democratic way to prove local parties still enjoyed popular support.
"The conclusion that we drew was that these elections were going to go ahead with our presence or without it. At a time when public support for the agenda of the People's Alliance was being called into question, what other way did we have apart from peaceful democratic means to prove that we enjoyed popular support?" he says.
He adds that the other alternative before parties like the NC was to adopt the "path of the Hurriyat", that includes, "confrontation, protests, strikes, stone-pelting, boycott of elections…" which he says would have opened the alliance to criticism and made survival of regional parties difficult.
Related news: People have not forgotten Article 370, it lives in our heart: Mehbooba Mufti
"We thought that this was the best way to prove to the world at large, but particularly to the rest of India, that the bogey that has been fed to the people by the BJP that the people of J&K are resoundingly in favour of what happened on August 5, 2019, that even the people of Kashmir are a 100 per cent behind the decision, was wrong. And I think by participating in this election, we have been able to send that message out."
He, however, refuses vouch for a "permanence of the alliance", stating that it is just like any political alliance such as the NDA and is facing certain teething problems like seat sharing as seen in any political tie-up.
"So, as with every alliance, it's not 100 per cent smooth sailing, but we survived this major test," he said.
Asked if the recent killing by militants of a Punjabi businessman who had received a domicile certificate points to apparent hatred for outsiders, Abdullah says it probably stems from the unease in people brought about by the new laws which allows outsiders to do business in the valley.
Related news: DDC polls: PAGD bags 100 plus seats, BJP single largest party with 73
"And that unease is multiplied when we see the way in which one UT is treated in comparison to another. On August 5, 2019 two UTs were formed. Yet, only one is singled out for experiments with domicile and land laws…But no matter how apprehensive we are about these new land and domicile laws, the use of violence to express our resentment is not acceptable. Which is why I would like to see courts play a more proactive role in taking up these concerns and starting the process of listening to people," he told IE.