As India replaced France, Germany, Turkey, Iran and China in the list of worst COVID-hit countries and became the seventh country with the maximum number (1,91,000 plus) of positive cases and nearly 5,500 deaths, Jammu and Kashmir is battling a crisis of a different sort with at least 63 pregnant women testing positive for the virus. Most of the patients are from the southern districts of Anantnag, Kulgam, Shopian and Pulwama.
On May 31 itself, as many as 16 pregnant women tested positive for coronavirus at Srinagar's Chest & Disease (CD) hospital, said officials.
Data that The Federal accessed shows that Anantnag district reported the most number of COVID-19-positive pregnant women, followed by Kulgam and north Kashmir's Baramulla district which had eight cases each. The number of cases was four in Kupwara district, and three in Srinagar. Other districts where expectant mothers tested positive are Shopian (4), Bandipora (3), Budgam (1), Pulwama (1) and Ganderabal (1).
Advertisement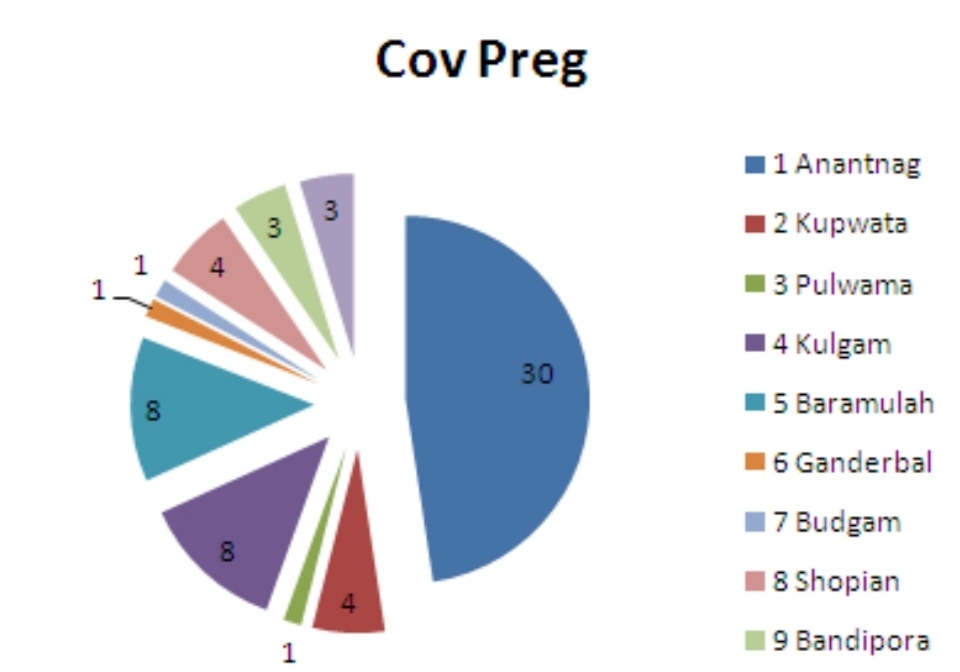 Of them, a 35-year-old woman from Anantnag recently succumbed to the disease.
Doctors say the trend is not a healthy indicator while some health experts dub it an ominous sign for 'community spread' even though they insist on collecting more scientific data to support the claim.
According to Dr Muhammad Salim Khan, a nodal officer at Government Medical College (GMC) Srinagar, the immune system of pregnant women is much lower compared to others. "Therefore, the vulnerability is high and the impact can be adverse if timely measures are not taken. That is why the government policy at the moment is to conduct testing (random) of pregnant women as a necessary preventive measure," Khan told The Federal.
Health professionals attribute the rise in cases to four reasons: One, the rate of testing has increased; two, random testing known as RTPCR of expectant mothers is being done at a galloping pace; three, the influx of fresh travellers from abroad; and four, there is a possibility of 'community spread'.
Doctors say the alarming rate of the infection among pregnant women is not a good sign. Dr Suhail Naik, consultant paediatrician and president, Doctors Association of Kashmir (DAK), insisted that caution needs to be exercised at multiple levels to avoid a catastrophic situation. He expressed concern over a crowds of travellers reaching Kashmir via air travel or railways.
Related news: Docs, cops infected in Kashmir, community spread feared
"All incoming travellers should be treated as COVID-19 positive unless proven otherwise with proper testing while following necessary COVID-19 protocol," he said.
Dr Yasir Wani, a consultant paediatrician at J&K Health Services, sought to allay fears by saying that pregnant women are "not more susceptible to have severe COVID-19 infection".
"Breastfeeding does not transmit COVID-19 to babies and babies born to COVID positive mothers are unaffected at birth," he said.
He advised pregnant women to strictly follow physical distancing norms, cough etiquettes and hand hygiene, wear a face mask and avoid hospital or clinic visits as much as possible.
Worryingly though, Jammu and Kashmir reported 105 fresh positive cases on May 31 of which 90 were reported from the Kashmir Valley and remaining 15 from Jammu province. The government's bulletin on novel coronavirus (COVID-19) said that the total number of positive cases is touching the 2,500-mark now.
According to the government's bulletin, "Of 2446 positive cases, 1491 are active cases while 927 have recovered. Until now 28 individuals have died (25 in Kashmir and three in Jammu)."
"Additionally, till date 1,72, 844 travellers and persons in contact with suspected cases have been enlisted for surveillance which included 38,572 persons in home quarantine including facilities operated by government, 45 in hospital quarantine, 1,491 in hospital isolation and 46,419 under home surveillance. Besides this, 86,289 persons have completed their surveillance period," it said.