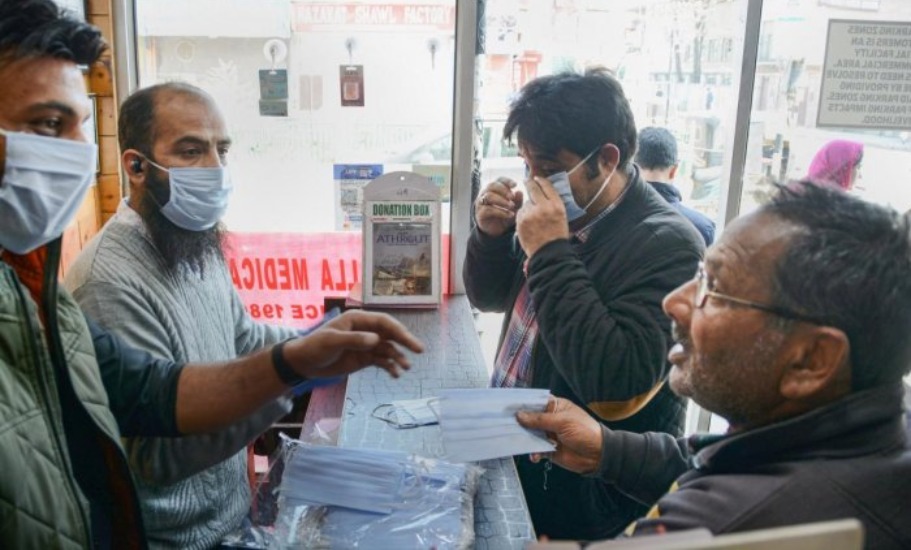 Amid continuing e-curfew, Srinagar reports first COVID-19 case
Srinagar has reported its first case of coronavirus in its Khanyar locality, adding to the growing anxiety of the residents in Kashmir Valley already reeling under extremely slow internet services.
Srinagar has reported its first case of coronavirus in its Khanyar locality, adding to the growing anxiety of the residents in Kashmir Valley already reeling under extremely slow internet services. In view of the first confirmed case, authorities in the Valley have announced precautionary and restrictive measures including a ban on the arrival of foreign tourists till further notice.
This comes at a time when the people of Kashmir are already struggling with the erratic and slow 2G internet speed amid growing concerns over proliferation of the pandemic. Meanwhile, in its latest order, the authorities extended the ban on 4G internet services in the Valley.
Leading newspapers like Kashmir Observer and Greater Kashmir, in their editorials, have demanded immediate restoration of full speed internet services. "At a time when people in Kashmir desperately need high speed internet for more awareness about the dreaded coronavirus pandemic, the government has decided to extend the restrictions on the service until March 26," said the Kashmir Observer in its editorial.
"Information about the disease and its real-time dissemination among people is critical to fighting it. It empowers people to take precautions and preventive measures on their own. But the government, it seems, doesn't want it. Its approach, as always, remains security centric when the need of the hour is prioritising healthcare," the editorial further read.
Similarly, the Amnesty International India (AII) also said the government in Jammu and Kashmir must restore full access to internet services in the region and ensure that people have full access to health and safety related information. Amnesty International, one of the leading human rights and advocacy groups in the world, also took a dig at the government for not lifting the ban on high speed internet in its latest order.
Related news: Kashmir demands 4G internet restoration after first COVID-19 case
Beside restrictions on full internet services such as restricting speed to 2G in the region, the Jammu and Kashmir government has also imposed complete internet shutdowns intermittently in certain areas in the guise of security. To contain the spread of the virus, the government also ordered shutdown of all educational institutions, public parks, hotels and restaurants.
"Complete shutdowns or restricting of internet speed or access makes it difficult for people to navigate their way through a difficult time, further undermining their trust in the authorities. The Government of India needs to adopt a rights-respecting approach to protect public health and restore access to 4G speed internet," said Avinash Kumar, executive director, Amnesty International India.
The panic spread in Kashmir after it was officially confirmed a 67-year-old woman from Srinagar's Khanyar area, who had a history of travel to Saudi Arabia, tested positive for coronavirus.
Rohit Kansal, Principal Secretary (Planning), Jammu and Kashmir, said the patient had arrived in Srinagar on March 16 and has now been put in isolation. "Surveillance started in 300m area. Request all to cooperate. Also immediately self report any symptoms," he said.
Related news: Vaishno Devi yatra closed in Jammu and Kashmir amid coronavirus scare
On Thursday, Srinagar's Deputy Commissioner Shahid Choudhary announced severe restrictions that the administration has imposed in Srinagar city in the wake of the coronavirus outbreak.
"Restrictions imposed in Srinagar city for containment of any likely spread of coronavirus. Medical teams are following the standard operating procedure (SOP). There will be initial problems for a day or so. The administration will ensure effective services and supplies. Please stay at home. Contact district control room for any help," said Choudhary.
However, the deputy commissioner was severely criticised on Twitter for announcing restrictions one after another since last August while keeping mum over issues like mass detentions, lockdown and the absence of speedy and uninterrupted 4G internet services for nearly eight months now.
According to Access Now, a human rights and advocacy organisation, Kashmir is witnessing the world's longest internet shutdown since the restive region's semi-autonomous status and statehood were taken away on August 5, 2019.
Related news: COVID-19 impact: 50% central govt employees to work from home
Khalid Bazaz, a skill development professional based in Srinagar, told The Federal his work entirely depends on the internet and that it has immensely suffered in the absence of high speed internet. "It is almost impossible to download videos or attach pictures in the work emails. There has been an adverse impact on our work and the quality and delivery of it," he said.
One of Bazaz's colleagues nodded in agreement and said his communication with a foreign-based organisation has "received a severe jolt."
London-based Kashmiri novelist and academic Nitasha Kaul described the move of not fully restoring internet in present times as part of a "collective punishment" meted out to the Kashmiri populace.
"In quarantine or isolation, many of us are grateful for having internet and social media, precisely what people in Kashmir still don't have. Not because 4G doesn't exist but as it's part of collective punishment, exacerbated since last August, no relenting for virus," said Kaul.
People are arguing that while most of them are staying home in the wake of the pandemic, 4G internet would have at least enabled them to watch awareness videos from the worst-hit regions like China, Italy, Iran, Spain and Germany, and thus helped in taking timely precaution. Many parents are saying their kids would at least be able to download their homework and also watch films and videos to kill time in yet another spell of uncertain lockdown.
Related news: India doing well, needs to step up COVID-19 testing: WHO representative
Iqbal Saleem, a senior doctor at Srinagar's Shri Maharaja Hari Singh (SMHS) hospital, advocated harsh measures to fight the virus.
"A firm decision needs to be taken. The virus has arrived in our Valley. Are we bold enough to prevent it from spreading? When it does, none will be spared, so please stop dilly-dallying and act as friends of people for a change," he said.
People in Kashmir, it appears, are in a panic mode and many are rushing to stock up on essentials. Panic buying and public rush is being witnessed in the banks, hospital and at filling stations.
According to Iltija Mufti, daughter of former chief minister Mehbooba Mufti, "COVID-19 panic has brought a sense of déjà vu to Kashmiris." She reminded people that social interaction "will increase chances of being infected."
Worryingly, there are only 97 ventilators in total for eight million Kashmiri inhabitants in the valley. Meanwhile, there are now eight confirmed cases of COVID-19 in neighbouring Ladakh.
Apart from banning foreign tourists from entering Kashmir, the authorities have also closed down cafes, clubs, public parks and restaurants. In Jammu, Vaishno Devi pilgrimage has also been cancelled while all inter-state bus services stand suspended. The Kashmir Press Club has also decided to close down till further notice.