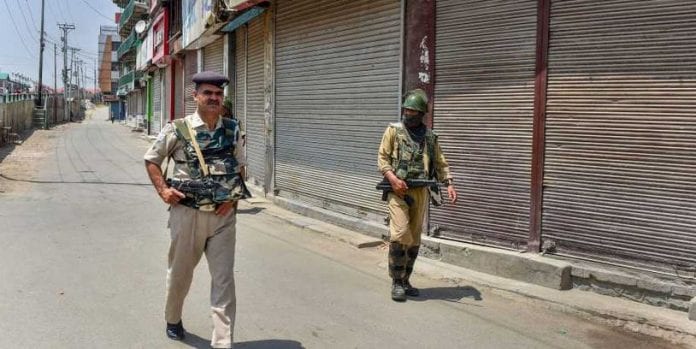 The lockdown in Jammu and Kashmir completes six months on Wednesday (February 5). But almost 8 million inhabitants of the valley still have limited or no access to internet.
Leaders including three former chief ministers and hundreds of political workers continue to be in detention in various jails. Only eight of them- including People's Conference chairperson Sajjad Lone and PDP leader Waheed Parra, an aide of former chief minister Mehbooba Mufti on Wednesday (February) – have been released so far.
Life has been almost on a standstill since the Centre revoked Jammu and Kashmir's semi-autonomous status and downgraded the restive region from a full-fledged state to union territories on August 5, 2019.
Even though internet services were partially restored in the valley in January and the Centre has been stressing on the return of normalcy in the valley since August 5, political bodies in the Union Territory say the claims were a sham to conceal the true state of affairs.
Leaders still under detention
"Democracy (in Kashmir) has been put on suspended mode. The unlawful detention of Omar Abdullah and slapping of Public Safety Act (PSA) on his father Farooq Abdullah deflates the BJP's hollow claim of 'normalcy' in Jammu & Kashmir," said Imran Nabi Dar, provincial spokesperson of National Conference (NC), Jammu and Kashmir's oldest political formation.
Dar has demanded an unconditional and immediate release of the two leaders.
As detentions of Kashmir's main political figures complete six months several world renowned historians, journalists, commentators and analysts have made their stand public on the issue.
Salman Soz, a Congress leader based in the United States says his father Saifuddin Soz, 82-year-old and former Union minister has been under house arrest since August 5.
"He was allowed two short visits to Delhi for health check-ups. At 82, his spirit is strong. Will never yield to Narendra Modi," he said.
Taking a dig at the Narendra Modi-led government's claim to introduce developmental projects in the valley after the abrogation of Article 370, Soz says the government is yet to deliver its promise.
Also read: Hours after restoration of mobile internet in Kashmir, temporarily suspended
"Modi government promised transformative development but the experience of citizens is that there appears to be no governance in Jammu and Kashmir," he said. "The government may have wanted to divide opinions in Jammu and Kashmir, but the opposite seems to have happened," he added.
A prominent national daily in a scathing editorial accused the Centre of failing to meet its objectives in Kashmir, and batted in favour of a political outreach in Kashmir.
"Citizens do not enjoy all political rights. While groups of leaders have been released in batches, many including three former chief ministers remain under detention. There remains extremely strong security deployment. Every day economic activity has suffered. There remains a high degree of alienation," the editorial said.
The newspaper asked the BJP government to review its approach in Jammu and Kashmir.
Despite the public outcry against the detention of leaders, government sources say the Jammu and Kashmir administration is not keen to review the cases of Farooq Abdullah, an MP from Srinagar constituency, whose detention was extended for three months in December under the PSA for the second time.
Farooq Abdullah, a five-time chief minister continues to remain in detention in his house since August 5 last year. According to the administration, the PSA dossier was based on Abdullah's numerous public speeches made in the past few years.
Abdullah's son and former Jammu and Kashmir Chief Minister Omar Abdullah and PDP president Mehbooba Mufti are being held in separate sub-jails under Section 107 and 151. The sections allow detention of people in the cases of apprehensions of "breaching peace".
Internet on, but dialogue stifled
When it comes to internet services, the government has reduced the bandwidth to 2G and is allowing limited mobile internet access. Residents can only access a limited number of websites which are so-called "whitelisted" while have no access to the "blacklisted" ones. The government has controlled the narratives on social media platforms, barring netizens to use YouTube, Facebook, Twitter, Instagram and other key websites.
Also read: In trying times, Kashmiris find catharsis in prayers, books and TV series
However, some innovative subscribers have resorted to virtual private network (VPN) apps to bypass the firewall to access social media websites. VPNs use proxy servers that allow users to change their location to circumvent regional internet blockades.
The Kashmir Press Club (KPC), an influential media body based in Srinagar comprising around 250 working journalists and editors, asserts that the continuing denial of internet access to members of the media in the valley was "a deliberate attempt to stifle the press in the region".
Pointing to the Supreme Court's recent definition of the internet as a constitutionally guaranteed right, a KPC spokesperson said the government appears to have made no headway in ensuring that this right was available to the media fraternity in the valley.
"This becomes evident as the government has singled out media organisations and journalists by not restoring their internet. In fact, internet service providers have not been given any direction in this regard," he said.
KPC members claim that internet service providers (ISPs) had sought a written undertaking agreeing "to provide complete access to all content and infrastructure as and when required by security agencies".
"This is a serious breach of individual rights and right to privacy," he said.
The press club stated that the authorities had overlooked 'net neutrality' and whitelisted only 301 websites, a listing in which the majority of local news websites, national and international news websites had been dropped.  "It is hard to understand the process or yardstick adopted for whitelisting the websites," they said.
Also read: J&K residents keep fingers crossed as cops give nod to internet restoration