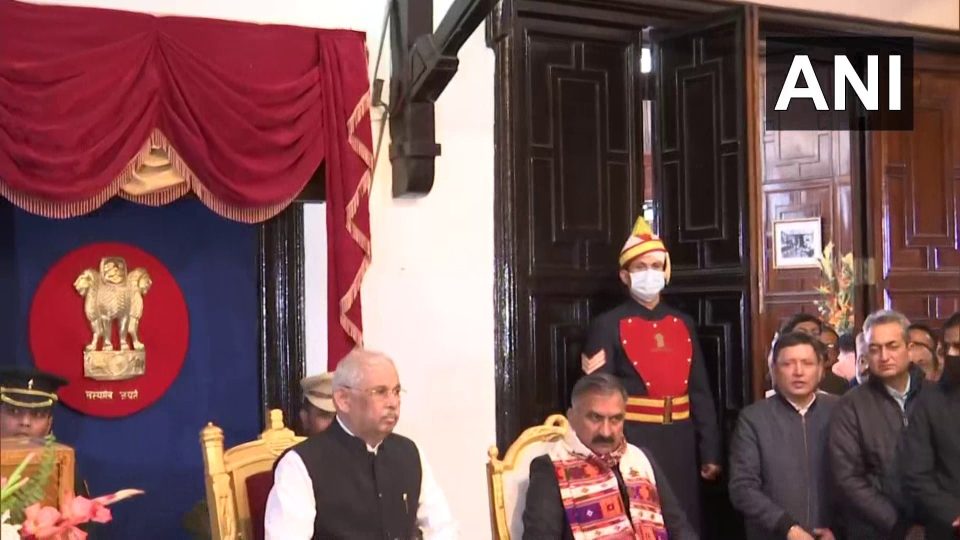 Sukhu inducts 7 ministers in Himachal cabinet expansion
Almost a month after the election results were declared, the Himachal Pradesh government led by Chief Minister Sukhvinder Singh Sukhu on Sunday (January 8) went for the much-awaited cabinet expansion and inducted seven Congress MLAs as ministers, taking the total strength of the state cabinet to nine.
Chief minister Sukhu along with Deputy Chief Minister Mukesh Agnihotri was sworn in amid much fanfare last month, as the Congress returned to power in the hill state after five years. The entire top leadership of the party, including the Gandhi siblings and party chief Mallikarjun Kharge, had graced the occasion.
Governor Rajendra Vishwanath Arlekar administered the oath to the newly inducted ministers at a ceremony at the Raj Bhawan in Shimla. Three-time MLA from Solan (SC) Assembly constituency, Dhani Ram Shandil, was the first to take oath as minister. Among other ministers are Chander Kumar from Kangra, Harshwardhan Chauhan from Sirmaur, Jagat Singh Negi from Kinnaur, and Vikramaditya Singh, Anirudh Singh and Rohit Thakur from Shimla. While three ministers come from Shimla district, Kangra has got only one representative in the form of Chander Kumar.
Congress won seven of the eight seats in Shimla district, and in Kangra it won 10 seats out of 15.
Also read: Himachal CM says he has handed over list of ministerial probables to Cong high command
Six chief parliamentary secretaries take oath
In a bid to give political representation to all regions and balance power equations, Sukhu also administered oath of office and secrecy to six chief parliamentary secretaries in Shimla on Sunday. They are Sunder Singh Thakur, Mohan Lal Brakta, Ram Kumar Chaudhary, Ashish Butail, Kishori Lal and Sanjay Awasthi.
Three cabinet berths still vacant
The Himachal Pradesh cabinet can have a maximum of 12 members, including the chief minister. Party sources said three spots have been kept vacant for now as a safeguard against potential rebels who miss out on a berth. With 40 MLAs in a House of 68 members, the Congress has a slender majority of just five legislators.
Tricky task achieved at last
The cabinet expansion had proved to be a tricky task for the Congress from day one because of each of the rival factions led by Mandi MP and PCC chief Pratibha Singh and Chief Minister Sukhu pushing for a maximum representation for their loyalists in the cabinet. The exercise had been further complicated for Sukhu due to regional aspirations with MLAs from Upper Himachal, a traditional Congress bastion, and those from Lower Himachal, both vying for a spot in the cabinet.
Portfolios, seal of approval for OPS soon
Meanwhile, Congress sources said portfolios are also likely to be allocated to the ministers within 24 hours and Sukhu may convene the first meeting of his cabinet by Sunday evening where a decision to implement the Old Pension Scheme (OPS) in Himachal Pradesh will be taken. The Congress has repeatedly promised that implementing OPS in the state, a key poll promise of the party that had contributed significantly to its victory, will be the first decision of the new state cabinet.