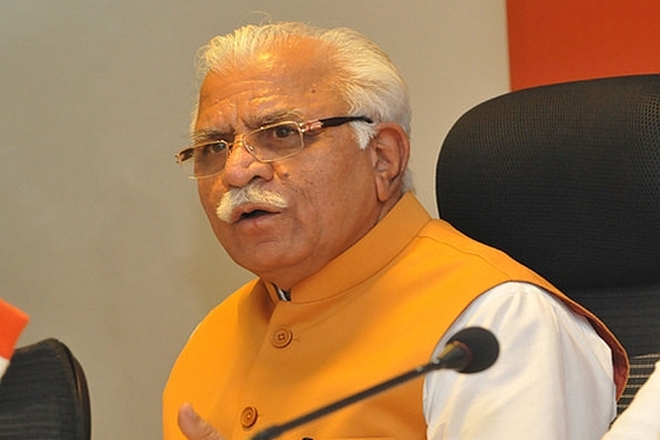 This is how coalition politics works: a party with the most number of seats becomes the ruling party with the support of a hopelessly minority group whose commitment to voters is in contradiction with that of the party in power. Like in Haryana, where the state Assembly on Thursday (November 5) passed a Bill providing 75 per cent reservation in private sector jobs to local people amid objections by Congress.
Since this contravenes Article 14 and 19 of the Constitution (equality before the law and the right to practice any profession anywhere in India), the bill – the Haryana State Employment of Local Candidates Bill – needs the assent of President Ram Nath Kovind before it becomes law.
The legislation was a part of the election promises made by the Jannayak Janata Party (JJP) chief Dushyant Chautala in the 2019 Assembly polls. Chautala's newly formed party had secured 10 seats and later allied with the BJP, which with 40 MLAs, emerged as the single largest party in the 90-member Assembly.
Advertisement
Coalition politics
Post elections, Chief Minister Manohar Lal Khattar had appeared non-committal on the prospect of private job quota. In late January this year, after prolonged parleys, the council of ministers had deferred the proposal to approve the draft of private sector quota bill referring it to the law secretary for vetting.
"It's is a historic day," declared Dushyant Chautala, whose support is crucial for an embattled Khattar caught in a showdown with the farmers over the new farm laws. Two prominent BJP leaders – former MLA Shyam Singh Rana and two-time MLA Parminder Dhull – have quit the party over the new farm laws. Given their seniority, the BJP obviously fears depletion of its MLAs.
Reactions to the legislation from industry have been largely negative. Maruti Suzuki India chairman RC Bhargava told The Indian Express: "Both CII and Maruti had represented (to the authorities) when this draft proposal was published that this is not something which is in the interest of industry. Haryana may lose investments as a result. We stand by our previous stand. We feel that it will affect the competitiveness of industry." The Maruti Suzuki has its massive assembly plant in Gurugram.
The Bill says "every employer shall employ 75 per cent of the local candidates with respect to such posts where the gross monthly salary or wages are not more than ₹ 50,000 or as notified by the government, from time to time. Provided that the local candidates may be from any district of the state, but the employer may, at his option, restrict the employment of local candidates from any district to 10 per cent of the total number of local candidates".
Ironically, it was opposed by JJP MLA from Narnaund, Ram Kumar Gautam, who called it a "ridiculous legislation" and "100 per cent wrong".
"You can make any number of laws. But the fact is that to harvest crops, even today we get people from Bihar and other states. Rather, people from Haryana spend six months in a year, protesting and destroying industry. Why do you want to make such laws? The entire country is ours. If any brother comes from any other state to work, how can you stop him? Tomorrow, if our children go to another state, they will not be allowed to work there. Where will our children go in that case? I do not agree with it at all," Gautam told the House.
Inherent contradictions
Despite objections, opposition and demands to drop or amend certain clauses of the Bill, it was passed because of the majority that the BJP and JJP enjoy in the House.
Opposing the Bill, leader of the Opposition Bhupinder Singh Hooda of the Congress objected to the clause that the industry shall have discretion to employ at least 10 per cent of its employees per district.
"There is already a similar clause that was brought in during our tenure. HSIIDC does not give clearance to any industry unless the industry gives an affidavit that it will employ people from Haryana. How can another Bill be brought unless we remove that clause from HSIIDC? How will the government do that? I strongly object to this 10 per cent restriction… the government should make it overall 75 per cent reservation, and remove the 10 per cent per district clause," he said.
Also read: Gujjars back to agitation mode in Rajasthan demanding promised quota
CM Khattar said, "It is correct that such a clause exists in HSIIDC. It has been there during our six-year tenure too. But the fact is that it was not properly monitored during any government's tenure because it was not a legislative clause. When we started monitoring it, we found that there is a need to make it a legislative clause. We need to protect the industry's interests too."
Citing examples, Khattar said, "Maruti had already shifted one of its facilities out of Haryana. In fact, Maruti wanted to shift all its plants out of Haryana. They told us that people of Haryana do not suit them. But we held talks with them. I assured them that any difficulty they face, we shall take care of it".
He said Honda too highlighted such an issue. "Yes, we have left it to the industry's discretion that they should recruit at least 10 per cent per district, but the remaining employees can be from across Haryana. We can check the records of any industry in Gurugram and Faridabad and find out how many employees from other places work there. We shall find that the maximum labour is from other states".
"We get two things from industry – revenue and employment. Today, because of GST, we do not get any revenue except for value addition. GST goes to the place where the product is consumed. Charm of revenue from industry is not there anymore. There is only one charm left… due to industry, people of our state shall get employment. There are 22 districts, 10 per cent from each district. It will add to 220 per cent," he said.
"We are only giving the industry the discretion to keep at least 10 per cent from the same district. It is up to the industry to employ more from the same district. There is no upper cap," he said.
Bill's salient points
* Once given a final nod, the Haryana State Employment Act for local candidates will be applicable to all the private industries and firms in Haryana where more than 10 employees are employed.
* However, the rule will not be applicable to the already working employees. Rather, it will be applicable to the recruitment in the private sector after the date of issue of notification of ordinance. As per the ordinance, any new company, factory or new hiring by existing company/factory will have to follow the new provision.
* In order to take the advantage of the reservation, it is mandatory for youth in the state to have a permanent resident certificate of Haryana. This law will be enforced by the labour department. According to reports, it will be mandatory for every firm, factory or company under the purview of the law to get a detailed data of the employees working under it on the government portal.
* The proposed law will be monitored by the deputy director level officers of the Department of Industry and Commerce. Youths from Haryana's ITI will get priority in employment.
Also read: Dalits, OBCs furious as Kerala gives reservation for economically weak