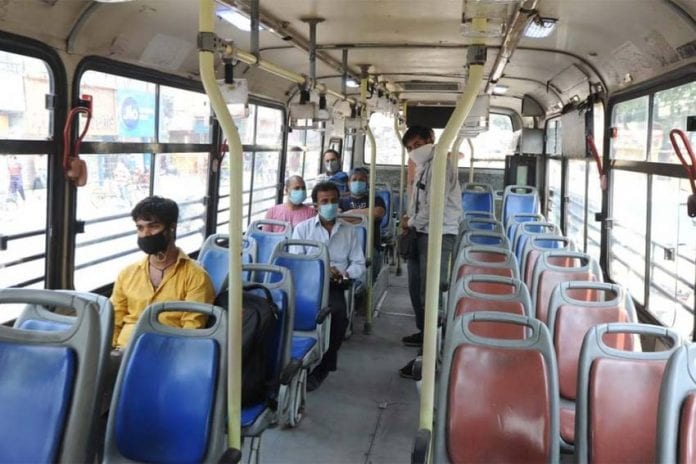 Public transport resumed in Delhi on Tuesday (May 19), with buses, auto-rickshaws, and taxis plying on roads after a gap of nearly two months due to the COVID-induced lockdown.
However, not many people were seen using public transport.
Delhi Transport Minister Kailash Gahlot said the department is taking all necessary precautions with regard to the resumption of public transport and urged people to wear masks and ensure social distancing.
Advertisement
"At some terminals and bus stands, we have started conducting thermal screening of passengers before boarding. We will try to implement this at all busy bus stands. Under the leadership of Arvind Kejriwal, the government is taking all necessary steps to ensure safe transport for people," he tweeted.
कुछ टर्मिनलों और बस स्टैंडों पर हमने बस में चढ़ने से पहले यात्रियों की थर्मल स्क्रीनिंग शुरू कर दी है। हम सभी व्यस्त बस स्टैंडों पर इसे लागू करने का प्रयास करेंगे। @Arvindkejriwal के नेतृत्व में सरकार जनता के लिए सुरक्षित परिवहन सुनिश्चित करने के लिए सभी आवश्यक कदम उठा रही है। https://t.co/rHHH5WuTk5 pic.twitter.com/y0SjWuzqMk

— Kailash Gahlot (@kgahlot) May 19, 2020
The Delhi Transport Corporation (DTC) and cluster buses resumed services with social distancing norms and safety measures like use of sanitisers and masks in place to control the spread of the deadly virus.
The Delhi Integrated Multi Modal Transit System (DIMTS) operates over 2,500 cluster buses in the city, while the DTC runs nearly 3,900 buses.
"We are trying to run as many buses as possible. But, many buses are under special hire and some of our drivers and conductors living in the NCR cities are finding it difficult to join the duty. The situation will improve in the coming days," a senior transport officer said.
He said no major issues have been reported since the bus services resumed in the morning, except in some areas where people had to wait a bit longer.
Sources said some cluster buses in rural areas did not ply as drivers stayed away from work, claiming their wages for the lockdown period had not been paid.
Related news | Lockdown 4.0: More vehicles on roads, heavy traffic at city borders
"Many cluster buses from Dichao Kalan, Kanjhawala, Kair, and Bawana depot did not ply as the drivers demanding payment of their pending wages refused to join work," said a source.
Chief Minister Arvind Kejriwal had on Monday (May 18) announced relaxations in curbs — including reopening of public transport with social distancing norms — during the extended lockdown that is slated to end on May 31.
"In a bus, only 20 passengers will be allowed to travel. The Transport Department will have the responsibility to maintain social distancing during travel and at bus stops," he had said.
Kejriwal had also said drivers of taxis, auto-rickshaws, and cabs will have to disinfect the sitting area of passengers after every trip. Maxi cabs can ply with five passengers and RTVs with 11.
Bus and other public transport services were suspended in the last week of March when the lockdown was first announced.
Related news | Delhi allows taxis to operate with two passengers; odd-even for shops
Kejriwal had earlier said Delhi was ready to be reopened, and that people should learn to live with the virus.
When states sent their recommendations to the central government on how the country should proceed with the lockdown and resumption of economic activities, Kejriwal had written to Prime Minister Narendra Modi saying markets, malls, offices, and public transport, including the Delhi Metro, should be allowed to open with reduced footfall and staggered operations.
"We want restrictions in containment zones to stay as they are, but most economic activities should now be allowed elsewhere. Social distancing and wearing masks should be made mandatory. We believe the relaxations will lead to a rise in COVID-19 infections, but we have prepared for it by making adequate arrangements for hospitals, ventilators, oxygen requirements, ambulances, ICUs, etc." Hindustan Times quoted Kejriwal as saying in the letter.
"We have followed the Centre's rules entirely and will work with the Union government in the fight ahead," the Delhi Chief Minister said in his closing remarks in the letter addressed to the Prime Minister on Thursday (May 14), which was accompanied by a detailed set of recommendations.
(With inputs from agencies)