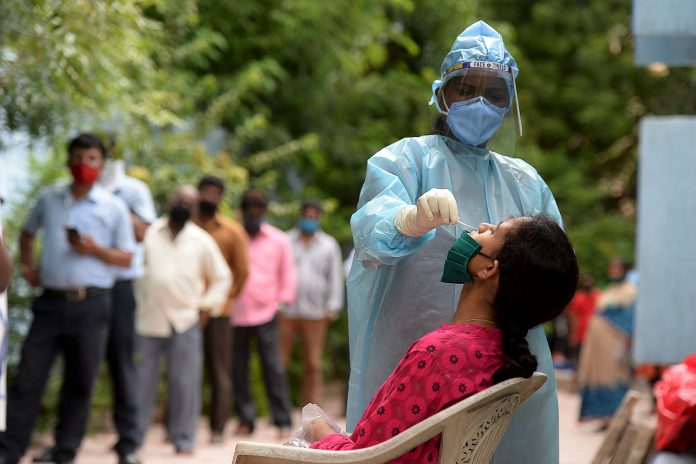 The Delhi government has blamed the festive season, the beginning of winter and worsening air pollution for the surge in COVID-19 cases in national capital, which has been reporting record numbers of daily infections.
Delhi has reported 3,81,644 cases of COVID-19. It had reported 4,853 cases on Tuesday. A day later, it registered 5,673 cases, which was a record for daily cases. On Thursday, it beat that record and reported 5,739 cases. The record was again broken on Friday with 5,891 fresh cases and 47 deaths.
Related News: 12 states conducting more COVID tests than national average: Govt
Advertisement
"It's a combined effect of the festive season, decrease in temperature and increased pollution," Delhi health minister Satyendar Jain said. "Experts had also suggested that at this time, Covid-19 cases could rise," he said on Saturday, ANI reported.     
The rising cases have, however, become a cause for concern in the Union home ministry. It has called a meeting with officials from the Delhi government on Monday to review the situation. The meeting will be headed by Union home secretary Ajay Bhalla and Union health secretary Rajesh Bhushan. It will also be attended by Niti Aayog member Dr VK Paul, Hindustan Times reported.  
Health authorities have warned that carelessness during the festive season could result in a spike in COVID cases as people crowd markets and gather in large numbers for celebrations.
The capital has also been experiencing pollution which has kept the air quality very poor for about 10 days now. The air pollution is mostly caused by the burning of stubble by farmers in the neighbouring states of Punjab, Haryana and Uttar Pradesh.
Related News: Free COVID-19 vaccine promise not violation of poll code, says EC
The Delhi government has said that cases are rising also because people are disregarding COVID guidelines. People are not wearing masks, which are helpful to fight not just the coronavirus but also the effects of air pollution, Jain said. He said till a vaccine is developed, masks should be seen as vaccine.