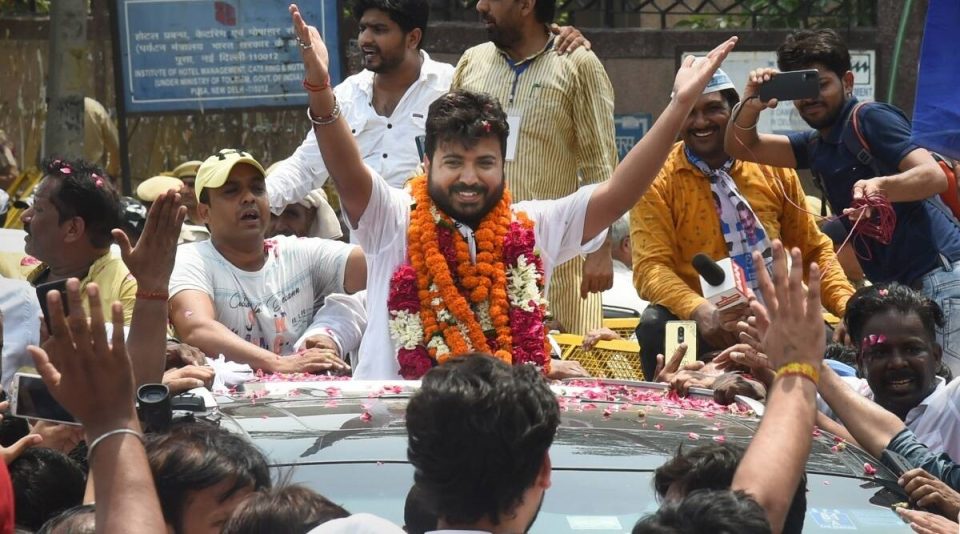 AAP's Durgesh Pathak defeats BJP rival in Rajinder Nagar assembly bypoll
Durgesh Pathak, AAP's victorious candidate from Delhi's Rajinder Nagar assembly has credited his victory to Delhi Chief Minister Arvind Kejriwal and has promised to fulfill the electoral promises he had made, including improving water supply in the area.
Speaking to the media on Sunday (June 26) outside the counting booth in Rajinder Nagar, Pathak said that AAP had asked for public support so that the continuity of work is maintained. "People have seen how the BJP has targeted the poor by increasing prices. They also ran away from the MCD election because they knew they were going to lose," said Pathak, who defeated the BJP candidate Rajesh Bhatia by a margin of more than 11,000 votes.
Also read: Big setback for AAP in Punjab as party loses Sangrur seat held by Bhagwant Mann earlier
Further, the AAP leader said, this victory is due to the policies of Arvind Kejriwal. "People have shown faith in his method of governance, and how he has improved schools and colleges. I will serve the area with commitment and ensure that all problems, including water supply, are addressed, he added.
The assembly bypoll, which was necessitated after AAP leader Raghav Chadha vacated the seat after being elected to the Rajya Sabha recently, and held on June 23 had witnessed a low turnout. (Voter turnout was just 43.75 per cent.) Though 14 candidates had contested, the battle was clearly between the BJP and AAP. This was the first election after the COVID-19 outbreak in 2020 and 24 Covid-positive voters had turned out to vote in the bypoll.
Meanwhile, Delhi CM Arvind Kejriwal thanked the people of Rajendra Nagar in his Hindi tweet. He said that this inspired them to work harder and serve. He added that people defeated their (opposition's) dirty politics and appreciated their good work. Thank you Rajendra Nagar, thank you Delhi, he said.
Also read: Bypolls underway for 10 seats, battle of prestige for AAP in Punjab
Who is Durgesh Pathak?
Originally from Gorakhpur, Durgesh Pathak is an English graduate from Allahabad University. In 2010, he had moved to Delhi to prepare for the civil services exam and within months, he had become part of the anti-corruption movement led by Anna Hazare. When AAP was formed by Kejriwal and his associates, Pathak joined them.
Working behind the scenes, in 2013, he managed Arvind Kejriwal's election campaign. Kejriwal went on to win delivering a stunning defeat to Congress incumbent, Sheila Dikshit.
The next year, Pathak was promoted as AAP's Delhi co-convener. The AAP won 67 out of 70 seats in the 2015 elections and, during the 2017 assembly elections in Punjab, Pathak was made the in-charge along with Sanjay Singh. It was in 2020, Pathak contested the Karawal Nagar seat but he did not win losing out to the BJP.
Pathak has been working on the Delhi's municipal elections (which has been postponed), and now he has been made the prabhari for Himachal Pradesh, which goes to the polls in November 2022.