Fresh incidents of violence have been reported from parts of New Delhi on Tuesday (February 25), a day after five people, including a police constable, were killed during clashes between pro and anti-CAA groups in several parts of northeast Delhi.
As of Tuesday evening, 13 people have died during the clashes.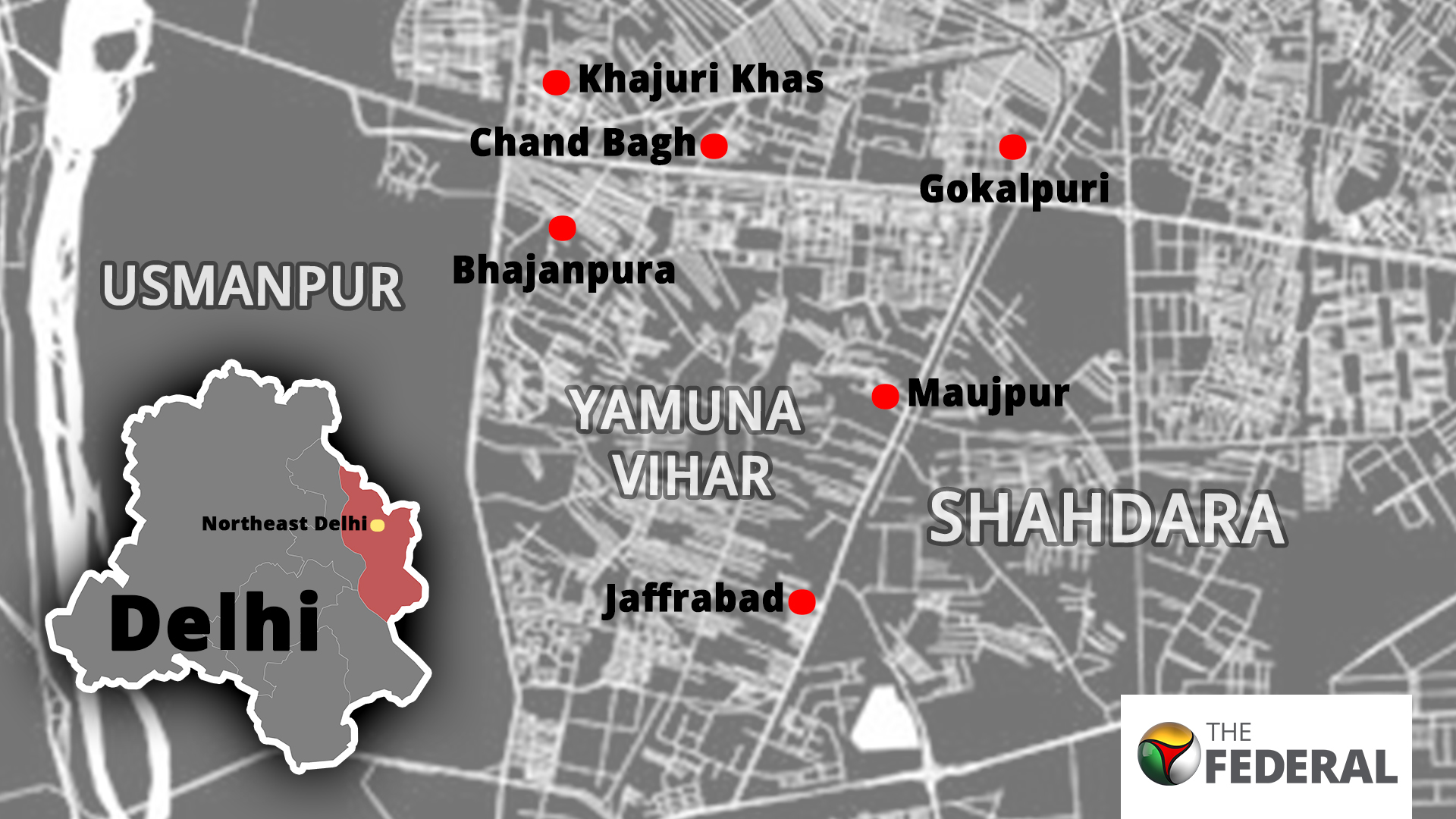 Incidents of stone-throwing, arson, vandalism have been reported from Bhajanpura, Chand Bagh, Maujpur, Karawal Nagar, Gokulpuri, and Jaffrabad. Shops — including a tyre market — and vehicles were burnt, and people were armed with sticks, rods, and brick-bats when the protests turned violent.
Here are the 11 important updates about the clashes in New Delhi:
• Lack of sufficient police personnel and in some cases, police refusing to take any action was one of the main reasons behind the escalation of the clashes. Policemen were seen refusing to take any action at Chand Bagh where many shops were damaged due to episodes of stone-throwing.
• Delhi Chief Minister Arvind Kejriwal said the police could not do anything because they had not received any orders from higher authorities. He said he would the issue with police with Union Home minister Amit Shah. "The police personnel could not do anything because they were not getting orders from their seniors. I have raised this with Amit Shah-ji. They can't decide whether there should be tear-gassing or lathi-charging without orders from above," he said.
• The fire department had been receiving many SOS calls from different parts of the city, many of which went reportedly unattended after three firefighters were injured in the protests yesterday. A mob set a fire engine on fire and threw stones at another engine.
• A total of 67 companies — each with about 70 to 100 personnel from the police and paramilitary forces — have been deployed to bring the situation under control. "We have enough forces on the ground. Senior police officials are constantly monitoring the situation," said Delhi Police's MS Randhawa this evening.
• Delhi Police chief Amulya Patnaik denied the allegations of not having enough police personnel on the ground to control the situation. "The Home ministry is continuously supporting us. We have adequate force in place. We deny the allegations of not enough forces," he said.
Related news | Amid curfew, 11 deaths in violence, Delhi Police get new Spl Commissioner
• Out of the over 100 people injured, 48 people are police personnel, and many of them have been hospitalised.
• The Union Home ministry has requested people to not issue any provocative statements and said that Delhi's borders with Uttar Pradesh and Haryana are being closely monitored to ensure that no anti-social elements will take advantage of this situation.
• Government sources who wished to remain anonymous said the violence in north-east Delhi appears orchestrated by some groups to receive publicity, keeping in mind US President Donald Trump's visit to India.
Related news | 14-yr-old sustains bullet injury in Delhi, ambulances turned away
• The Delhi government has ordered all private and government schools to be closed in the northeast Delhi district today and tomorrow in the wake of the violence.
• The Delhi Metro rail Corporation has closed the Jaffrabad, Maujpur-Babarpur, Gokulpuri, Johri Enclave and Shiv Vihar stations.
• Large gatherings have been banned in northeast Delhi under Section 144. Section 144 has also been imposed outside Delhi Police Headquarters after calls for protest marches by the JNU Students Union.