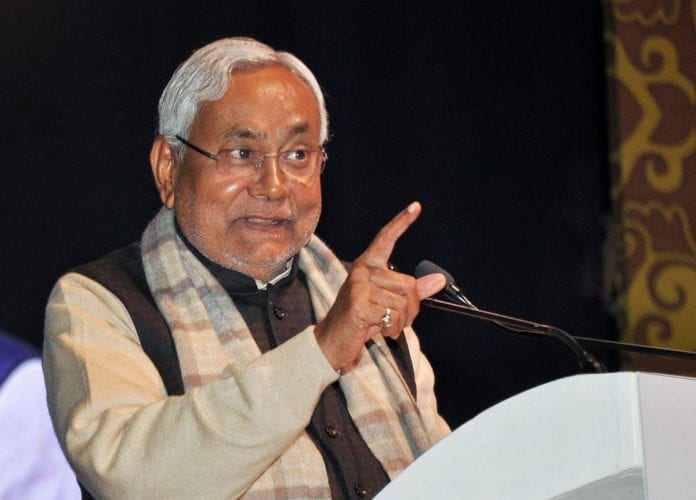 Bihar Chief Minister Nitish Kumar's promise of providing jobs was welcomed with onions at an election rally at Harlakhi in Madhubani on Tuesday.
The attacker missed Nitish Kumar by a whisker, but by that time the CM's security personnel had formed a shield around him.
Nitish Kumar didn't stop speaking though. "Khub feko, khub feko, khube feko (keep throwing)," said the furious Chief Minister, campaigning on a day parts of Bihar voted in the second round of three-phase election.
Advertisement
Onions thrown at Bihar CM @NitishKumar at his election rally today. Protests are fine. But physical attacks are highly condemnable.

— Rohini Singh (@rohini_sgh) November 3, 2020
The attacker was soon caught by the police, but Nitish Kumar said: "Let him go, don't pay any attention to him."
The Chief Minister then resumed his speech, training his guns at RJD leader and Mahagatbandhan's CM candidate, Tejashwi Yadav. Nitish first accused his parents — Lalu Yadav and Rabri Devi — both former chief ministers, of ruining Bihar.
"How can Tejashwi Yadav promise 10 lakh government jobs when Lalu Yadav could not provide jobs to people in 15 years of RJD rule? In 15 years, they only gave 95,000 jobs compared to six lakh government jobs given in our rule," he said.
Sixty-nine-year-old Nitish Kumar is seeking a fourth term as CM, but the odds are heavily staked against him amid glaring signs of anti-incumbency.
Also read: Nitish on Tejashwi, Chirag: 'Those in politics by inheritance have no idea'
Nitish Kumar was heckled at a rally in Chhapra a few weeks ago. Hearing slogans of "Lalu Yadav zindabad", he said: "Raise your hand, whoever is speaking such anap-shanaap (nonsense). Don't do halla (chaos) here. If you don't want to vote for me, then don't…You will destroy the votes of the man for whom you are here." A few other ministers have also faced the wrath of the public.
On the other hand, Tejashwi Yadav's rallies are drawing huge crowds. The crowd cheers for the 31-year-old  RJD leader every time he talks about providing jobs. The BJP, however, tried to make light of the support, saying "the crowds mean nothing".
The final round of voting will happen on Saturday and the results will be declared on November 10.
The second round of voting concluded on Tuesday. Over 51 per cent of the total 2.85 crore electors in 94 constituencies of the state exercised their franchise till 5 pm, as per the Election Commission. The time for voting was extended by one hour till 6 pm to facilitate Covid-19 patients and those with symptoms of the disease to exercise their franchise during the final hour.
Muzaffarpur recorded the highest poll percentage of 54.89. The lowest turnout of 39.65 per cent was reported from Patna district.