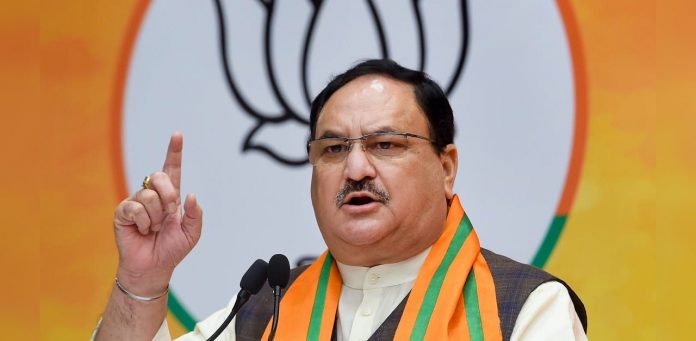 BJP national president JP Nadda said "there is no challenge" to the party in Bihar assembly elections and slammed the Rashtriya Janata Dal (RJD) leader Tejashwi Yadav for his "arrogance".
In an interview with Indian Express on Monday (November 2), Nadda said Bihar Chief Minister Nitish Kumar is committed to good governance and the BJP-NDA is "far ahead".
"There's no challenge. People want development and they have understood that time has come when Prime Minister (Narendra) Modi is there to take care of Bihar and Nitish Kumar is there as an experienced sober person committed to good governance… I find the BJP-NDA to be far ahead," he said.
Advertisement
Related news: Paswan factor will play a big role
When asked about Tejashwi drawing crowds during his election campaigns, Nadda dismissed them as being "committed" to "one particular style". Also, he said there was "no change in the RJD's character".
"It's not a crowd. It is the committed voters of one particular style who have been with them for the past 20 years. When they (gather), others understand what is going to happen in Bihar. The same people, same supporters… Usse jyada koi nahin aata (No one beyond that). Biharis know that if these people come again, the same things are going to happen. There has been no change in the RJD's character," he opined.
Sharing his views on Tejashwi, he said he is "tutored" and can't deliver. "They have not risen from the roots. They don't know the problems. They are tutored, they can't deliver. They are not honest to the cause. He has not attended (the House) as Leader of Opposition in the last year… (just) one day of the Budget Session. How are you going to explain it? This speaks volumes about (his) arrogance…feudalism, (his) disrespect for democracy."
Related news: Nitish is tired, can't handle Bihar anymore – Tejashwi
Chirag Paswan, the Lok Janshakti Party (LJP) chief, is contesting against the NDA alliance despite being a part of it. When queried why the saffron party has not removed him from the NDA, Nadda justified it by saying the BJP is a "disciplined party" and doesn't believe in expelling anyone.
"The BJP never expels anyone. Ours is a very disciplined party. It takes half a day for us to give a statement. There were two actions. One, we expelled all the (BJP people who were) LJP candidates… That ended their election prospects. And we made it clear that our alliance comprises four parties — the BJP, JD(U), HAM and VIP. Ours is a cadre-based party. Here the spirit of transferring votes is 100%," he pointed out.
The second phase of Bihar assembly elections takes place tomorrow (November 3). The first phase was held on October 28. The final phase is on November 7, and the results will be declared on November 10.