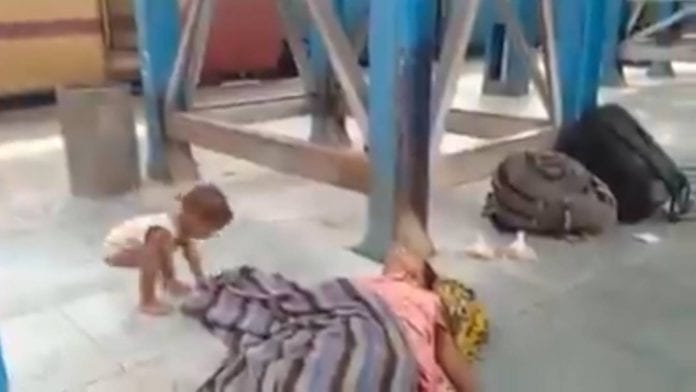 Heart-wrenching visuals of a toddler trying to wake up his dead mother who was lying on the platform at a station in Muzaffarpur have been circulated widely on social media, highlighting the plight of migrant workers after the lockdown was enforced.
The video shows a small boy tugging at and playing with a cloth that partially covers his mother's body. The cloth comes off, but his mother is motionless. Sources said the mother had passed away due to extreme hunger and dehydration due to the severe heat.
The child is trying to wake up the mother who died of hunger & dehydration in the train. These visuals are of Muzaffarpur Station in Bihar and they were coming from Gujarat.

These are institutional deaths, @PiyushGoyal and you & your Govt is to be blamed. Shame on you people! pic.twitter.com/vZZWPifFRK

— Gaurav Pandhi (@GauravPandhi) May 27, 2020
Advertisement
She was one among those who had come to Bihar on Monday (May 25) through the Shramik special trains arranged to help migrants return to their hometowns. She had boarded the train from Gujarat on Sunday (May 24).
According to her family, the woman had not been feeling well while on the train due to lack of food and water intake. Shortly before the train entered Muzaffarpur, the woman had collapsed.
Her body was laid out on the station platform after the train stopped, and her child kept trying to play with her until an older boy came and carried him away.
At the same station, a two-year-old child has also died, reportedly due to extreme heat, combined with lack of sufficient food. This toddler's family had boarded a different train from Delhi on Sunday.
Lakhs of migrant workers were left to fend for themselves after the central government announced a nationwide lockdown in March. Most of them were left jobless, and they resorted to travelling in trucks or by foot for thousands of kilometres back to their hometowns after bus and train services were suspended.
Many could not survive the journey, with numerous reports of casualties being recorded due to various reasons including accidents or starvation.
Following these incidents, the government arranged for Shramik special trains to help migrant workers reach home. However, the requirements with paperwork and other issues deterred a few of them from seeking these train services.
In the midst of this crisis, temperatures have soared up to 50 degrees Celsius in parts of India, with the nation being gripped by a heatwave.