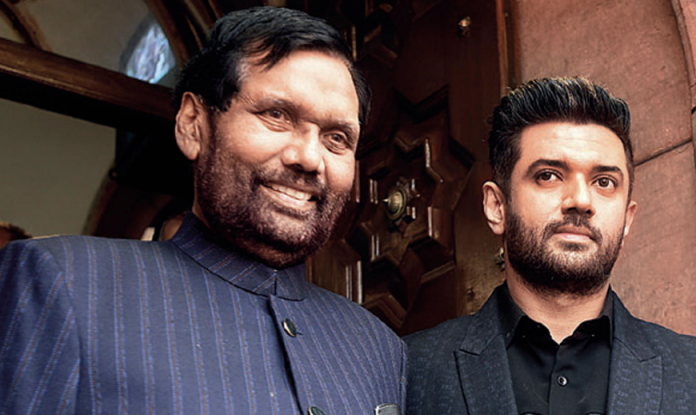 Union minister Ram Vilas Paswan's Lok Janshakti Party (LJP) has decided to contest the Bihar elections on its own but said its candidates will continue to support the BJP.
The LJP took the decision at its central parliamentary board meeting held under the leadership of party president Chirag Paswan on Sunday.
Related News: 'Paswan ka Chirag' set to light up Bihar poll scene
The meeting passed a resolution saying it would stay in alliance with the BJP and that all its candidates who become MLAs would work in support of Prime Minister Narendra Modi.
It said the party had decided to contest the elections on its own due to "ideological differences" with the JD(U). It is learnt that the LJP may not field candidates against the BJP and is more keen on fighting the JD(U).
The party's vision document for the Assembly elections titled 'Bihar first, Bihari first' had showered praises on Narendra Modi. Chirag, in fact, said that Modi was the inspiration for the vision document.
The decision comes amid reports that NDA allies BJP and JD(U) had agreed to share seats equally for the Bihar elections, with BJP agreeing to accommodate LJP in its quota. As per the agreement, chief minister Nitish Kumar's JD(U) would get 122 of the total 243 seats, while the BJP would contest in 121 seats, reports said.
Related News: In Bihar, JDU-BJP strike a 50-50 seat-sharing deal
The LJP under Chirag Paswan had been demanding that the party should be allowed to contest from 130 seats if it were to remain in the NDA.
Chirag has been taking care of the party affairs as his father Ram Vilas Paswan battles health problems. He underwent a heart surgery on Saturday. 
On September 11, he had tweeted that he had got himself admitted in hospital due to some health issues, which he had been ignoring as he had been preoccupied with his duties as the Union minister of Consumer Affairs, Food & Public Distribution during the Covid pandemic. He had also tweeted that he would support any decision taken by Chirag on contesting the Assembly polls.