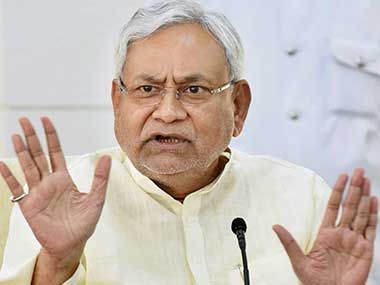 Bihar Chief Minister Nitish Kumar whose government has received severe backlash following the murder of an IndiGo airline executive in Patna, lost his temper when media personnel quizzed him on the incident on Friday (January 15). A visibly seething Kumar asked reporters where their allegiance was, while challenging them to help police solve the crime if they had any clue.
"You are so mahaan (great). Who are you supporting? Main aapko direct pooch raha hoon (I am asking you directly)," Kumar reportedly shot back at an NDTV reporter when questioned about the alleged lawlessness in the state.
Related news: Nitish under attack following murder of IndiGo executive in Patna
Advertisement
Alluding to the crimes that occurred during the rule of former chief ministers and spouses Lalu Prasad Yadav and Rabri Devi, Kumar without naming anyone said, "There was so much crime under the husband-wife duo. Why don't you highlight that?"
Rupesh Singh, 44, an executive in IndiGo Airlines, was shot dead by two bike-borne miscreants outside his house, barely two kilometres from Nitish Kumar's residence, while he was boarding his car.
The murder which occurred just a stone's throw away from the chief minister's residence, triggered an uproar, with the Opposition demanding his resignation.
Telling the reporters that their questions were "wrong" and "inappropriate", Kumar asked them not to "demoralise" the police who are investigating the case and the possible motive behind the murder.
"If you have any clues, please share…don't demoralise the police like this. What happened before 2005? There was so much crime, so much violence…" NDTV quoted him as saying.
When reporters told him that the police chief is not responding to their calls, leave alone taking inputs or clues, Kumar telephoned the senior officer right away and asked him to stay in touch with the media.
Reacting to the incident, JD(U) leader Tejashwi Yadav, also the son of Lalu Prasad and Rabdi Devi, said the chief minister was drawing illogical comparisons to hide his inability to control the law and order situation.
Related news: Arunachal episode poses an existential crisis for Bihar CM
"Unfortunate breaking news: Nitish Kumar has surrendered before criminals. He said nobody can stop crimes. There were crimes during Harappa civilization too. Just compare. Instead he is asking reporters whether they know who the criminals are," he tweeted.
The incident has put Kumar in a spot, with even the JD(U)'s ally BJP pointing fingers at his administration. In an acerbic statement BJP's Rajya Sabha member Gopal Narayan Singh on Wednesday said "there is no visible grip of our government on the current police system presently."