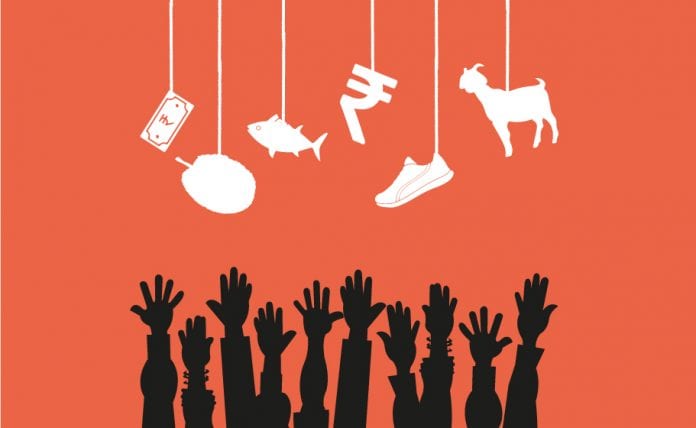 Corruption comes in all shapes and sizes. Corrupt officials in Bihar will prove that to you, for they have gone beyond cash, apparently wary of another demonetisation, and are now known for taking goats, branded shoes and fish under the table, indicating how corruption in the state comes in various tastes.
A viral audio clip of a police officer released a few days back, asking for a pair of branded shoes for his son left the state police department running for cover. The incident came up when Shatrughan Yadav, a villager, approached a local police station in Patna last week to help solve his land dispute case.
Yadav was shell-shocked when the cop in charge, Pankaj Kumar asked, "Sukhle-sukhle? (Do you expect help free of cost?)" and demanded ₹7,000 as bribe which he paid.
Advertisement
Kumar didn't stop there. He introduced Yadav to a broker named Mukesh, and advised him to stay in touch for help in the future. Hardly had he reached home when Yadav got a call from the broker who asked him to arrange for a pair for shoes for officer's son. He was taken to a shoe store, where he paid ₹2,500 for a pair of Reebok shoes.
When after all this, Yadav did not get justice on his land deal, he released the audio clip on social media. Kumar was immediately suspended and departmental proceedings were initiated against him.
"We have taken the matter very seriously and suspended the cop," Patna's senior superintendent of police Garima Malik told reporters.
This doesn't stop here. In another equally embarrassing incident which was reported last year, a cop in Patna took a goat from a businessman who was caught drunk. (Consumption of liquor is a crime in Bihar.)
The cops were conducting routine checking of vehicles at night when they came across a van carrying 27 goats. That is when Mohammad Zafir, one among the four businessmen in the van, was caught in an inebriated condition. The cops seized the vehicle and took Zafir to the local Kotwali police station. Zafir was released after he gave a goat as bribe. It was later revealed that a cop wanted to savour it for "mutton party".
Agamkuan police station in Patna district too witnessed something bizzare. Last year, a minor was charged with involvement in a bike robbery and jailed. The case made headlines not because of the robbery, but because the minor refused to give a jackfruit to the cops for free. An inquiry was ordered after the matter reached Chief Minister Nitish Kumar and the boy was released, while 11 cops were under suspension.
But the the funniest incident took place in Araria district some time back. A youth who was being threatened with jail, was asked to pay ₹25,000 cash as bribe. Fearing he could be arrested in a fake case, he agreed to pay the bribe. Subsequently, he paid the cops ₹2,000 as the first installment and then invited him for a fish party at home to give the remaining cash. However, the youth had intimated vigilance officials about the bribe demand.
Right when the police officer was enjoying his fish curry, vigilance sleuths appeared on the scene. Seeing the sleuths, the cop chewed several currency notes along with his fish curry and swallowed it in a bid to destroy the evidence without thinking about consequences. Yet, he could chew only a few notes and not the bundles that were given to him and was caught red-handed.
But not all incidents are funny. Last month, a contractor Ramashankar Singh was burnt alive by an engineer-in-chief of water resources department in Bihar's Gopalganj district for refusing to pay ₹15 lakh bribe from ₹60 lakh that was due to him for the construction of the engineer's official residence. The accused engineer has been absconding since then while the matter is under investigation.
According to an official report, the vigilance bureau has registered 165 cases against government officials for seeking bribe and misusing official position in the past two years. However, only 18 have been dismissed from service while departmental inquiry is on against most of them. All this in spite of the fact that the Nitish Kumar-led JDU-BJP government came to power on the promise of making the state corruption free.