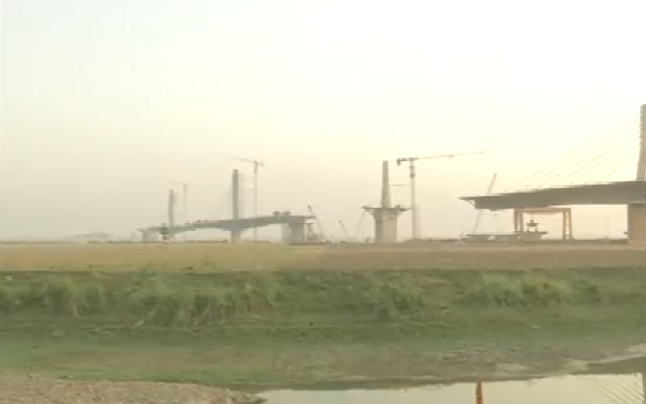 Bridge over Ganga river collapses in Bihar; govt, opposition trade charges
An under-construction bridge over river Ganga that was supposed to connect Bihar's Khagaria district with Bhagalpur collapsed on Sunday (June 4). No casualties were reported.
Officials have told PTI that portions of the bridge were deliberately destroyed in a planned fashion under expert advice as it had design flaws.
Visuals of the bridge collapse that show it crumbling down like a house of cards evoked sharp criticism on social media and from the Opposition.
This prompted Deputy Chief Minister Tejashwi Yadav and Additional Chief Secretary of Road Construction Department, Pratyay Amrit, to hold a hurried press conference.
Soon after Chief Minister Nitish Kumar ordered a probe into the matter while stressing that erring officials will be hauled up.
"It may be recalled that a portion of this bridge had collapsed on April 30 last year. We had, thereafter, approached IIT-Roorkee, which is esteemed for its expertise in construction matters, to conduct a study. It is yet to come up with a final report but experts who had studied the structure had informed us that there were serious defects," Yadav said at the press conference.
Amrit, who took over, added, "It was decided that we must not take any chances and wait for a final report. So we went ahead with pulling down parts of the bridge."
Once the final report comes, which is expected shortly, the state government would contemplate action like lodging of FIR and blacklisting the company which was awarded the contract, he said.
Second collapse, had structural defects: Tejashwi
The bridge was said to have involved an estimated cost of ₹1,700 crore.
"Last year, a portion of this bridge had given away in a thunderstorm. It was an incident which was widely talked about and I strongly raised it in my capacity as the then Leader of the Opposition. Upon coming to power, we ordered an inquiry and sought expert opinion," said Yadav, in an apparent riposte to the BJP, now in opposition, which sought the chief minister's resignation over the issue.
Yadav disclosed that "many structural defects" have been pointed out by experts and "we have already pulled down many portions which have been flagged as particularly vulnerable. Today's incident confirms our worst apprehensions".
No casualties or injuries were reported in the incident that took place in the evening and was caught on camera by some bystanders.
Reacting to the incident, Bhagalpur District Magistrate Subrat Kumar Sen, said, "Yes, I have received information that 4-5 pillars of the Aguwani-Sultanganj under-construction bridge collapse. The administration is in touch with officials of the department concerned."
Opposition demands Nitish's resignation
As media outlets beamed the video footage, state BJP president Samrat Choudhary came out with a statement demanding the resignation of Nitish Kumar, who had snapped ties with the saffron party in August last year.
Fellow BJP leader Syed Shahnawaz Hussain, a former Bhagalpur MP, also came out with a statement blaming the mishap on "corruption" and demanding a "high-level inquiry" into the incident.
He also alleged that the incident "has put a question mark on construction works being undertaken across the state, many of which have been awarded to the same contractor".
Amrit also said at the press conference that soon after the news of the incident was received, he was summoned by the chief minister who "sought a detailed report on the mishap and issued strict instructions for strong action against those who might be held responsible".
The bridge was being constructed at a cost of more than ₹1, 700 crore and it was supposed to have been completed by November, 2019.
However, Yadav asserted, "This bridge is of great importance for north Bihar where connectivity will greatly improve once it begins to function. We are committed to completing the project after setting right everything that has been wrong."
Yadav's Rashtriya Janata Dal, meanwhile, came out with a tweet pointing out that much of the construction took place "during the tenures of Mangal Pandey, Nand Kishore Yadav and Nitin Nabin" as road construction ministers and asked whether the BJP would, therefore, take the blame.
(With inputs from agencies)