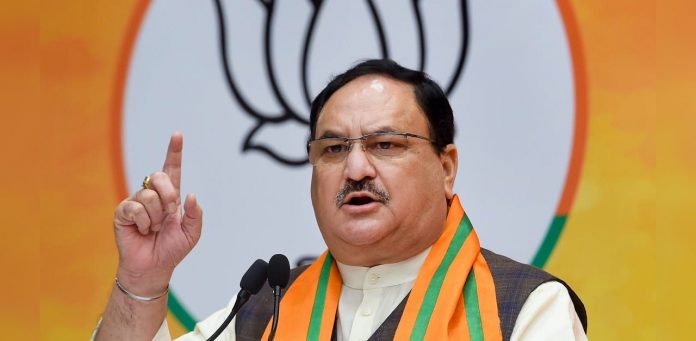 BJP chief JP Nadda and other senior party leaders will hold a two-day virtual meeting from Saturday (August 22) to strategise for the 243-member Assembly elections in Bihar, due in October-November, the party's state unit chief Sanjay Jaiswal said.
Bihar will be the first state where Assembly elections will be held amid the COVID-19 pandemic.
Over two dozen party leaders and workers have tested positive at the state headquarters in July in course of conducting regional meetings as part of election preparations.
Advertisement
The Election Commission of India on Friday (August 21) issued fresh guidelines for conducting the polls. After considering suggestions made by political parties and chief electoral officers of states and union territories, the poll watchdog said only a group of five people can campaign door-to-door. It also restricted candidate convoys for roadshows to five vehicles, among other measures.
"This is a very important state executive committee meeting being held just before the Assembly elections during which the party would give a message to its 76 lakh workers in the state,'' Jaiswal was quoted as saying.
Besides, former Maharashtra chief minister Fadnavis's presence at the meet will be crucial amid the ongoing rift between Maharashtra and Bihar over the probe in Bollywood actor Sushant Singh Rajput's death.
"On the first day of the meeting, political resolutions will be placed before the attendees for approval," Jaiswal, who was accompanied by state unit general secretary Devesh Kumar, spokesperson Rajiv Ranjan and media in-charge Rakesh Kumar Singh, said while interacting with reporters in Patna.
The BJP's national general secretary (organisation) BL Santhosh, general secretary Bhupender Yadav, party's election in-charge in Bihar Devendra Fadnavis and Deputy Chief Minister Sushil Kumar are expected to attend the state executive committee meeting.
During the meeting, leaders will also discuss expanding the BJP's organisation and ensuring better coordination with its allies Janata Dal (United) or JD(U) and Lok Janshakti Party (LJP).
The LJP has expressed concern over conducting polls in the wake of the COVID-19 pandemic. However, the Election Commission has given the go-ahead for the polls.
Related news: Coronavirus management or polls? Bihar must decide now
While the Janata Dal (United) has welcomed defectors from other parties in a big way, the BJP has said it would not like to do so at the cost of its own committed workers who expect the party to reward them at the time of elections.
"Last time, the BJP had contested 157 seats and it is quite natural that we will have to compromise with less due to three NDA constituents vying for seats. So, we already have a problem at hand of denying seats to some rightful claimants. In such a situation, there is no point making room for imports," Jaiswal said.
His comments are significant as all the six leaders who have switched to the JD(U) are sitting MLAs and three from powerful political families. So, it could lead to a turf war in the ticket distribution, more so because JD(U) has often claimed to be a bigger claimant on the basis of its share in 2005 and 2010 Assembly polls.
In 2015, JD(U) had left NDA to move over to the Grand Alliance.