Over 10,000 persons sought refuge in India last year, even as Mizoram emerged as the epicentre of refugee influx. Besides, at least 203 asylum seekers were arrested across the country.
Releasing its report, "India: The Status of Refugees 2022", the Rights and Risks Analysis Group (RRAG) stated that India had about 4,05,000 refugees by the end of 2022. Of these, 2,13,578 refugees were recognised/registered by the Government of India and housed in various camps/settlements. These included 92,837 Sri Lankan refugees and 72,291 Tibetan refugees. The number also includes about 31,313 refugees belonging to minority communities from neighbouring countries who had been given Long Term Visas on the basis of their claims of religious persecution.
Also read: Cash-strapped Mizoram receives Bangla refugee influx; border talks continue with Assam
Over 1.6 lakh refugees unregistered

About 1,60,085 of the total number are unregistered refugees. These include over 1,00,000 Chin refugees from Myanmar residing in Mizoram since 1990s, about 20,000 Rohingya refugees not registered with UNHCR (out  of 40,000 Rohingyas, about half of them were registered with UNHCR), and over 40,000 refugees who crossed over to Mizoram from Myanmar and Bangladesh since February 2021, and 85 ethnic Myanmar refugees in Manipur.
About 48,450 refugees and asylum-seekers are registered by the UNHCR including 28,613 refugees from Myanmar, 15,344 refugees from Afghanistan and 4,493 refugees from other countries.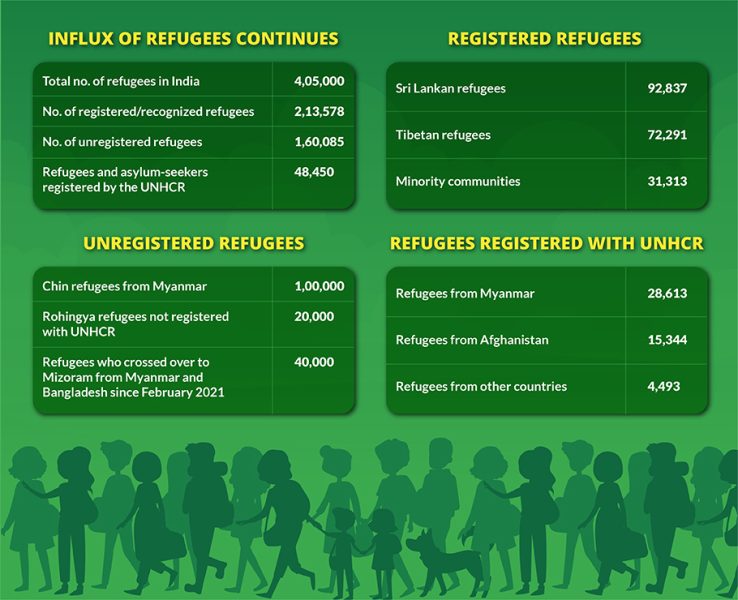 Actual number of refugees may be higher
As India's refugee policy is mainly to detain and deport, and refugees are forced to operate in a clandestine and surreptitious manner, the actual number of refugee populations in the country are undoubtedly higher than the reported number of refugees.
The refugee annual report stated that Mizoram was the epicentre for refugee influx in 2022 receiving refugees from Myanmar and Bangladesh. In 2022, instability in Myanmar and attacks on religious minorities in Afghanistan and Bangladesh caused the influx of over 10,000 refugees to India. These include over 9,000 refugees who entered Mizoram from Myanmar (8,149 refugees by February 2022 and 589 on 31 August 2022 and 300 Chin-Kuki refugees entered from the Chittagong Hill Tracts of Bangladesh), about 85 Burmese refugees who entered Manipur and about 100 Sikh and Hindu refugees airlifted from Afghanistan.
'Ethnic, religious affiliation determines treatment'

RRAG Director Suhas Chakma said ethnic or religious affiliation determined the treatment of the refugees. "While the Sikh and Hindu refugees from Afghanistan were airlifted, India followed 'detain and deport policy' with respect to the Rohingya refugees. On August 17, 2022, Union Housing and Urban Affairs Minister Hardeep Singh Puri promised allotment of flats and security in Bakkarwala area in West Delhi to members of the Muslim minority. However, the Union Ministry of Home Affairs quickly stated that Rohingyas would be held at a detention centre and then be deported," he added.
"Similarly, Mizoram decided to provide humanitarian assistance to the Chin refugees from Myanmar and Kuki-Chin refugees from Bangladesh in defiance of the directions of the Government of India as the refugees have the same ethnic roots as the Mizos. In Manipur too, indigenous communities provided assistance as refugees fleeing from Sagaing and Chin State of Myanmar despite the crackdown by the Manipur police," stated Chakma.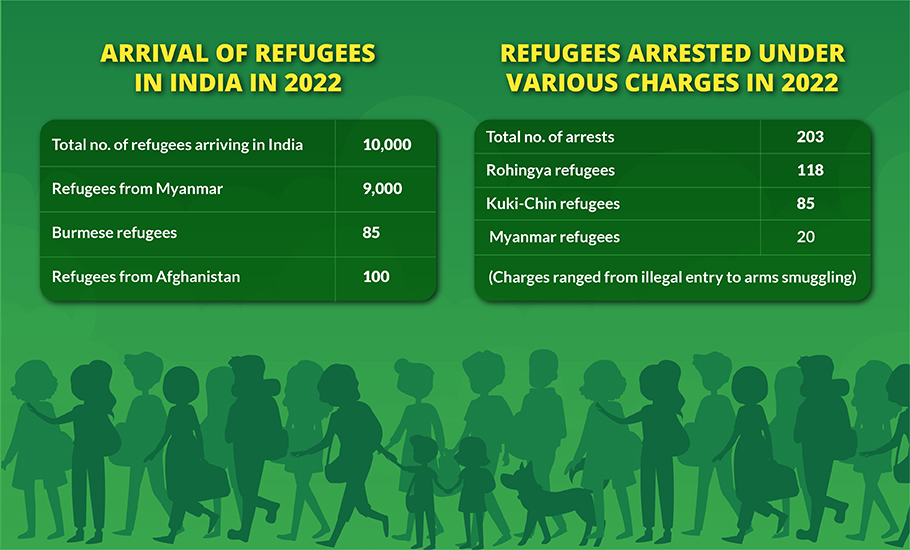 Also read: After NIA in Mizoram, Manipur police cracks down on Myanmar refugees
203 refugees booked under various charges
As per the report, in 2022, at least 203 refugees i.e. 118 Rohingya refugees, 85 Kuki-Chin refugees in Manipur and 20 Myanmar refugees in Mizoram were arrested on various charges ranging from illegal entry into India to arms smuggling. During 2022, two Rohingya refugees i.e. Haseena Begum and Jafar Alam were deported to Myanmar. India even prevented third country immigration of the Rohingya refugees.
In September 2022, Senoara Begum, recognised as a refugee from Myanmar by the United Nations High Commissioner for Refugees (UNHCR) in New Delhi, sought the exit permit to reunite with her husband following issuance of visas by the United States. India denied the exit permit on the grounds of no verification of the nationality of Begum and her children by the Embassy of Myanmar and its policy of deporting illegal foreigners to their country of origin and not granting exit to illegal migrants to a third country given the bearing it can have upon similarly placed cases.
"India's 'detain and deport' policy forced refugees to operate in a clandestine and surreptitious manner making asylum seekers easy target of various criminal syndicates. In March 2022, two Rohingya girls were rescued from the Guwahati railway station in Assam and six persons were arrested by the National Investigation Agency (NIA) for trafficking and helping Rohingyas illegally entering India. The rackets were active in the border areas of Assam, West Bengal, Meghalaya and other parts of the country," stated Chakma.