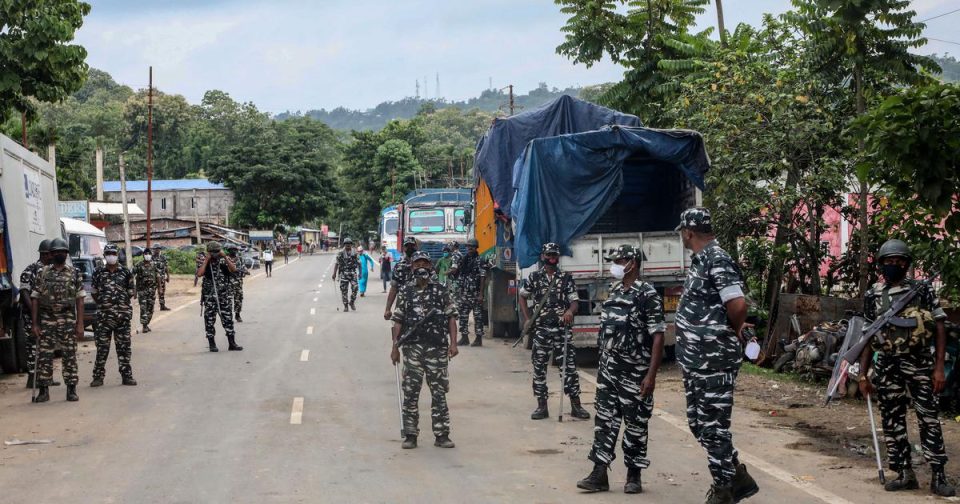 Manipur unrest: Security stepped up in Mizoram ahead of Mizo groups' protest
Security has been stepped up across Mizoram, anticipating state-wide protests by Mizo outfits in solidarity with the Zo ethnic people affected by violence in Manipur.
The move comes in the aftermath of the reports regarding Meiteis fleeing the state in wake of a statement issued by an ex-militant group. On Sunday, 78 people flew to Manipur on three separate flights, while 65 others flew to the neighbouring state on Saturday.
Also read: Manipur govt may airlift Meiteis from Mizoram after ex-militants' warning
However, officials clarified that because these flights were scheduled commercial services, it was not immediately clear how many were regular passengers and how many were fleeing due to fear, news agency PTI reported.
In addition, 41 Meitei people from Mizoram travelled by road to Assam's Cachar district, following the ex-militants' group's advice to leave the state, which was prompted by the viral distribution of a video showing a naked parade of two women in Manipur. Furthermore, 31 Mizo students from Manipur returned to Mizoram due to the current situation.
Meanwhile, despite the ongoing ethnic conflict in Manipur, the Mizoram government has assured Meiteis of their safety and security within the state. The Home Department has held meetings with representatives of the All Mizoram Manipuri Association to provide them with the necessary reassurances. Moreover, on July 22, the ex-militant group PAMRA clarified that their intention was not to force the Meiteis of Manipur to leave Mizoram but to exercise caution during these challenging times.
Also read: Manipur: Chidambaram slams BJP for comparing Manipur with Rajasthan, Bengal
Mizoram is focusing on assuring the Meitei community of their well-being within its borders. With no incidents of violence reported thus far, the government said that it is committed to maintaining peace and harmony among all communities residing in Mizoram. While some Meiteis have chosen to leave as a precaution, the government are making all efforts to provide security to the Meitei community in Mizoram.
(With agency inputs)