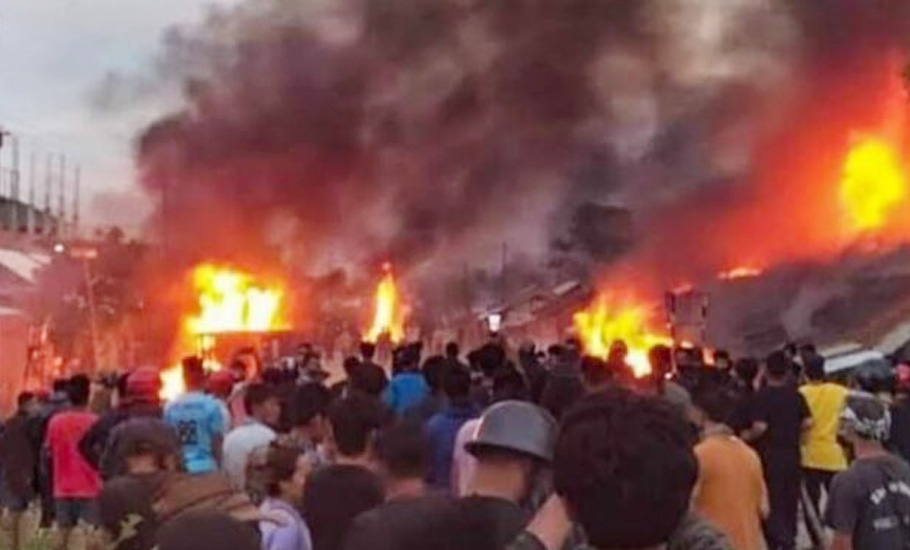 Manipur: Situation normal day after spurt in clashes
A day after the sudden escalation in clashes and firing between militants and security forces, an uneasy calm prevailed in ethnic conflict-affected Manipur.
Meanwhile, on Monday (May 29), officials said the death toll from clashes in Manipur a day before rose to five, as three more people, who were undergoing treatment in hospitals, succumbed to their injuries.
Army and paramilitary personnel continued combing operations in the Imphal valley and surrounding districts, an official said. The Army operation is aimed at confiscating illegal caches of arms, he said.
Two persons were killed and 12 injured in different instances of firing upon civilians and clashes between militants and security forces.
Manipur Chief Minister N Biren Singh had said nearly 40 armed militants involved in torching houses and firing at civilians have been killed by security forces since they began an operation to bring peace to the northeastern state beset by ethnic rioting.
Also read: 40 'militants' killed so far, says CM Biren Singh as fresh clashes erupt in Manipur
The latest clashes began after the army and paramilitary forces commenced combing operations to unarm communities in order to bring peace, officials said.
At Phayeng in Imphal West district, one person died on Sunday and another sustained bullet injuries after being fired at by suspected Kuki militants, the police officials said.
One policeman was killed and another injured at Sugnu in the firing. Six persons were also injured at Sugnu and another four at Serou.
The latest incidents of violence have spurred the district authorities to shorten the 11-hour curfew relaxation period in Imphal east and west districts. Now curfew has been relaxed for just six and half hours.
Also read: Prices of essential items shoot up in violence-hit Manipur
Ethnic clashes, which have claimed over 75 lives, first broke out in Manipur after a Tribal Solidarity March was organised in the hill districts on May 3 to protest against the Meitei's demand for Scheduled Tribe (ST) status.
The violence was preceded by tension over the eviction of Kuki villagers from reserve forest land, which had led to a series of smaller agitations.
Meiteis account for about 53 per cent of Manipur's population and live mostly in the Imphal Valley. Tribals Nagas and Kukis constitute another 40 per cent of the population and reside in the hill districts.
Also read: Manipur: Ethnic divide widens with tribal groups sticking to their stands
Around 140 columns of the Indian Army and Assam Rifles, comprising over 10,000 personnel, besides those from other paramilitary forces, had to be deployed to bring back normalcy in the north-eastern state.