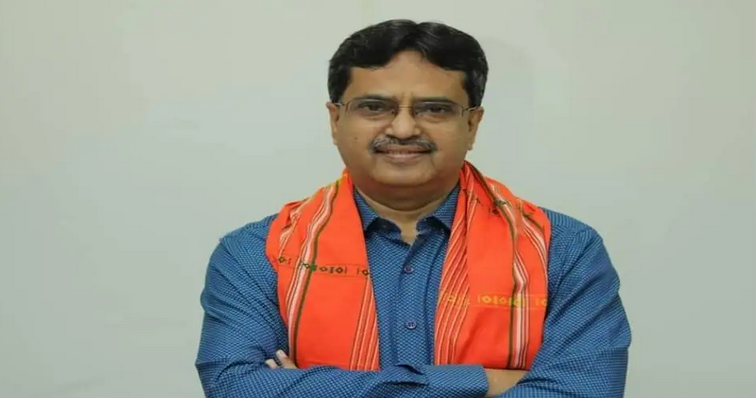 Manik Saha says he will be BJP's CM face in Tripura in 2023
Tripura Chief Minister Manik Saha has asserted that he will be the face of the BJP in next year's assembly elections in the state.
Saha, who is contesting the assembly by-poll from the Town Bardowali constituency on June 23, said that he would continue to hold the chief minister's position and appealed to people not to fall prey to rumours over him being replaced.
'No temporary arrangement'
Addressing a rally on Sunday, he said the entire nation is watching the Assembly by-poll. "I have been made the chief minister and it is not a temporary arrangement," he said.
"I have not been the chief minister for just three months, six months or seven months… I will be the face of the BJP in next year's crucial assembly elections. I know what is what," Saha was quoted saying.
Also read: Biplab Debs resignation as CM validates BJP-led govt in Tripura non-performing: TMC
"We are not like migratory birds that land only during elections. I am close to every resident of Town Bardowali constituency as I was born and brought up here. Being a player, doctor and professor, I have access to all spectrums people of the constituency," he added.
Saha, who was elected to the Rajya Sabha from Tripura in April this year, was sworn in as chief minister on May 15, a day after his predecessor Biplab Kumar Deb resigned.
Facing a tough fight
In the Town Bardowali constituency, Saha is reportedly facing a tough fight from Ashish Kumar Saha of the Congress, who has won from here in the last five assembly elections and never seen defeat in electoral politics.
But Saha's stature as the Chief Minister and the BJP's extra focus on the constituency will make sure that he wins, according to some political analysts.
Along with Town Bardowali, by-poll will be held in three more seats on June 23. The votes will be counted on June 26.
Also read: Manik Saha, a dentist & BJP state president replaces Biplab Deb as Tripura CM