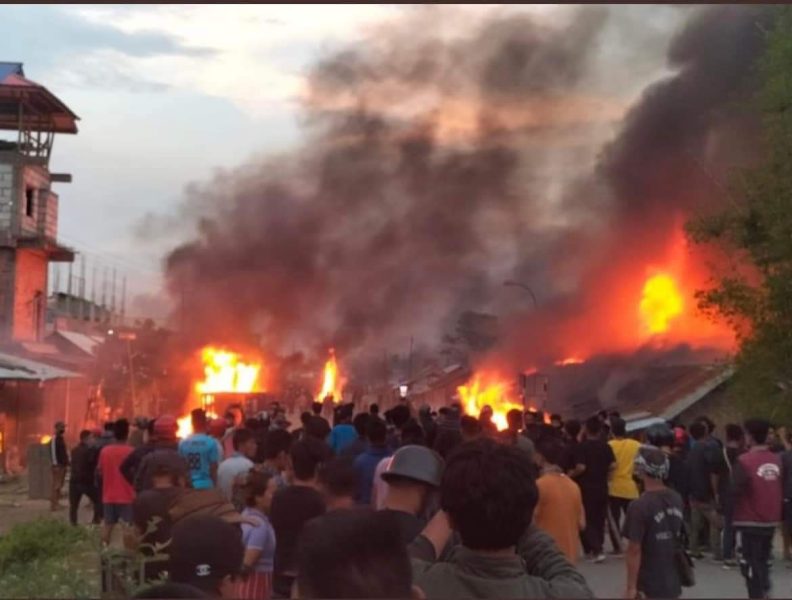 Congress demands high-level investigation into Manipur mayhem
In a memorandum to President Droupadi Murmu, the Congress party on Tuesday demanded a high-level inquiry by a retired Supreme Court judge into the horrific violence in Manipur which it said has killed some 100 people.
The memorandum, signed by Congress president Mallikarjun Kharge and party stalwarts from Manipur, said there was "a total collapse and law and order and breakdown of administration in the state".
"At this point nearly 100 people have died and many more have gone missing. More than 2,000 houses have been burned or destroyed. Some 10,000 people, including women and children, are still living in relief camps and safer places without proper health and sanitation facilities," the Congress said.
Also Read: 40 'militants' killed so far, says CM Biren Singh as fresh clashes erupt in Manipur
"Thousands of people are rendered homeless and displaced. Almost all educational institutions are closed, denying education to students. All Internet facilities, including broadband, have been banned since May 3 in the name of security and safety.
"Thousands of people dwelling in peripheral areas near the hills and valleys are living under fear psychosis facing sleepless nights. Agricultural land and paddy fields are deserted, with no cultivators in sight before the onset of the monsoon. Daily wage earners are living in extreme agony.
"This condition in Manipur may be termed a total collapse and law and order and breaking of administration in the state," it said.
Act now
Besides a judicial inquiry, the Congress sought firm and sustained efforts to control violence in every part of the state for the immediate restoration of peace, harmony and normalcy.
"The Union government must immediately take all possible measures to control and confine all militant groups … by taking appropriate action.
Also Read: Army chief arrives in strife-torn Manipur to assess ground situation
"Villages near the foothills of both communities must be covered with adequate security so that armed militants do not intrude and disturb peace.
"The Union government should take steps for rehabilitation of all displaced persons at their original place or in safer areas with suitable security arrangements."
The party demanded "dignified and reasonable compensation" for deaths, destruction of property and for all victims and affected persons. It called for a special drive to trace the missing people.
It wanted an immediate end to the disruption of transportation of goods and essential commodities through the national highways and district headquarters.
Relief camps
"The state government must immediately take over the management and maintenance of all relief camps and provide proper health and sanitation facilities for all."
Also Read: Prices of essential items shoot up in violence-hit Manipur
The Congress also said that the letter and spirit of the existing constitutional provisions related to Manipur must be protected and the trust between various communities should be restored through reconciliation and dialogue.