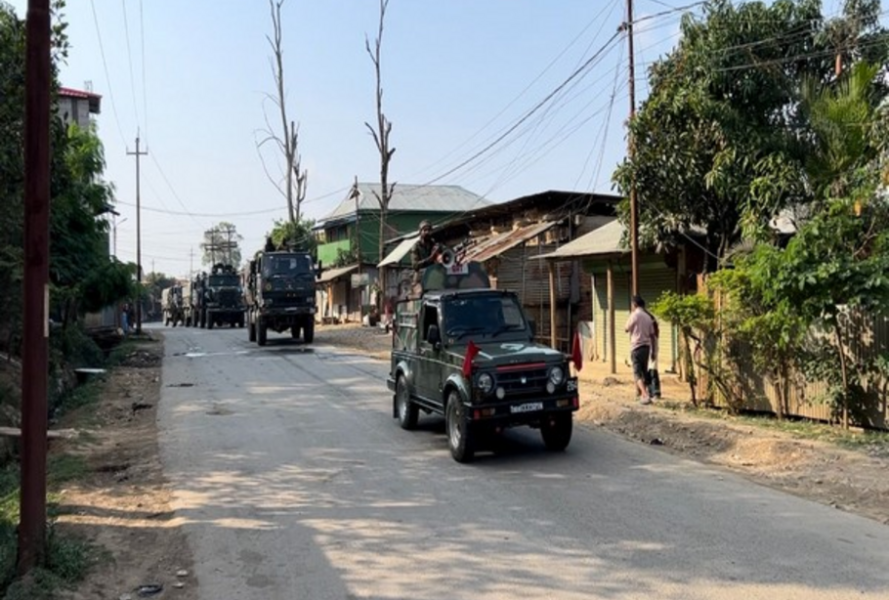 BSF jawan among 4 dead in Manipur; ban on internet services extended till June 10
The Manipur government on Tuesday (June 6) extended its ban on internet services till June 10, a day after three people including a BSF constable were killed in a fresh spate of violence.
The suspension of mobile data services, including broadband, has been extended till 3 pm of June 10, an order issued by Commissioner (Home) H Gyan Prakash said. The ban was imposed on May 3.
Fresh violence was reported from the state on Monday (June 5) when suspected Kuki militants opened fire at Phayeng in Imphal West district, killing three persons and injuring as many.
At Serou in Kakching district, a Border Security Force (BSF) jawan was killed and two Assam Rifles personnel were injured in an encounter with insurgents early on Tuesday (June 6), Army officials said.
"One BSF jawan sustained fatal injuries while two Assam Rifles personnel sustained gunshot wounds in Serou," the Spear Corps of the Indian Army said in a statement.
The injured jawans were airlifted to Imphal's Mantripukhri, the officials said. BSF constable Ranjit Yadav is the second BSF official to be killed in duty in the recent violence in Manipur.
Also read: Manipur: Villagers burn Kuki militant camp after attacks on abandoned houses
Indiscriminate firing by militants
The Assam Rifles, BSF, and Manipur Police were reportedly conducting a joint area-domination exercise in the Sugnu-Serou area when suspected Kuki militants started indiscriminate firing.
A BSF spokesperson said, "Around 4.05 am, suspected Kuki militants resorted to indiscriminate and heavy volume of firing at the BSF personnel stationed in Serou Practical school." Constable Yadav was hit by a bullet and declared dead at Jitan hospital in Kakching, the spokesperson added.
According to Army officials, the security forces and insurgents exchanged fire throughout the night.
Also read: Rajiv Singh new police chief of violence-battered Manipur
Concentration of militancy
The violence is now mostly concentrated in Imphal West and Kakching districts, said reports. Over the past two days, Manipur Police and BSF commandos have jointly destroyed two Kuki militant camps near Sugnu and Serou in Kakching after a fierce gunbattle, said officials.
Since May 28, when one person was killed, militants had reportedly come down the hills, torched houses, and fired on villagers.
Suspected militants reportedly set ablaze at least 100 houses in Serou village on Sunday. In Serou, a mob also vandalised the house of Congress MLA K Ranjit Singh, officials said. Singh and his family escaped unhurt.
Unconfirmed reports also said that a mob killed three persons travelling in two vehicles, including an ambulance, at Iroisemba in Imphal district on Sunday.
Blockade eased
On Monday, the Committee on Tribal Unity (COTU), a tribal organisation based in the Kuki-dominated Kangpokpi district, lifted the blockade on National Highway 2 for a week, honouring Union Home Minister Amit Shah's Twitter appeal. NH2 links Manipur with Nagaland.
My sincerest appeal to the people of Manipur is to lift the blockades at the Imphal-Dimapur, NH-2 Highway, so that food, medicines, Petrol/Diesel, and other necessary items can reach the people.

I also request that Civil Society Organisations do the needful in bringing…

— Amit Shah (@AmitShah) June 4, 2023
The COTU, however, has placed a rider that central forces should escort the vehicles carrying essential commodities and medicines into the region. The relaxation, however, has drawn criticism from the Imphal branches of the Kuki Students' Organisation. Local media reported that in protest against the blockade withdrawal, a mob attacked the houses of two tribal leaders.
Also on Monday, the Manipur government extended the ban on internet services, which was imposed on May 3, till June 10. In an order, the state stated that internet services will remain suspended till 3 pm on June 10.
Inquiry commission
Shah, who visited the state last week, has appealed to both the Meiteis and the Kukis to maintain peace and work to bring back normalcy in the state. He has also invited the 10 Naga MLAs from the state, including three from the BJP, to Delhi for a meeting on Tuesday. The Nagas, who also occupy the hill districts, have remained neutral in the conflict between Meiteis and Kukis.
The central government has also set up an inquiry commission to investigate the incidents of violence in Manipur. Media reports say it will be headed by Ajai Lamba, former Chief Justice of Gauhati High Court. The panel will also reportedly include retired bureaucrat Himanshu Shekhar Das and former intelligence officer Prabhakar Aloka.
The commission will reportedly investigate the series of events that led to the violence, potential failures or negligence by the authorities or individuals concerned, possible inadequacy of administrative measures taken to prevent and address the violence, and the like.
What led to the violence?
Close to a hundred lives have been reportedly lost since ethnic violence broke out in Manipur on May 3 and at least 4,000 cases of arson have been reported. Around 37,500 people are currently sheltered in 272 relief camps.
In May, clashes broke out between the Meiteis, who are concentrated in and around Imphal valley and account for about 53 per cent of the state's population, and the Kuki tribe, who are recognised as tribals and mostly settled in the hills. The row is over the Meiteis' demand for Scheduled Tribe (ST) status.
Also read: Shah: Govt committed to restoring peace in Manipur, ensuring return of displaced people
The ethnic violence was preceded by tension over the eviction of Kuki villagers from reserve forest land, over which they stated several small agitations.
Around 10,000 Army and Assam Rifles personnel have since been deployed in the state to restore peace. The area-domination exercises have so far led to the recovery of 40 weapons, mortars, ammunition, and the like, officials have said.
(With agency inputs)