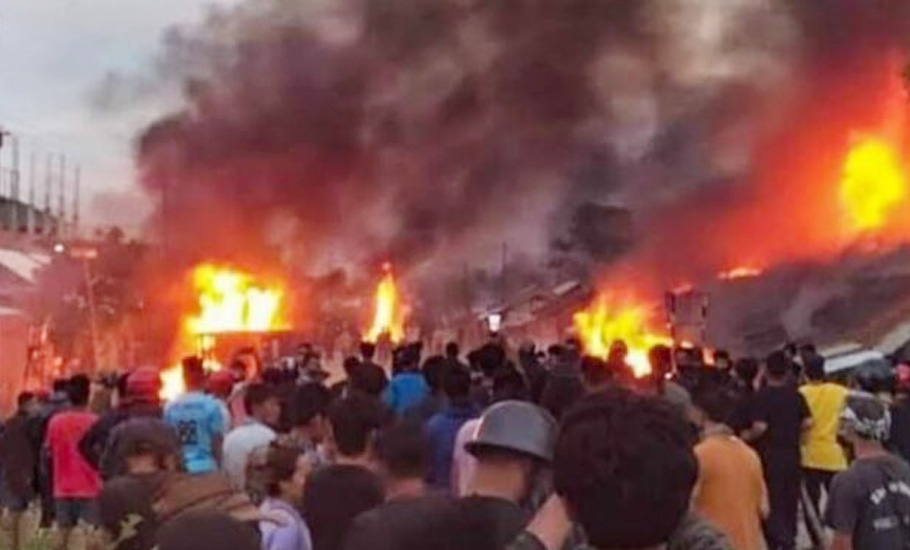 Army chief arrives in strife-torn Manipur to assess ground situation
Army chief General Manoj Pande on Saturday (May 27) arrived in Manipur on a two-day visit to review the ground situation in the wake of ongoing ethnic clashes, as the state reported rising incidents of violence over the last few days.
Accompanied by GoC-in-C Eastern Command Lt Gen Rana Pratap Kalita, Gen Pande landed at the Bir Tikendrajit Imphal International Airport in the afternoon. The strife-torn state has reported 70 deaths due to ethnic violence that began on May 3.
A heavy posse of security took the officers to the Assam Rifles IG headquarters at Mantripukhri in Imphal city. According to a senior army official, Gen Pande and Lt Gen Kalita reached the state capital from Delhi to review the ground situation. "Gen Pande will meet the governor, chief minister and security advisor to discuss the situation," he added.
Also read: SC rebukes HC judge for not rectifying orders on Meiteis' quota in Manipur violence case
Gen Pande and Lt Gen Kalita will also meet the ground commanders, including those from other forces, and review the law and order situation. He will visit various areas to obtain a first-hand account of the situation and interact with the troops, the official said.
Gen Pande is scheduled to return on Sunday, while Lt Gen Kalita is likely to stay back for Union Home Minister Amit Shah's visit to the state from Monday, army sources said.
Clashes broke out in Manipur after a Tribal Solidarity March was organised in the hill districts on May 3 to protest against the majority Meitei community's demand for Scheduled Tribe (ST) status.
The violence was preceded by tension over the eviction of Kuki villagers from reserve forest land, which had led to a series of smaller agitations.
Also read: Manipur violence: CM Biren visits Delhi to meet PM, Shah to discuss situation
Meiteis account for about 53 per cent of Manipur's population and live mostly in the Imphal Valley. Nagas and Kukis, the two tribal communities, constitute another 40 per cent of the population and reside in the hill districts.
The ethnic clashes have claimed over 70 lives and left scores of people injured. Around 140 columns of the army and Assam Rifles, comprising over 10,000 personnel, besides other security forces had to be deployed to bring back normalcy in the Northeastern state.
Armed vigilante groups have been taking the law into their own hands in parts of the state, thus complicating the peace process. At times, militant groups also joined in the fray, creating an even more volatile cocktail of ethnic tension.
(With agency inputs)