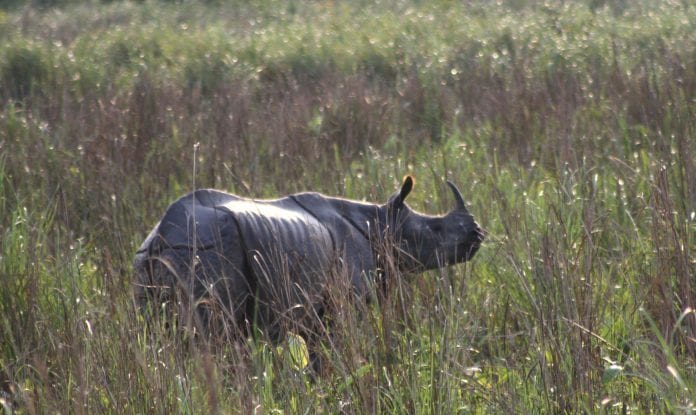 The spread of coronavirus and the subsequent lockdown extension have not deterred poachers in Assam from hunting rhinoceros in the Kaziranga National Park. On the contrary, efforts to kill the one-horned rhino have been on the rise.
In the past two weeks, more than five attempts have been thwarted by forest guards and the Special Rhino Protection Force (SRPF).
Recently, in the Biswanath range, four rhinos strayed from the park prompting the poachers to set them up. Forest guards and the SRPF personnel foiled the attempt and during the gun battle, one personnel sustained bullet injuries.
With the lockdown place, vehicular movement on the National Highway 37, which runs through the national park, has come down. Similarly, with a lower number of people around the park, the animals are roaming freely and many of them have tread to the fringes. This is a reason why the poachers going for the kill.
Confirming the poaching attempts, park director P. Sivakumar told The Federal that, "Yes, it's one of the reasons which prompt the poachers."
Set up as a reserve forest in 1908, Kaziranga has been one of India's major conservation success stories with the rhino population increasing from just 75 in the first decade of the 20th century to an estimated 2,413 in 2018.
Related news: 90% of Kaziranga National Park submerged; anti-poaching camps affected
However, rhino poaching has been a major headache for the park authorities.
Since 2015 till July this year, at least 50 rhinos have been poached.The latest tiger census in 2018 also found 110 big cats in the park. Tigers, rhinos, and elephants are considered keystone species and an increase in their numbers indicates a healthy natural habitat with proper prey and predator balance.
The release of poachers on bail due to lockdown might be the reason behind the increase in poaching attempts, Sivakumar said. "Several people from various places have come to the place due to the lockdown. They also indulge in such activities," Sivakumar said.
Last year, more than 80 people involved in poaching were arrested.
"Five groups are now active around the park now and we are maintining vigil round-the-clock. Some of them, including one shooter, have been arrested in the recent past," Sivakumar added. Earlier, poachers used to be active only in one or two regions of the forest. But now, they seem to be active all through the forest.
Rhino horn is in high demand in China and other South Asian countries for its so-called 'medicinal' value.
A traditional medicine named 'Angong Niuhuang Wan,' used to treat fever, traditionally contains rhino horns.
Reacting to the threat, conservationist and member of the Assam Wildlife Board Bibhab Kumar Talukdar said all law-enforcement agencies in Assam and also in Northeast Indian states need to be extra alert not only to control COVID-19 but also to check attempts to kill wild animals for illegal trade.