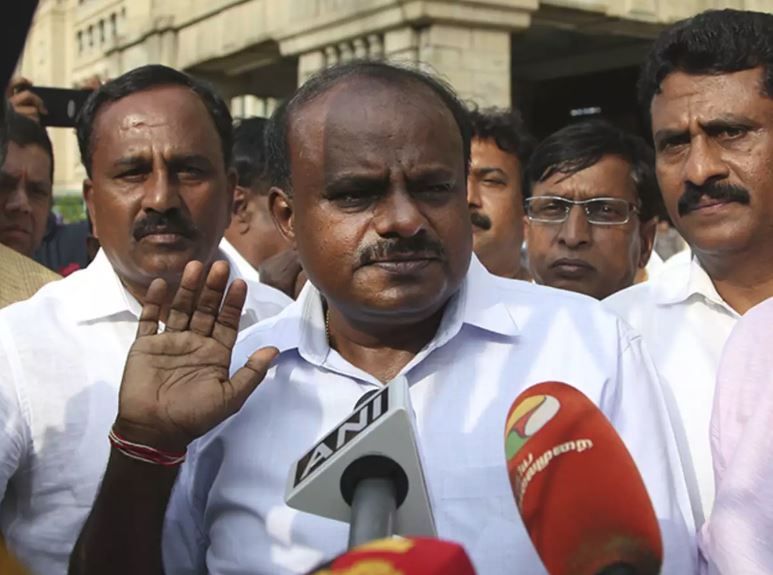 Kumaraswamy expands cabinet by inducting 2 independent legislators
Amid discontent in the Karnataka coalition, the Kumaraswamy government expanded cabinet on Friday, June 14. Two rebel MLAs— Karnataka Pragnyavantha Janatha Party MLA R Shankar (Ranebennur) and independent MLA H Nagesh (Mulbagal)-were inducted as Ministers.
In January both the MLAs, who were part of the coalition government, withdrew support with BJP engineering defections to topple the HD Kumaraswamy government. However, with the party failing to grab power, the MLAs moved closer to the coalition again demanding ministerial berths.
Shankar had earlier served as Forest Minister in the early days of the Kumaraswamy government. But the State government dropped him during the cabinet reshuffle in December. Nagesh, while withdrawing support, said he joined hands with an intent to provide good and stable governance but the coalition failed in it and hence decided to go with BJP. But now, with minister post, both seem to be happy.
The government overlooked the request of senior Congress leaders like Ramalinga Reddy, Shivaram Hebbar among others while filling the vacant ministerial positions. The Congress leaders opposed the induction questioning the loyalty of the senior lawmakers.
"It is true that I requested for ministerial berth on several occasion. I will not put pressure on the government again, nor will I quit. My support will continue but I am unhappy," Hebbar said.
Also read: Karnataka Congress divided over JSW land row
The Congress-JD(S) coalition government in Karnataka has been on a shaky ground since its inception. Kumaraswamy had met rebel MLAs Ramesh Jarkiholi, BC Patil, Mahesh Kumathalli and K Sudhakar last month. It is to be seen how the party handles the displeasure expressed by these MLAs.
Considering that the government formed with just five seats above the majority mark in the 224-member Assembly, its desperate need to sustain the majority, encourages some MLAs to turn rebel every now and then.
Union minister from Karnataka DV Sadananda Gowda on June 9 said the much-awaited cabinet expansion will lay the foundation for the ruling government's collapse.
Speaking to reporters on Friday, BJP leader K S Eshwarappa, who protested against the JSW land deal, said BJP will not try to poach anyone, but the discontent within the Congress will get louder and the government will fall within a week.
Political analyst Narendra Pani said, the government addressed the immediate pressure by giving ministerial berth to two MLAs. The fallout will reflect in a week's time and the Kumaraswamy government will have to address the concerns of a fresh set of rebels.
"For now, the government addressed the immediate threat to stability. Had the MLA joined Congress, it would have been better for the coalition. But since they are outside the party's domain, it would be difficult for the Congress to control," Pani said.
Also read: Will K'taka cabinet reshuffle sound the death knell for JD(S)-Cong coalition?