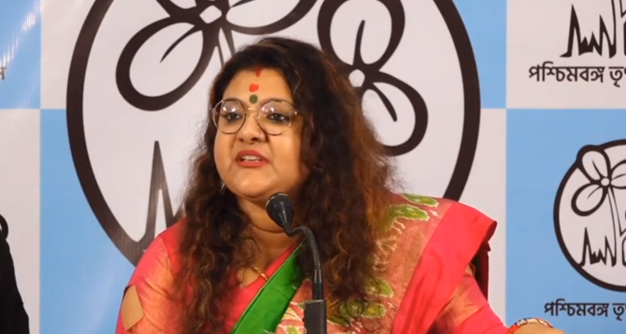 Trinamool Congress opened its account in the game of defections as it managed to rope in the influential wife of a BJP member of Parliament after a number of big leaders left the party headed by Mamata.
Sujata Mondal Khan joined the Trinamool on Monday (December 21). She is the wife of Saumitra Khan, an MP from Bishnupur. When reporters asked her if her husband too would join Trinamool Congress Party, Sujata said, "Nobody knows what will happen in future".
Just hours after she announced her decision, Saumitra Khan said he will sent a  divorce notice to her for joining the TMC.
Saumitra Khan was earlier with Mamata when he won the 2014 Lok Sabha elections from the same constituency. In 2019, Saumitra won, largely because of Sujata's efforts, who managed her husband's election campaign when he was barred by a court from entering his constituency as a condition for bail in a criminal case.
Sources in the BJP said that TMC made a "bad attempt" by trying to capitalise on the rift in the Khan family. "Dada is with us and we are with him," said a BJP leader.
Also read: Amit Shah has lunch at Bengal folk singer's house in Santiniketan
Sujata, a teacher by profession, herself was a BJP member and had once shared the stage with Prime Minister Narendra Modi. On Monday, as she joined Trinamool, Sujata said, " I want respect. I want to work with my beloved Didi."
Sujata termed BJP a party of "opportunists" and said she did not get due respect within the party, despite getting a victory in the Lok Sabha polls (referring to Saumitra's Khan's Bishnupur win).
On Saturday, about 35 leaders from Trinamool, including MLAs and an MP, led by Suvendu Adhikari, quit and joined the BJP in the presence of Home Minister Amit Shah.
On Monday, Adhikari said the assembly speaker Biman Banerjee had accepted his resignation after a meeting. The speaker had earlier refused to accept it saying it did not conform to the rules of the assembly and that he had not submitted it personally.
Banerjee confirmed that he has accepted the Adhikari's resignation as TMC MLA.
Adhikari has already given up membership of the Trinamool Congress and the ministerial position in the state cabinet.
Banerjee, who had on Friday clarified that Adhikari's resignation was not accepted since it was not in conformity with provisions of the Constitution and rules of the assembly, said that after speaking to him, he is satisfied that the former transport minister quit out of his own volition.
The speaker said the undated resignation letter of Adhikari, which was  submitted on December 16, was accepted with effect from December 21. "I am satisfied that his resignation is voluntary and genuine," Banerjee told reporters.
After meeting the speaker, Adhikari said that he answered in the affirmative when Banerjee asked him whether the resignation was voluntary. "It was my intention to resign from the MLAship before joining another political party," the former TMC leader, who represented the Nandigram constituency, said.
Bengal goes to polls in March-April. Mamata Banerjee is fighting to win a third term as chief minister, but she has to face a stiff challenge from the BJP, which did exceedingly well in last year's Lok Sabha elections.
(With agency inputs)