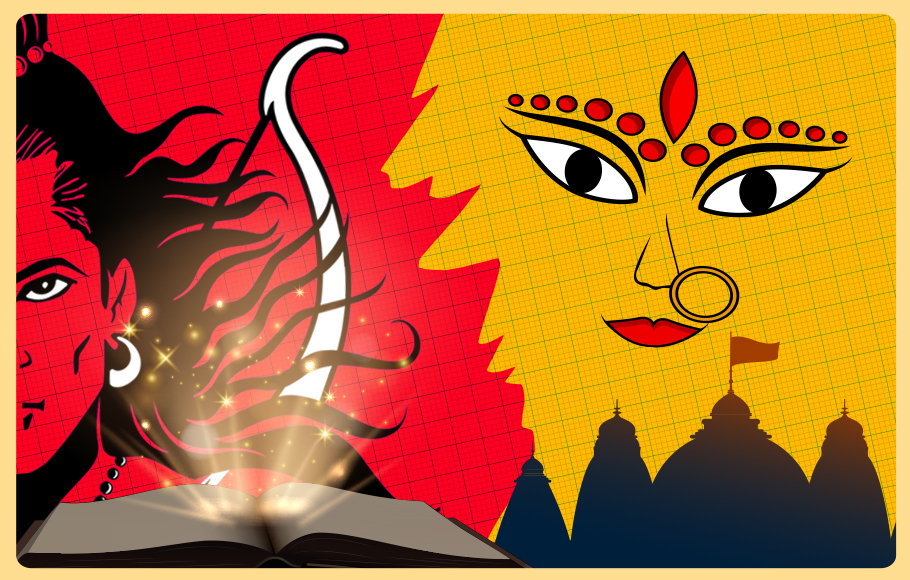 Mamata dabbles in some Sanskrit as Bengal sees Rama vs Durga paradox
A full-blown war of words over religious identity has been unleashed in poll-bound West Bengal.
This religious binary, however, for a change is not so much inter-religion as it is intra-religion, exposing the paradox of a larger Hindu identity.
In this battle, BJP's Ram centric Hindutva is countered by the ruling Trinamool Congress with ethnic-Bengali Hinduism, centred mostly on deities such as Durga and Kali.
In the TMC's narrative, BJP's Hindutva is demonstrative and masculine that stands against goddess-centric Hinduism practised in this part of the country.
Related news: In poll season, Mamata adds 'Maa' to birth-to-death welfare schemes
"Religion is personal and festivals are universal. They (BJP) just say 'Jai Shri Ram,' but I say 'Jai Siya Ram'," West Bengal Chief Minister and TMC supremo Mamata Banerjee said at a Television talk show last week.
In her election rallies too, Banerjee utters Sanskrit slokas that she claimed to recite every day at her house while performing puja.
The message that Mamata wants to send across is simple—she is merely against BJP's Hindutva and not Hinduism per se.  This is a conscious attempt to dent allegations of Muslim appeasement against her.
According to her narrative the Hindutva of BJP is alien to Bengali articulation of Hinduism propagated and promoted by 19th century Bengal Renaissance heroes such as Ramakrishna Paramahamsa, Swami Vivekananda, Rabindranath Tagore and others.
"We will not learn Hinduism from the BJP. We got our lesson on Hinduism from Ramakrishna, Maa Sharada and Swamiji (Vivekananda), Chaitanya Mahaprabhu (15th century Vaisnavite saint)," she said at a rally in Birbhum.
That the BJP is on the back-foot after the sudden twist in religious politics was apparent from the recent remarks on Goddess Durga by BJP state president Dilip Ghosh.
To counter the TMC's ploy of pitting Rama against Durga, Ghosh at the India Today Conclave East in Kolkata on February 12, said: "Bhagwan Ram Raja the…Durga pata nahin kahan se le aate hain!"
"Bhagwan Ram was a king. Some consider him an avatar (incarnation). We know the names of his ancestors. Do we know the lineage of Durga?" he went on to add, giving further ammunition to the TMC's claim about the BJP's blend of Hinduism.
The TMC did not waste any time to make the remarks viral on social media, alleging that the remarks not only manifested the BJP's "disregard" for Durga but also all women in general.
"Look at his (Ghosh's) audacity. He insults Maa Durga, whom Lord Rama himself worshipped. They (BJP) have no respect for women and that's why they make such comments against Maa Durga," the chief minister's nephew and TMC MP Abhishek Banerjee told a rally in South 24 Parganas district.
"They say Jai Shri Ram but I challenge them to say Jai Siya Ram. First Sita and then Ram. They'll never do it because they don't respect women," the TMC leader claimed.
A group of TMC supporters even tonsured their heads in Hooghly district on February 14 in protest against Ghosh's remark and demanded an apology from him.
The state BJP puts up a brave front to defend its president recalling, "how during the TMC regime immersion of Durga idols was stopped due to Muharram."
"It is just making an issue out of nothing. We know their love for Durga that made them stop Durga immersion for the Muharram," BJP MP Locket Chatterjee said referring to a TMC government's order in 2017.
Many BJP leaders, however, in private admit that the TMC's regionalism narrative was something that the party was trying hard to debunk.
In the BJP's campaigns, its leaders make attempts to appropriate Bengali icons, both religious and socio-political.
It was with this strategy in mind that important Bengali-Hindu pilgrimage centres have been included in the route map of the "Parivartan yatra" the BJP has embarked upon.
The programme was flagged off on February 6 by BJP national president JP Nadda from Nabadwip, the birth place of Chaitanya Mahaprabhu.
Another leg of the yatra was launched by him in Tarapith, one of the 51 Shakti Piths (shrines) and an important holy place of Shaktism.
Related news: Bengal polls between Modi's 'vikas' and Mamata's 'vinash' models: Amit Shah
According to the BJP's route map, one leg of the yatras will culminate at Belur, where headquarters of the Ramakrishna Math and Mission, founded by Swami Vivekananda, is located.
To know which of the narratives will ultimately prevail over the voters, we have to wait for the election results likely to be announced in May.
But this election certainly has dropped all pretence of secular politics in Bengal as Hindu majoritarianism gets a major push like never before.