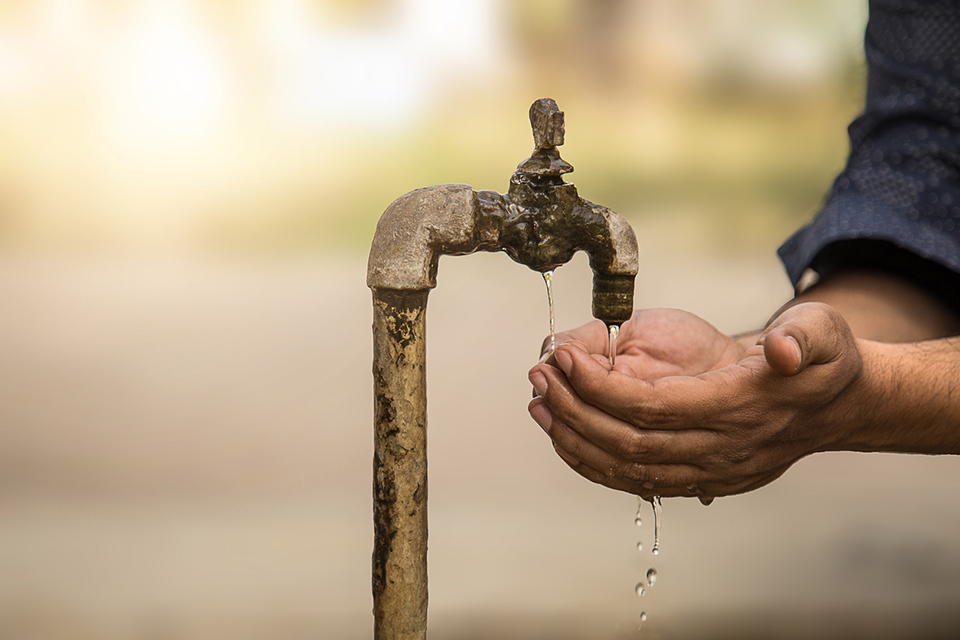 Groundwater drops to danger levels as Kalbaisakhi fails to turn up in Bengal
With Kolkata and southern West Bengal having been without rain for 56 days, the state government has declared "red alerts" in 42 blocks across seven districts
Come summer and water becomes a commodity as precious as gold in India, the World Bank said in a report last month.
The scarcity is more acute this summer in Kolkata and other southern parts of West Bengal that have been without rain for 56 days till Tuesday, depleting ground water to danger levels in several districts.
Bengal is among the eastern states which receive short spells of rain accompanied by thunderstorms under the influence of Nor'westers or Kalbaisakhi during the pre-monsoon months of March, April and May. This unique weather phenomenon generally occurs in the afternoon just before sunset. The heavy rain that typically last for a short duration brings down temperature by even seven to eight degree Celsius.
This year the Kalbaishaki has so far given most of the southern Bengal districts a miss, creating water scarcity.
Government's red alerts
The alarming situation has prompted the state government to declare "red alerts" in 42 blocks across seven districts as the water level in these areas dropped to a critical level. The water level is stated to be semi-critical in another 30 blocks across nine districts. The state has 341 blocks.
Also read: Extreme heatwave sears eastern India; IMD predicts hotter days ahead
The extraction of water through submersible pumps has been prohibited in these areas, according to a government order. The district administrations have also been asked to keep a checks on the use of water in bottled water plants in these blocks, official sources said.
The affected districts are Murshidabad, Nadia, North 24 Parganas, Howrah, Hooghly, East Burdwan, Birbhum, East Midnapore and West Midnapore. In some critical blocks, the water level has gone down to more than 30 m, which is comparable to desert areas of Rajasthan, the officials said.
Dry spell to continue
The situation is unlikely to improve soon as the met office predicted that the dry spell will continue till the first week of May.
"The dry spell only added to the problem created by the excessive use of ground water for cultivation of Boro paddy, which is a rabi season crop, in these districts," said Sujit Pramanik, a member secretary of the State Water Investigation Directorate (SWID). These blocks are among the 136 blocks where a SWID survey found the water level is going down at an alarming rate.
Though there is no immediate threat to the paddy crop as it is already a harvesting time, horticulture crops like mangoes and lychees will be adversely impacted. Bengal produces over 800 tonnes of mangoes and 100 tonnes of lychees annually.
"We are worried about production of mangoes and lychees as due to the dry spell this year, there has been less blooming of buds of these fruits," said chief minister's agriculture advisor Pradip Mazumdar.
Mango and lychee flowering takes place between January and March and for better yield well spread rainfall is required during this period.
The monthly average rainfall in southern parts of Bengal in April is 58.9 mm. This year there has been no rainfall, triggering heat wave conditions in some southern districts from Monday (April 25). The prolonged dry-spell will further aggravate the overall groundwater scenario in the state which is already fast depleting and also dry water bodies.
 Also read: Middle East dust storms can increase monsoon rainfall in India: Study
"There will be less recharge of water if the rainfall is scant or concentrated. Almost all the rivers except Hooghly go almost dry during summer. The day is not far when even the Hooghly will turn dry," pointed out chairman of the West Bengal Pollution Control Board Kalyan Rudra.
Water theft
The problem has become so acute that in many dry spell-hit areas there have been growing cases of water theft. To check the menace, the PHE department has released two WhatsApp numbers (8902022222 and 8902066666) to help residents lodge complaints about water crisis and any incidents of pilferage.
As many as 15 districts in West Bengal, which are home to nearly 72 million people, are exposed to extreme climate events such as cyclones, floods, and droughts, according to a finding of the Council on Energy, Environment and Water (CEEW) released last year.