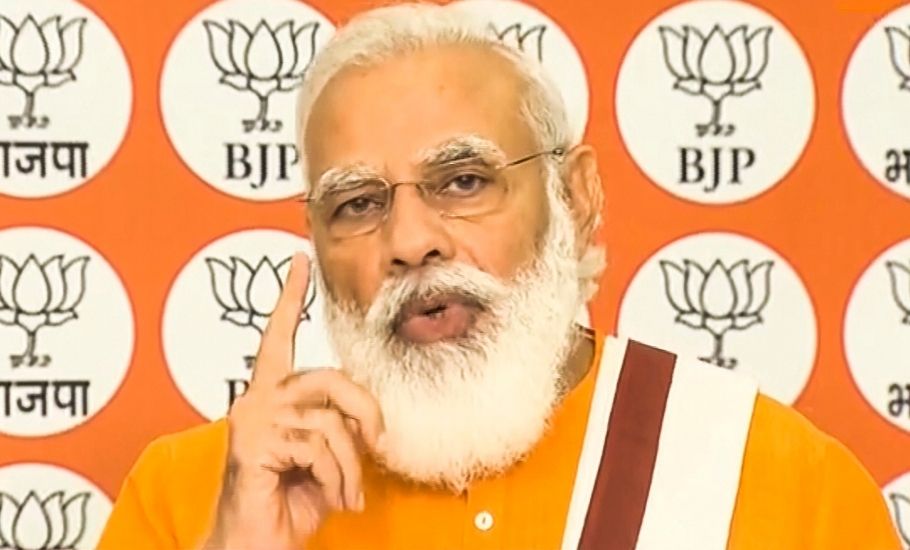 With the West Bengal Assembly polls a few months away, and Durga Puja a few days from now, you can imagine the scenario in a state where Mamata Banerjee-led Trinamool Congress is threatened by the BJP at the hustings. This time the BJP is deploying Prime Minister Narendra Modi.
Before the PM's visit, BJP chief JP Nadda will visit the state next week ahead of the Durga Puja festivities.
Chief Minister Mamata Banerjee virtually inaugurated 69 Durga Puja pandals in 10 districts on Wednesday (October 14). Her spree will continue over the next two days.
Advertisement
Related news: PM to address West Bengal people on Durga Puja; Amit Shah to visit state
On October 22, the Prime Minister will participate virtually in a Durga Puja being organised by the BJP's Mahila Morcha and its wing at EZCC, a cultural centre run by the Ministry of Culture.
The BJP owes its resurgence in the state to its spectacular performance in the 2019 general election when it won 18 seats out of the total 42, with its main rival Trinamool bagging 22.
On 'Shashthi' — the first day of the Durga Puja – the PM will greet the people of Bengal on multiple virtual platforms as they begin five days of worship.
"Consider this as a BJP's family puja. We are all looking forward to it," said BJP MP and state Mahila Morcha president Locket Chatterjee.
Last year, the BJP made a concerted effort to make an entry into Durga Puja pandal circuit but not, according to sources, with stellar success.
Related news: PM Modi richer, Amit Shah poorer in net worth assessment filed with PMO
At two major pandals in Kolkata, BJP leaders who were members of Puja organising committees were edged out, the BJP claims, by Trinamool's pressure tactic.
Home Minister Amit Shah did inaugurate a puja pandal at Salt Lake. But the organizing panel and the neighbourhood was divided over it. The BJP alleged that the local Trinamool-run civic body threatened to withdraw services to the pandal.
This year, the BJP has been left with no alternative but organise its own Durga Puja, sources say. State BJP chief Dilip Ghosh insists the party is not directly getting involved in holding a Durga puja, but if the cultural wing and the women's wing want to do something, they were welcome.
The Trinamool government has extended cash incentives to Durga Puja committees. There are some 37,000 Puja pandals in the state today and the Chief Minister has announced a grant of ₹ 50,000 to each.