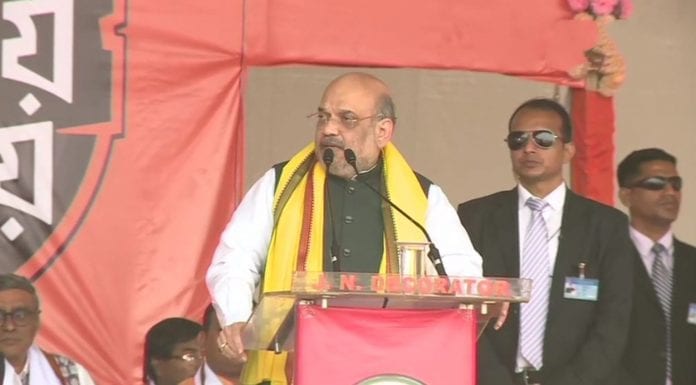 Union Home Minister Amit Shah on Sunday (March 1), while addressing a rally in Kolkata, said that the BJP had won the elections in 2014 because of the "great people of Bengal" and that West Bengal Chief Minister Mamata Banerjee should be careful since the BJP was going to form the government there in the upcoming elections.
"BJP has won 18 out of 42 seats in Lok Sabha. I pay my respect to the great land of people. It is because of the great people of Bengal that Prime Minister Narendra Modi won the 2014 polls with a majority. Mamata should be careful – in the coming upcoming assembly elections, it is the BJP who will form the government here."
The Union minister arrived here earlier in the day amid protests by opposition parties against the contentious Citizenship (Amendment) Act (CAA). Demonstrations were also being held in various parts of the city, including areas in the vicinity of the Shaheed Minar Ground, where Shah addressed the rally on the amended citizenship law.
Advertisement
Related news | TMC govt not implementing central schemes for lack of 'cut money': Modi
Speaking to the workers here, Shah said, "They had denied permission for my chopper earlier. False cases were registered against BJP workers. But Mamata di couldn't stop us. You can continue with your atrocities, the people of Bengal have now seen your real face. This rally is against the goons of Trinamool Congress (TMC)," The Indian Express quoted Shah as saying.
He also said the rally was being carried out to bring an end to the "syndicate system" that was thriving in Bengal. "This journey is not of the BJP but of the people of Bengal, to protest against poverty and bring an end to syndicates. This journey is to provide citizenship to several people here."
Syndicate, cut money controversy
A few months ago, Banerjee inadvertently admitted to corruption within the TMC when she warned party workers during a meeting to return the cut money they had taken or "be ready to go to jail."
This term is meant for a portion of the money that is "cut" from the total amount allocated for a government project. The BJP had attacked the state government following Banerjee's remarks and accused it of indulging in corruption.
Taking a swipe at the TMC government, Prime Minister Narendra Modi had alleged a few months ago that the state was not implementing central government schemes in West Bengal since they do not help syndicates or involve cut money.
The Prime Minister had also said that he was pained to see that the poor in the state were not getting benefits of the Centre's welfare schemes.
"I will always pray to god for the welfare of farmers and poor patients. May God give them (Bengal government) good sense… However, I have a feeling that the people of West Bengal will not remain deprived of central schemes for long," he had said.