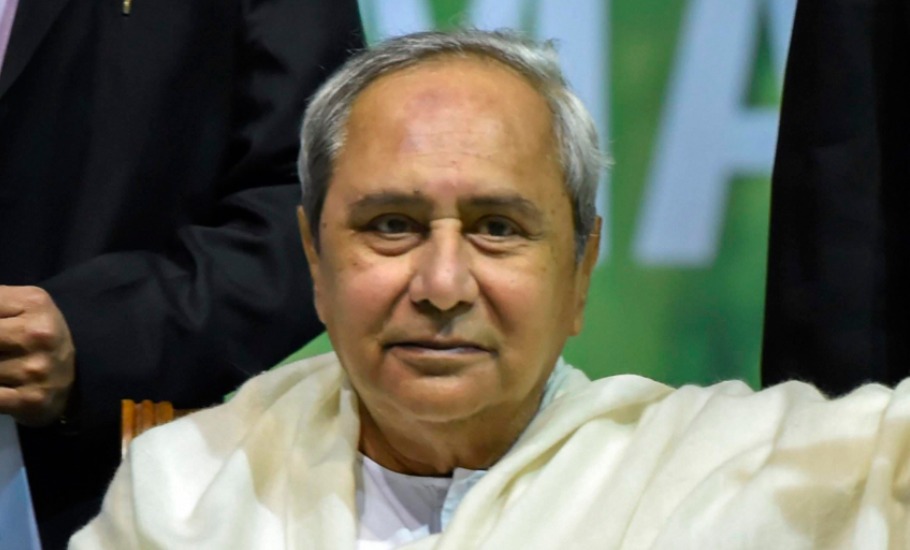 With an eye on 2024 elections, Naveen Patnaik springs a mega surprise
Odisha Chief Minister and Biju Janata Dal (BJD) supremo Naveen Patnaik is a master in springing surprises. However, his latest move on the afternoon of June 4 — a day after the BJD registered a landslide victory in the Brajrajnagar assembly bye-election and three of its candidates were elected unopposed to the Rajya Sabha — caught all, including his own party colleagues, off-guard.
For the first time in the history of Odisha politics, the entire cabinet resigned to pave way for a complete overhauling. Speaker Surya Narayan Patro too tendered his resignation.
On June 5, 21 ministers, including five women, were sworn in as Naveen recast his council of ministers. Seven MLAs took oath as ministers for the first time. Some of the dropped ministers are likely to be given party's organisational work.
Also read: BJD records landslide victory in by-poll, BJP slips to 3rd place
Governor Ganeshi Lal administered the oath of office and secrecy to the new ministers in the presence of the chief minister. Also, for the first time, the swearing-in ceremony was held in the Lok Seva Bhavan instead of Raj Bhavan.
In this first cabinet reshuffle in Naveen Patnaik's fifth uninterrupted term, which began on May 29, 2019, 11 ministers — including six holding cabinet berths — were dropped. Senior ministers Pratap Jena, Arun Kumar Sahoo, Sushanta Singh and Bikram Keshari Arukha lost their cabinet berths.
Rumours of reshuffle since April
Since April this year, talks about a cabinet rejig had been doing the rounds after Naveen carried out a review of the BJD's performance in the panchayat and urban local body elections — the BJD registered landslide victories in both the polls. He had also asked all ministers to submit performance reports of their departments. However, no one imagined that the rejig would be on such a scale.
Incidentally, in 2017, during his fourth term, Naveen had done a similar exercise after the panchayat elections. He had then asked 10 out of the 20 ministers in his government to resign. Five of the former ministers were given responsibilities in the party's district units.
"It was never expected that Naveen would adopt the Gujarat and Andhra Pradesh model of ministry reconstitution or reshuffle. It's a calculated political message-sending exercise. By this move, Naveen wants to convey the message across to his party leaders, rival parties and the public that he is active as ever to take crucial decisions on his own," said senior journalist and political commentator Akshaya Kumar Sahoo.
Another political commentator and seasoned journalist, Bighneswar Sahu, termed the reshuffle, as an eye wash. "It's just another image-building exercise," Sahu said.
Opposition's protest against ministers
In the last one year, the opposition BJP and Congress carried out massive protests against a few of Naveen's senior ministers — Pratap Jena and Captain Dibya Shankar Mishra — for their alleged involvement in murder cases. In view of the opposition pressure, it was speculated that the CM may act against them.
Senior minister Arun Kumar Sahoo's name had also been dragged into the death of a girl in his constituency. He, too, faced the opposition's wrath. However, Naveen, who, during his early years as CM, threw ministers out — even on the basis of an allegation — maintained a stoic silence.
Also read: Why Odisha's Naveen Patnaik is the most popular CM in India
According to Akshaya Sahoo, though many consider dropping of these three ministers as Naveen's crusade against tainted leaders, the reality is different. "Had the CM been genuine in his fight against tainted ministers, he would have acted long back," he observed.
Preparing for 2024
However, both the commentators think that Naveen has revamped the cabinet keeping the 2024 Lok Sabha and assembly polls in mind. "He has started preparations for the 2024 elections," they say.
However, senior Congress leader and former finance minister in Naveen's cabinet, Panchanan Kanungo, feels that there was nothing new in such reshuffles. "It's the chief minister's prerogative," Kanungo said, adding, "The day Naveen Babu takes oath as CM, his preparation starts for the next election."